Doomsday Valuation Makes This Retailer A Buy
This retailer's stock gained over 20% in one day in early September after the company beat top and bottom-line expectations and reported positive comparable store sales.
This strong quarter reaffirms our belief that The Michaels Companies has been unfairly lumped into the "dying retailers" category, despite evidence to the contrary. The stock is still down 50% from our original Long Idea in June 2018, and the expectations baked into this lowered valuation remain overly pessimistic in the face of the company's strong fundamentals. Even in a highly conservative scenario, MIK offers significant upside potential. The Michael's Companies (MIK: $10/share) is this week's Long Idea.
MIK's Reported Profits Understate Economic Earnings
MIK's reported EPS are below its economic earnings per share, which is unusual. Economic earnings are generally lower than reported profits because economic earnings account for more operating expenses, most notably the cost of equity capital.
However, for MIK, we remove several non-recurring expenses that artificially decrease the company's reported earnings. Most notably, the company incurred $104 million in restructuring charges related to the closing of Aaron Brothers and Pat Catan's branded stores.
You can find that restructuring charge on the income statement, but you cannot find another $6+ million in non-operating expenses hidden in operating earnings anywhere but the footnotes of MIK's 2019 10-K. Specifically, we found nearly $1 million in severance costs, $3.1 million in-store closing costs, and $2.9 million related to moving and relocation expenses, franchise taxes, and sign-on bonuses, all of which were found on page 35 of MIK's 2019 10-K.
Removing these unusual items explains how MIK's economic earnings per share increased from $2.10 in 2018 to $2.30 over the trailing twelve month (TTM) period while reported EPS fell from $2.10 to $2.04 over the same period of time. Figure 1 has more details.
Figure 1: MIK's Economic EPS vs. Reported EPS
(Click on image to enlarge)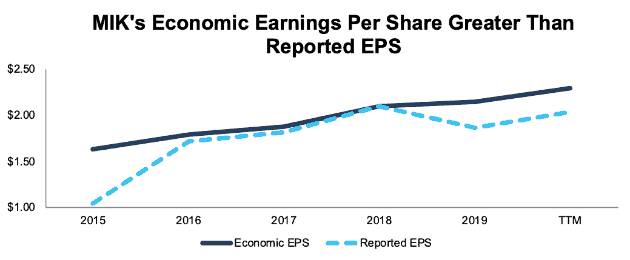 Sources: New Constructs, LLC and company filings
MIK Improves the Efficiency of Its Stores
As noted above, store closing costs were one of the factors dragging down Michaels' reported EPS last year. The fact that Michaels is closing stores might lead some investors to believe business is in decline.
Quite the opposite, Michaels continues to grow, but with a focus on intelligent capital allocation. For example, the company closed all its Aaron Brothers and Pat Catan's stores last year and four Michael's stores, but it opened 24 new Michaels stores. Total Michaels stores have grown from 1,182 in 2011 to 1,262 at the end of fiscal 2Q19.
In addition to opening new stores, Michaels continues to increase the efficiency of its existing locations by tweaking product displays, seasonal selection, and other initiatives aimed at driving sales. Since 2011, MIK's average sales per square foot of core Michaels-branded stores grew from $205/sq. ft to $227/ sq. ft in 2019.
Figure 2: MIK Rising Sales/Sq. Foot Since 2011
(Click on image to enlarge)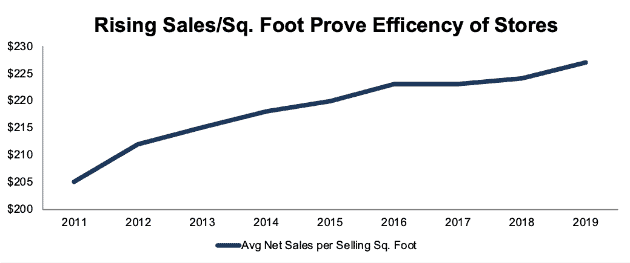 Sources: New Constructs, LLC and company filings.
Comparable store sales at Michaels stores have also grown year-over-year in eight of the past nine years. The continued growth in its stores reaffirms our original thesis that The Michael Companies is proving a brick-and-mortar retailer can exist (and grow) in a world where many believe e-commerce will take over.
Margin Advantage Continues
We noted in our original report that The Michaels Companies has a history of maintaining consistently higher NOPAT margins than industry peers, and that trend continues as shown in Figure 3. Michaels TTM NOPAT margin of 10.3% is well above the weighted-average of 7.8% for the 24 other specialty retailers we cover.
Figure 3: MIK Maintains High Margins Relative to Specialty Retail Peers
(Click on image to enlarge)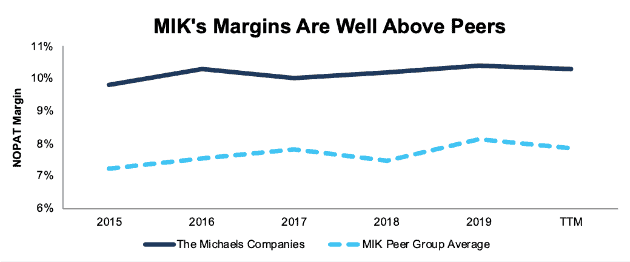 Sources: New Constructs, LLC and company filings.
E-Commerce Threat is Overhyped
Despite consistent margins, rising sales per sq. foot, and improving economic earnings per share, bears still argue that Michaels cannot withstand the threat from e-commerce giants, such as Amazon (AMZN). However, this argument overlooks many factors, including the hands-on nature of the craft industry,
Most retail items are easy to compare online, as technical specifications are standardized and features can be listed fairly easily. However, crafting supplies are different. Consider types of fabric for instance – knowing the specific texture or feel can be difficult, if not impossible to determine over the internet. As such, it should come as no surprise that in fiscal 2018, e-commerce represented just 4% of MIK's sales. This trend is similar across the industry as well, as we noted in our original report.
Disclosure: New Constructs staff receive no compensation to write about any specific stock, sector, or theme.