Momentum Builds In US Manufacturing
Despite the well-publicized difficulties in the auto sector, manufacturing production posted a respectable gain after a very strong March. Robust order books and low customer inventories suggest ongoing strength in output while the $2.2tn infrastructure plan offers more opportunities.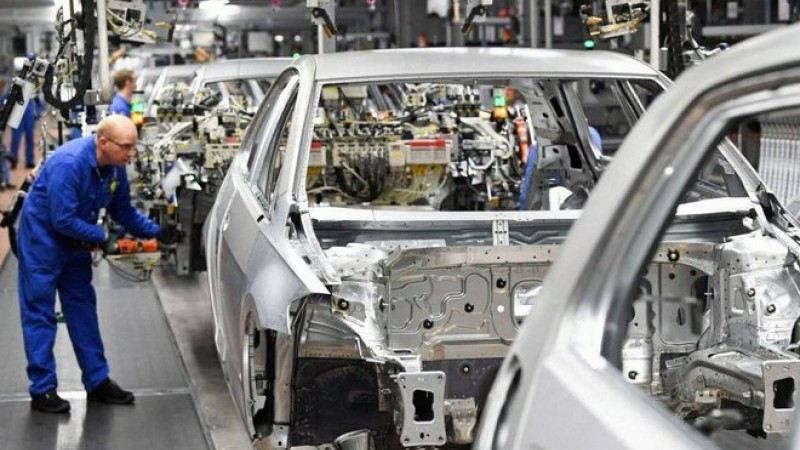 Manufacturing grows despite supply chain issues
US industrial production rose 0.7% month-on-month in April versus the 0.9% consensus, but as with the retail sales report, look at the revisions – +2.4% growth for March versus the 1.4% initial print. On balance this is a good outcome with manufacturing figures actually coming in better than hoped. Output here rose 0.4% MoM (consensus 0.3%) with March's figure revised up to 3.1% from 2.7%. Utilities output rose 2.6% while mining rose 0.7%.
Looking within the details we can see that auto output was the weak link given the well-publicized slowdown relating to a lack of semi-conductor chips that go in anything from brake sensors to satnavs. Defence and space fell 0.1% while construction supply fell 0.9%, but all other components posted gains, including a 2.4% rise in home electronics and 0.6% increases in business supplies and information processing equipment.
An interesting side point is that while manufacturing output is now only 1.8% below its pre-pandemic peak, having fallen 20.2% between the start and the worst point of the pandemic, it is still 6.3% below the 2008 all-time peak in output. This underlines the long-term decline in the sector and reinforces how difficult a structural turnaround is to generate.
(Click on image to enlarge)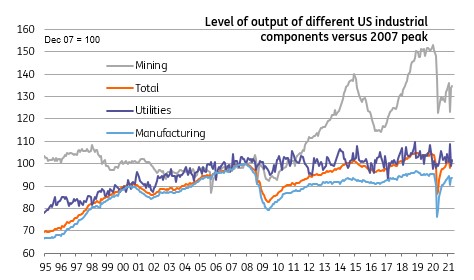 Source: Macrobond, ING
Strong outlook for the rest of 2021
Nonetheless, the ISM report suggests that order books are full with a strong backlog while customer inventory levels are at historically low levels. This is a great position to be in and offers increased pricing power that can be used to cover higher input costs and potentially expand profit margins. President Biden's $2.2tn infrastructure investment plan should provide additional opportunities for US manufacturing firms.
Disclaimer: This publication has been prepared by the Economic and Financial Analysis Division of ING Bank N.V. ("ING") solely for information purposes without regard to any ...
more