Moderate Growth Outlook Holds For US GDP In Q4
As Covid-19 vaccines start to rollout in the West, the prospect of economic recovery strengthens. Many risks continue to lurk, of course, but for the first time since the pandemic started there are tangible signs of light at the end of the tunnel.
Today marks a milestone with news that a 90-year-old woman in the UK is the first person to receive the Pfizer COVID-19 vaccine outside of a trial. In the US, distribution of a vaccine could begin as early as this week. The main challenge is logistical and so widespread delivery to all 50 states will take months. In turn, a return to "normal" in the best-case scenario will have to wait until deep into 2021.
Meanwhile, Covid-19 cases are still spreading rapidly in the US and the pace of fatalities continues to rise. Over the past seven days through Dec. 7, the country has reported nearly 16,000 deaths, the deadliest week for the disease since April.
The pandemic seems likely to get worse before it gets better, but expectations for fourth-quarter GDP in the US continue to reflect moderate growth. Output is projected to rise 4.0% (seasonally adjusted annual rate), based on the median nowcast via a set of estimates compiled by CapitalSpectator.com. That's down fractionally from the previous estimate, but the generally steady outlook is encouraging.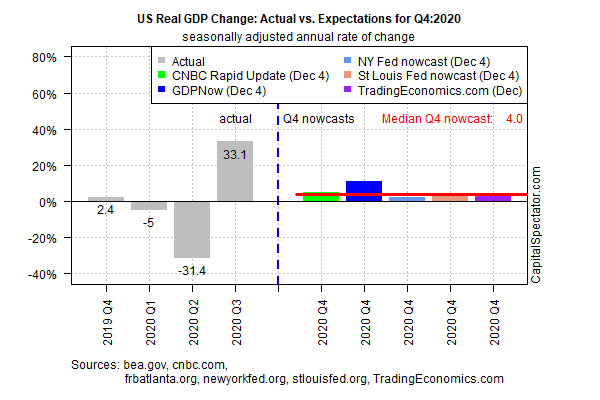 A new survey from the National Association of Business Economics (NABE) also sees growth at the 4% mark in the current quarter. "The NABE Outlook panel anticipates more moderate growth in economic activity going forward after the sharp rebound during the third quarter," says NABE President Manuel Balmaseda. "The median forecast calls for a 4.1% annualized growth rate in the fourth quarter of 2020 for inflation-adjusted gross domestic product, or real GDP."
Last week's November release of the survey-based Composite PMI, a GDP proxy, also paints a comparatively upbeat profile for Q4. The index rose to 58.6 in November, well above the neutral 50 mark that reflects a solid pace of growth for overall economic output.