Mind Over Matter
It will be interesting to see how this plays out. While Davidson is bullish on 2020-'21, I am fearful. I will continue to post his comments as he been spot on in the past (nailed the March 2009 low) and through the recovery. While virtually every other prognosticator the last 10+ years have called for recessions, he has been steadfast we would not have one (he was 100% right). For that reason, I continue to post even though I disagree to a point. My assumption is readers are smart enough to digest both cases and make their own decisions. I think people are missing the larger point in the data. While we HAVE improved, we are still dramatically below where we need to be.
Take air travel: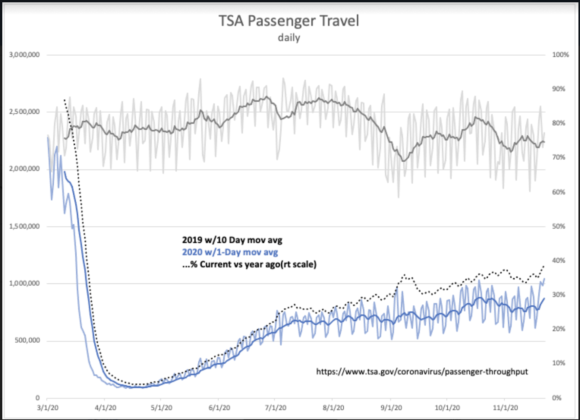 While it of course has improved, the industry is still being decimated and nothing on the horizon looks to improve that currently. Other industries are seeing the same thing. I think the bumps we are seeing in the data is simply repressed spending on necessities and inventory restocking. I expect the data to begin to flatline or reverse in the coming months.
That said I am not expecting a 2008-09 scenario but I am very worried about market levels here….
"Davidson" submits:
Which comes first, the chicken or the egg?
Many believe market psychology drives the economy. They believe higher equity market prices drive economic activity because people become more optimistic when they see their wealth growing. This is the basis of ignoring fundamentals supported by many Momentum Investors whose investment decisions are based on price trends. Value Investors staunchly believe that fundamentals are the underlying drivers of prices once financial reports become public. The evidence supports both. There are periods when market psychology drives economics which drives prices and periods when fundamentals drive market psychology which drive prices.
What is common to Momentum and Value Investors is that prices are driven by market psychology. The connection to whether it is psychology or fundamentals come first with regards to economic activity has been argued long and hard. The answer as shown in Inventory/Sales ratio and Trucking Tonnage/Intermodal Rail (TTI/IR) indices is that either can have a short-term impact on the other and drive prices accordingly. Longer-term the Value Investors are correct, but it can take a couple of years of their assumptions looking wrong.
The information in this blog post represents my own opinions and does not contain a recommendation for any particular security or investment. I or my affiliates may hold positions or other interests ...
more