McDonald's: A Solid Business But Fully Priced
McDonald's (MCD) stock has performed remarkably well in the past five years, gaining almost 127% on a total return basis versus a cumulative total return of nearly 75% for the S&P 500 in the same period.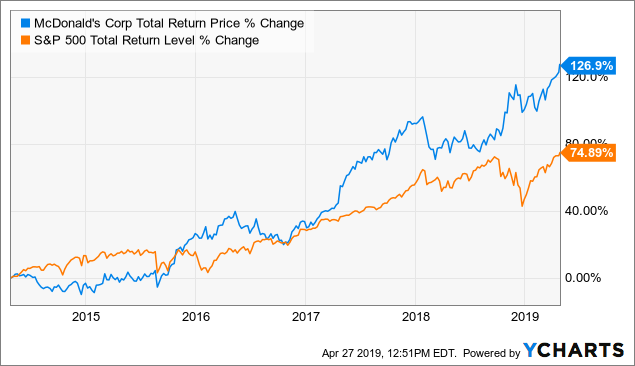 Data by YCharts
This impressive return has been sustained by solid decisions by management and strong financial performance from the business.
However, investment decisions should be done by looking through the windshield as opposed to the rearview mirror. At current prices, McDonald's is not necessarily overvalued, but valuation is not particularly attractive either.
A Solid Business
McDonald's has made an impressive turnaround under the leadership of CEO Steve Easterbrook since 2015. To begin with, the company refranchised more than 4,000 locations, and it's planning to have 95% of its stores operating under the franchise model.
This business model significantly reduces operating costs, and the company has eliminated $500 million in net annual expenses. The positive impact on profit margins has been remarkable in recent years.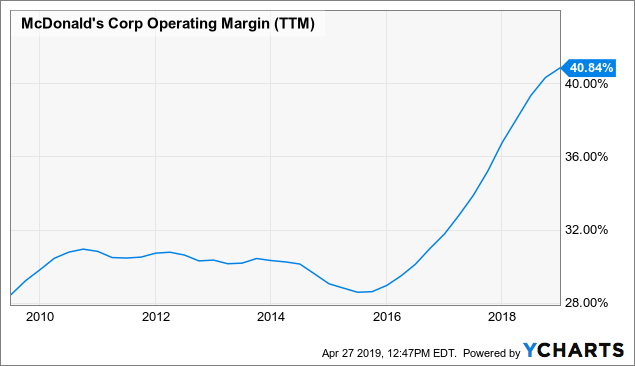 Data by YCharts
In addition to this, McDonald's has implemented a series of initiatives such as revamping the stores, menu customization and improved technology in areas such as mobile ordering, among several others. These initiatives have been well received by customers, and the company has produced growing comparable sales figures in recent years.
Delicious Dividends
Dividend growth investing is a massively popular strategy, and for good reasons. Growing dividend payments in the long term reflect that the business is solid enough to generate more cash than it needs to retain through all kinds of economic environments.
In the case of McDonald's, the company has raised payments every year since making its first dividend payment in 1976, so it has 42 consecutive years of consistent dividend growth under its belt. This includes a vigorous dividend increase of 15% announced in September of 2018.
Disclaimer: I wrote this article myself, and it expresses my own opinions. I am not receiving compensation for it. I have no business relationship with any company whose stock is mentioned in ...
more