Market Massacre: Oil Crashes 30%, VIX Explodes As S&P Craters Limit Down
It may have been the most drama-filled weekend since "Lehman Sunday." We saw not only another major spike in covid cases around Europe and the US, but also the total collapse of OPEC after Saudi Arabia unilaterally decided to flood the market with deeply discounted oil. This was in a desperate attempt to crush the competition (yet which may backfire and soon lead to riots in Riyadh). Markets are reacting appropriately and just like during Lehman Sunday, everything is crashing:
S&P emini futures are down more than 4% in early trading, plunging as low as 2,845 and fast approaching their limit down price of 2,819 as investors around the world puke risk in an unprecedented fashion.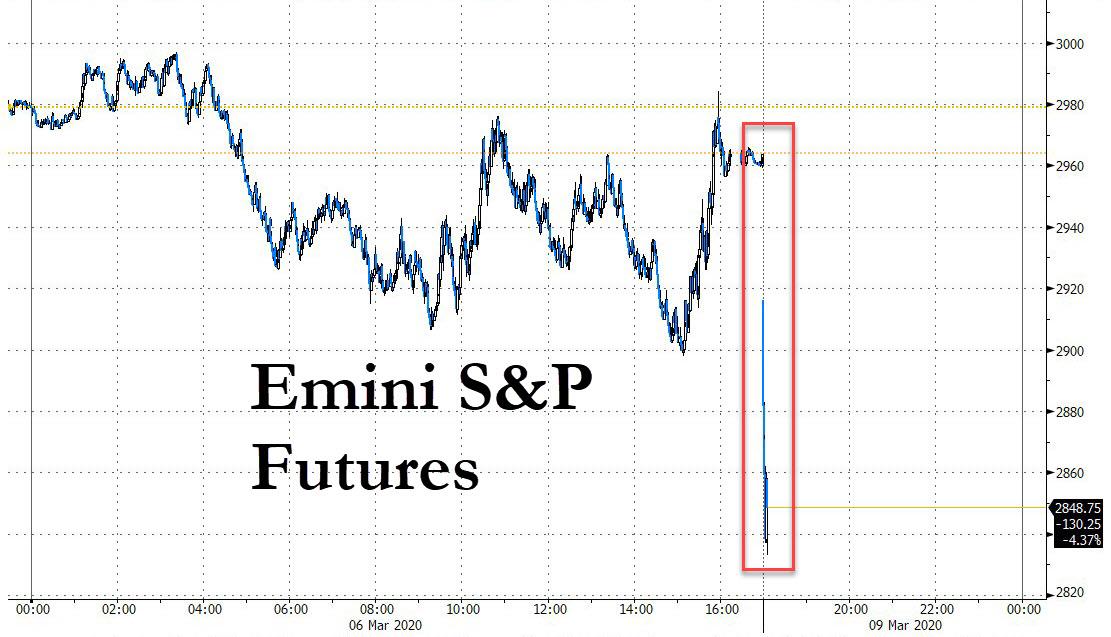 Dow futures are down more than 1,000 points unwinding all of Friday's remarkable late-day rally and then some...
VIX futures are up 16%, so one can only imagine where spot will be soon.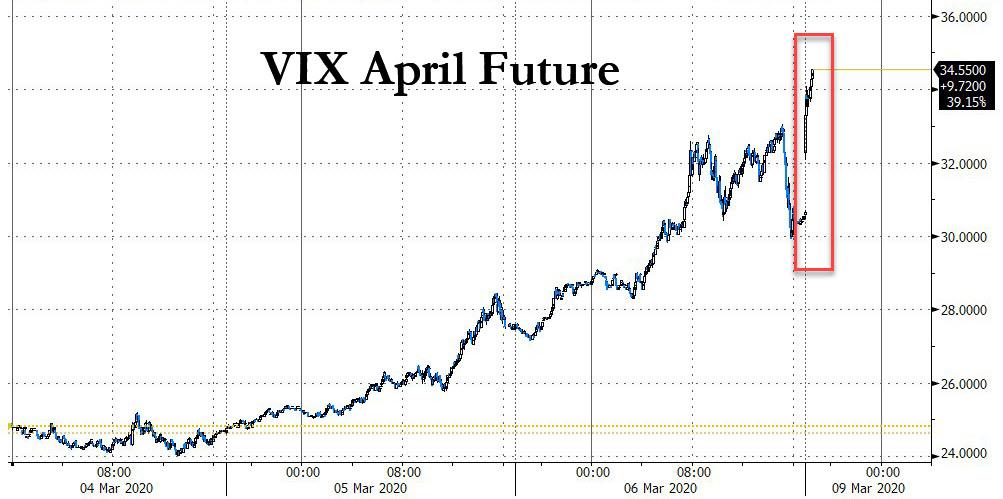 With everyone rushing into safety, rates are soaring and the Ultra bond future is already up a gargantuan 7 to 232-16 in a squeeze that will surely lead to the failure of more than one macro fund still short the long-end, while the 10Y yield is on pace to hit a record all time low of 0.50%, one which screams recession.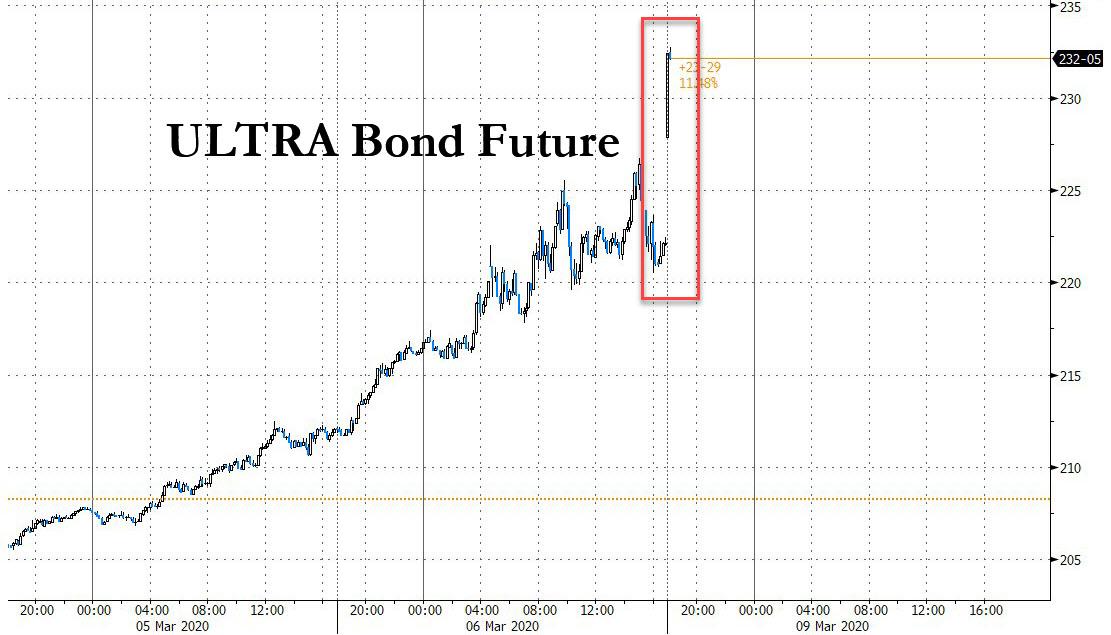 Naturally, the oil complex is imploding, with WTI down 27% to $30...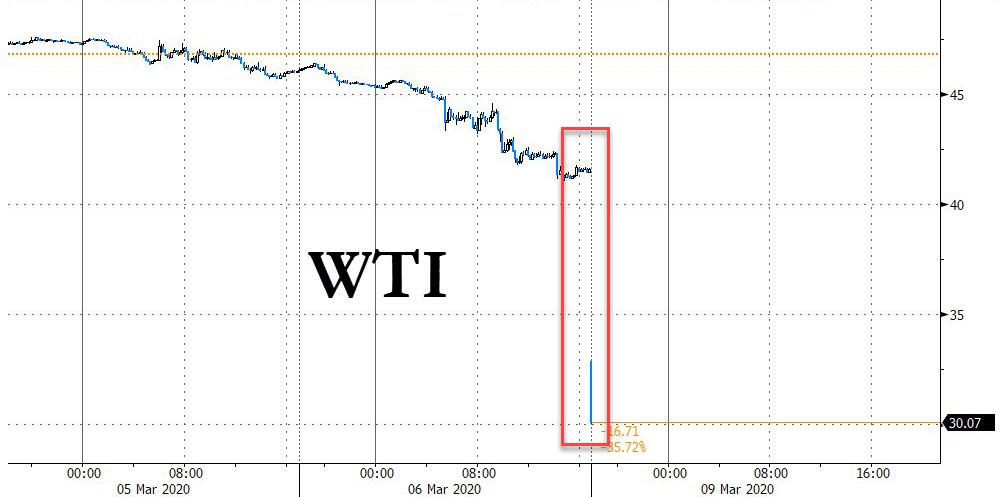 ... while Brent has dropped as much as 31%, to just $33 in early Sunday trading in what Bloomberg dubbed "one of the most dramatic bouts of selling ever"...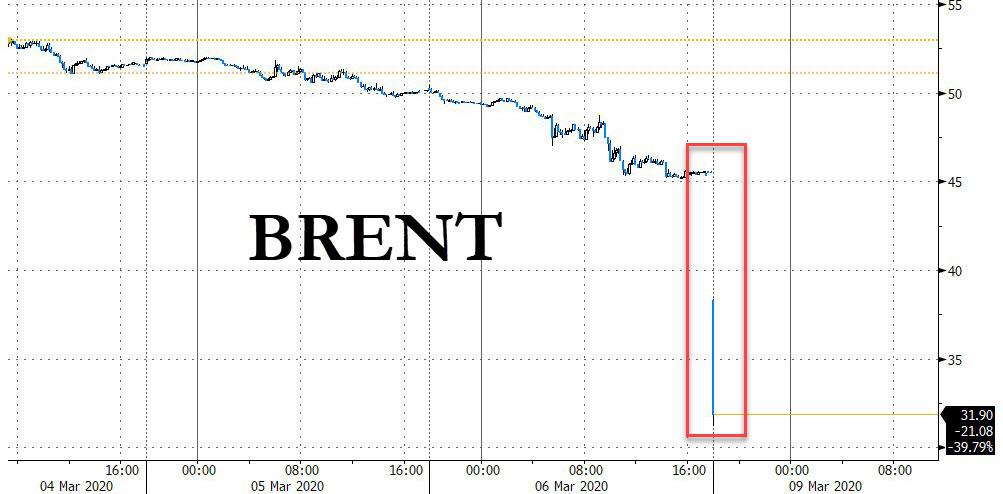 ... and indeed, today's move is the biggest one-day drop in Brent on record.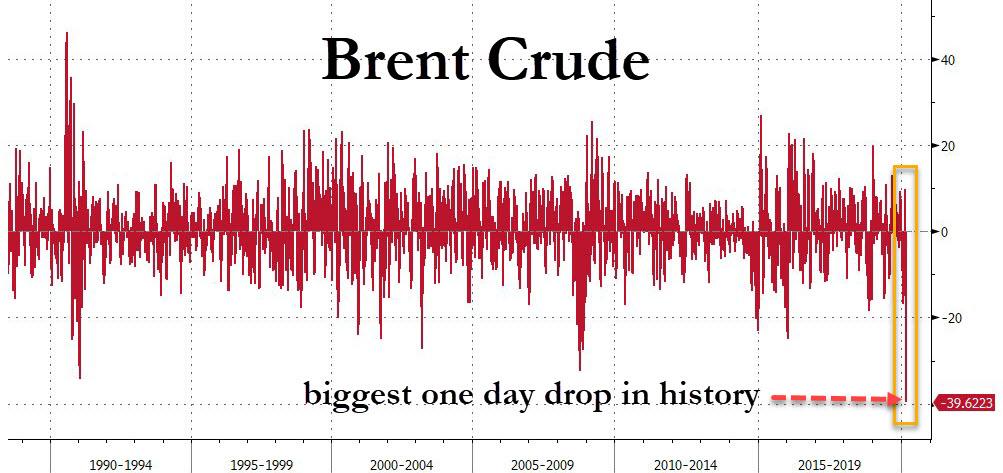 ... in line with Goldman's shocking price target cut, which now expected Brent dropping into the $20s.
FX, as discussed earlier, is in freefall, with carry trades getting unwound, while commodity pairs are getting anihilated:
NORWEGIAN KRONE FALLS TO LOWEST SINCE AT LEAST 1985 VS DOLLAR
FALLS EXTEND IN CANADIAN DOLLAR, NORWEGIAN KRONE, MEXICAN PESO
Finally, gold, also known to certain WSJ "experts" as a pet rock, it just spiked above $1,700 for the first time since 2012.