MACD Above Zero Line: What It Means In 2021
When this crossover occurs, in either direction, or the MACD line starts to pull away from the signal line, it indicates a new, much stronger trend has formed.
NVDA Example
In the NVDA chart above, a bullish MACD crossover manifests itself with the MACD line crossing the Signal line right near the zero line.
In this case, it signals an uptrend is starting on the fast-moving average responding faster to price changes.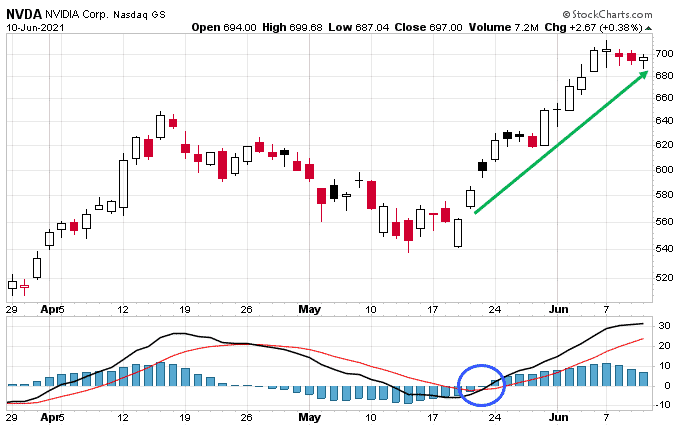 The bullish trend is only confirmed as soon the MACD line rises above the zero line, from below, after crossing the signal line.
Price from this point increased significantly on traders entering long positions.
During periods of heightened market volatility, the MACD line will whipsaw, crossing back and forth the signal line.
MACD users often avoid trading during such periods, given the unreliable signals that come into play.
After the market fully digests the development causing the wild swings, the MACD signal line will cross the signal line and signal the direction price is likely to move.
Likewise, the MACD line crossing the signal line from below and moving above the zero level after heightened volatility would essentially signal the formation of an uptrend.
The MACD line moving further away from the signal line would affirm a stronger signal.
Using MACD Divergence To Find Reversals
Divergence is a powerful indicator when it comes to trend reversals.
The below chart from Fidelity shows the stock making a clear lower low.
At the same time, the MACD indicator is making a higher low.
This indicates that the downtrend is losing strength and may soon reverse.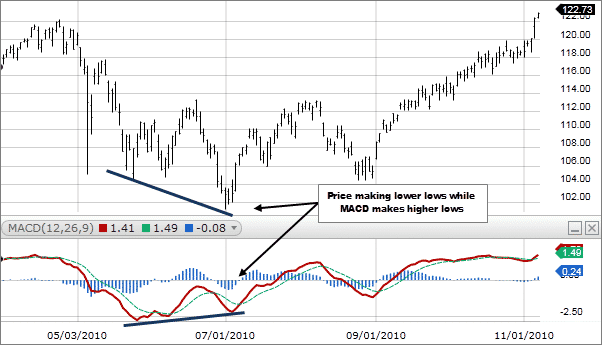 Source: Fidelity.com
Bottom Line
MACD is a reliable trend following momentum indicator commonly used in technical analysis.
The indicator is commonly used to indicate new trends whenever the fast-moving average rises above or below the slow-moving average.
The indicator crossing above the Zero line is considered bullish while crossing below the zero bearish.
Disclaimer: The information above is for educational purposes only and should not be treated as investment advice. The strategy presented would not be suitable for investors who are ...
more