JPM: Covid Scenarios For 2021
COVID resurgence risks are flashing, as new infection cases rose 4% W/W, to a record ~350k per day (vs. 228k/254k/283k in Jul/Aug/Sep) largely due to record test numbers, yet this is more than offset by a diminished and stubbornly low mortality rate (2.8% vs. peak: 7.2%), which may be due to better treatment as well as a younger population catching the virus, further mitigated by vaccine/treatment progress...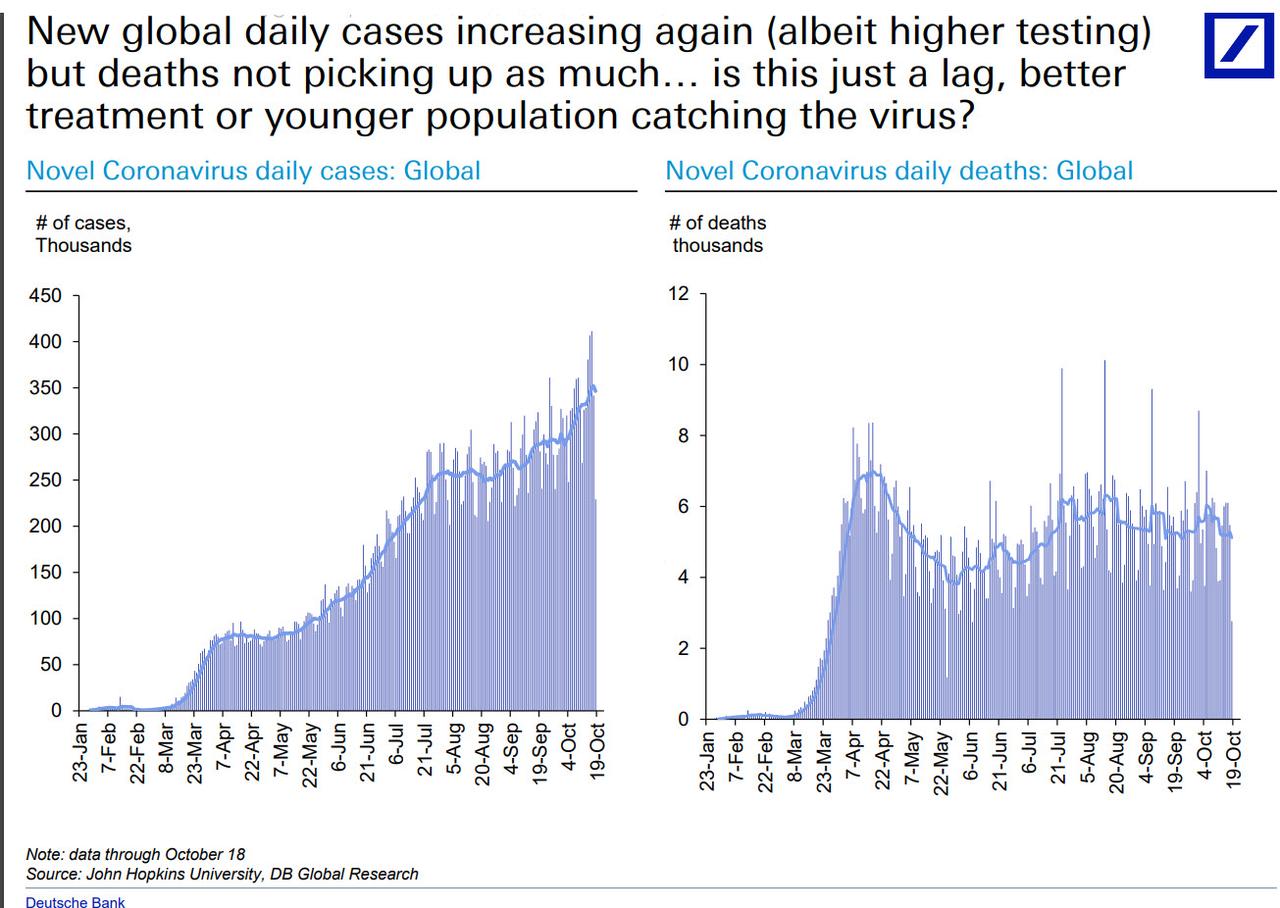 ... while hospitalizations due to COVID remain very much under control...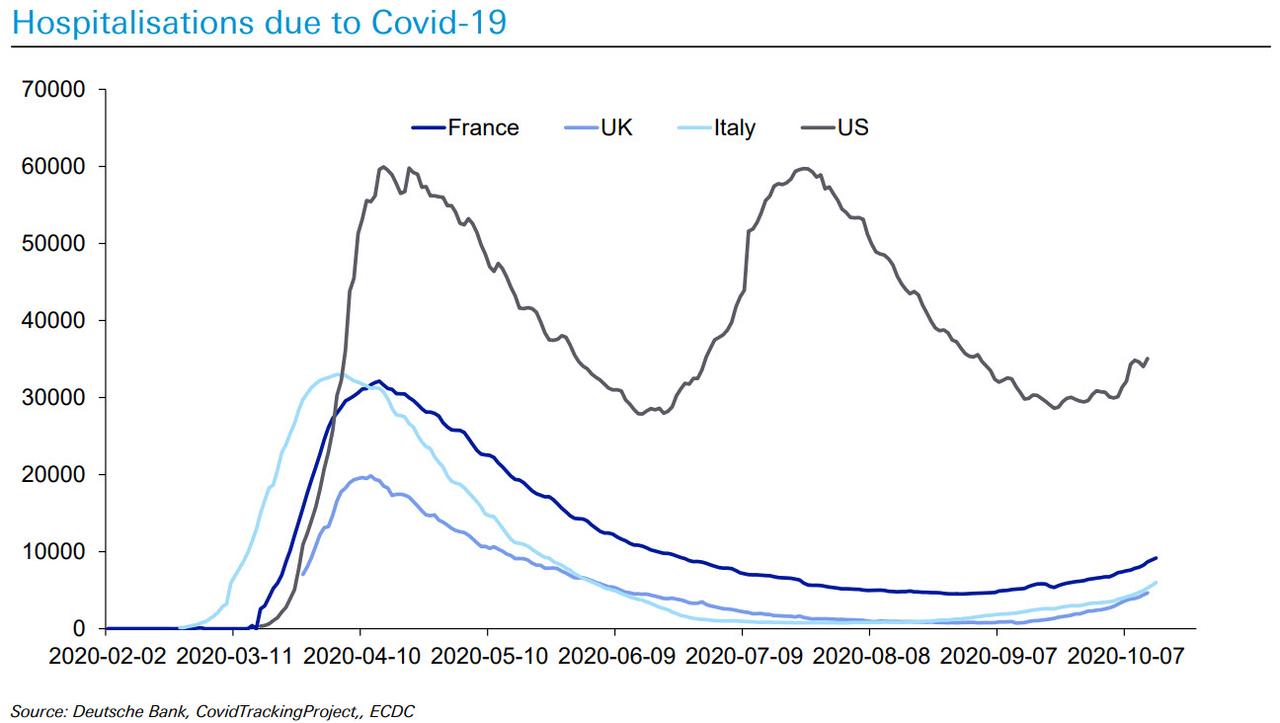 ... and ICU units in the US were less full during the second wave, even as patients in hospital were similar. While the curve is again starting to edge up, it's not to critical levels.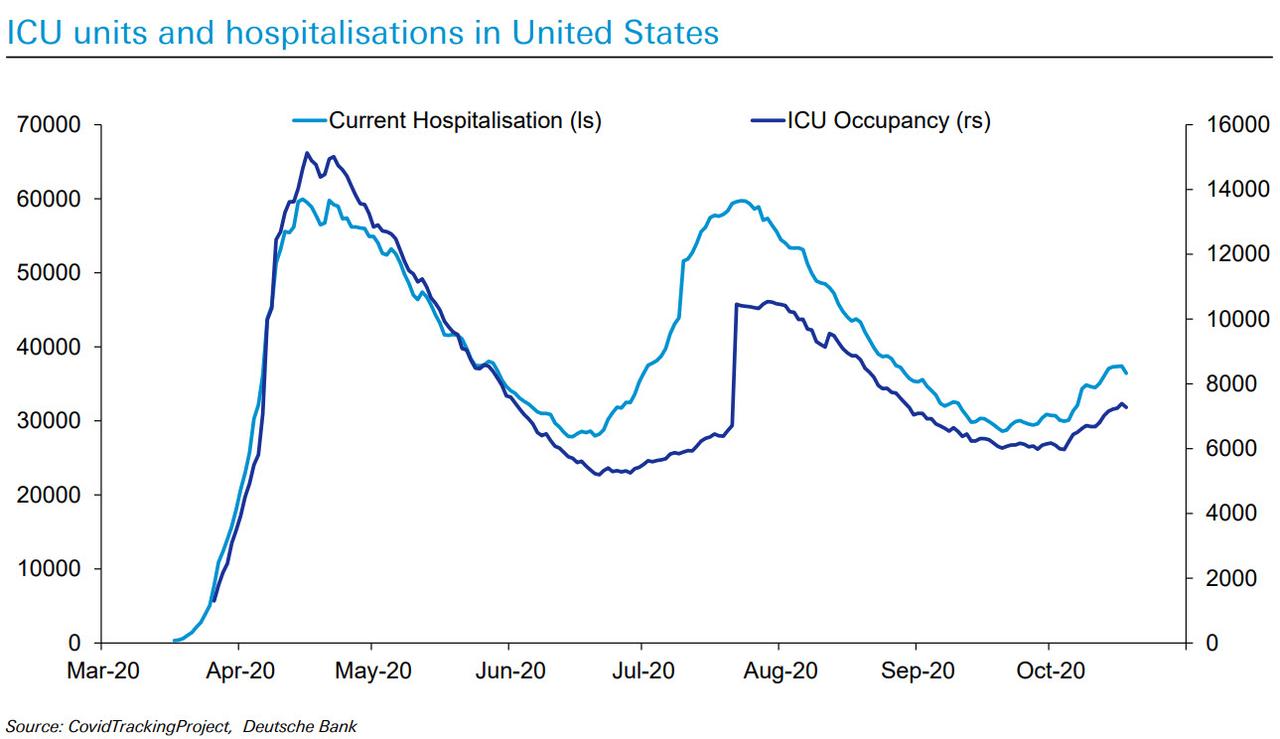 In an attempt to reconcile the curve's persisting beyond year-end, JPMorgan's MW Kim presents several potential 2021 scenarios. Noting further progress in vaccine/treatment, the strategist highlights:
the mortality rate could decline below 2% by 1H21E;
infections could be less clustered, sporadic and perhaps smaller-scale in third/fourth waves;
lockdowns may decline as a primary response in 2021 due to their economic burden, rising public stress on social distancing, and fiscal budget limitations.
Additionally, due to the improvement in treatment and growing social preparedness, JPM argues that public health strategy should shift from "infection control" to "patient treatment."
With that in mind, here are the top ways in which the response to COVID in 2021 will differ markedly from 2020, according to JPMorgan.
Public Health Strategy: 2020 will not be 2021
The primary public health strategy in 2020 has been to suppress the infection curve, as the initial reported mortality rate was very high (peak of 7.2% in late April). Thus, reducing human-to-human contacts (or pulling back the secondary infection rate, "R0") via stricter social distancing and/or lockdown has worked to reduce infections and thus to control the mortality risk YTD, in JPM's view. However, this approach proved to be costly, with a greater burden on the economy and rising social stress from tolerating the social distancing. Also, following hospital capacity strengthening and better medical treatment, the mortality rate is under far better control. Besides more realistic target R resetting close to 1, the public health focus is to shift toward "patient treatment," as society has accumulated more knowledge/experience with COVID-19 (i.e., less uncertainty or unknown risk).
Looking ahead, JPMorgan suggests dour things in next year's public health strategy:
Disclaimer: Copyright ©2009-2020 ZeroHedge.com/ABC Media, LTD; All Rights Reserved. Zero Hedge is intended for Mature Audiences. Familiarize yourself with our legal and use policies every ...
more