JOLTS Report For October: Similar To Previous 2 Recoveries, But Decline In Actual Hiring May Be A Warning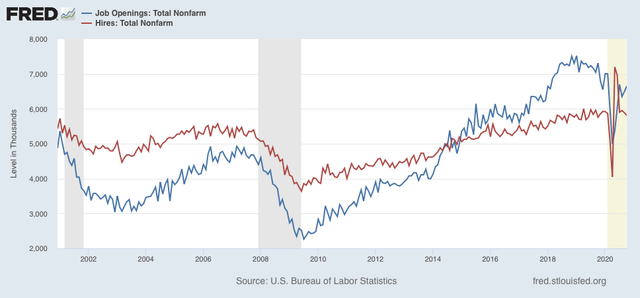 In the past two recoveries, actual hires started to increase one to two months before job openings.
This year, both made troughs in April, but hires rebounded sharply in May and June compared with job openings. Since then both have essentially leveled off, but with hires in October having their worst month (ex-Mar and Apr) since 12 months ago: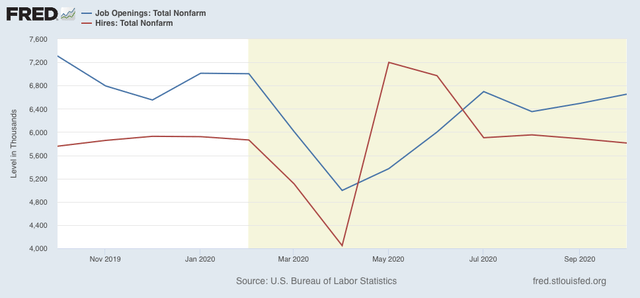 Again, we will have to wait and see if this just one off month, or whether hires continue to decline and openings follow
Next, here are quits (green) vs. job openings (blue):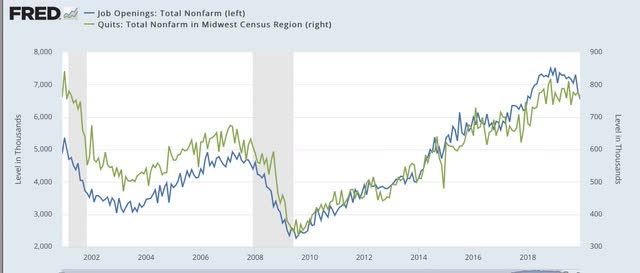 In the past two recoveries, actual hiring started to rise slightly before quits made a bottom. After that, both rose more or less together (suggesting it is openings that leads to the increase in voluntary quits).
This year, both made a trough in April. Since then, it appears that openings have continued to slightly lead quits: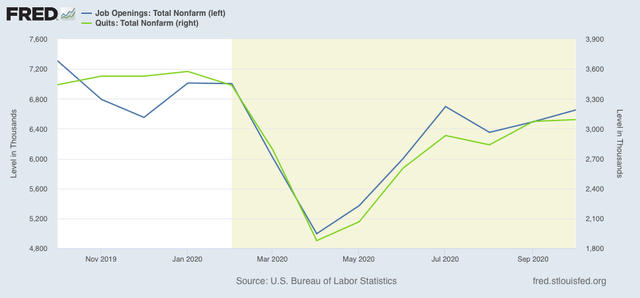 Finally, because seasonal adjustments might not be giving us a true picture because of the enormous moves during this pandemic year, here are job openings (blue), hires (red), and voluntary quits (green), measured YoY without seasonal adjustments for the entirety of the series up through the present: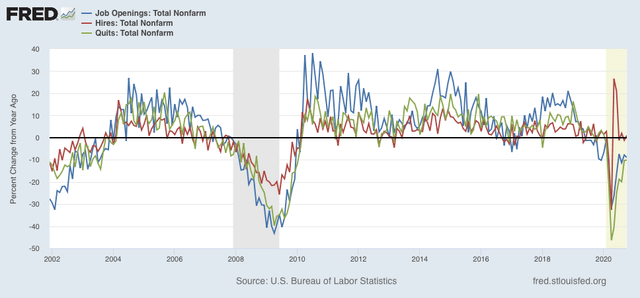 We can see that, even taking out the seasonal adjustments, hires rebounded first following the 2001 and 2008-09 recessions. Quits and openings moved generally in tandem with a slight lag. The same pattern appears this year.
I have broken out layoffs and discharges separately below, because the their level in April and May of this year would obliterate all other variations (note: inverted so that fewer layoffs shows as positive):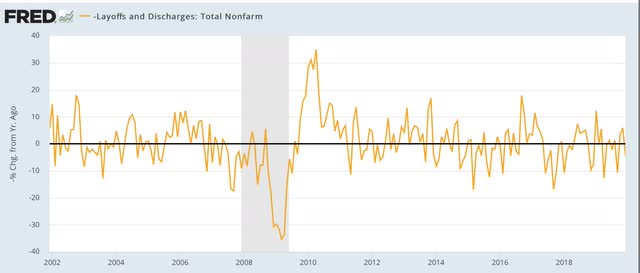 This metric returned to normal almost immediately after both of the past two recessions, and did so again by July of this year, and while its gain decelerated in October, it is still slightly positive measured YoY: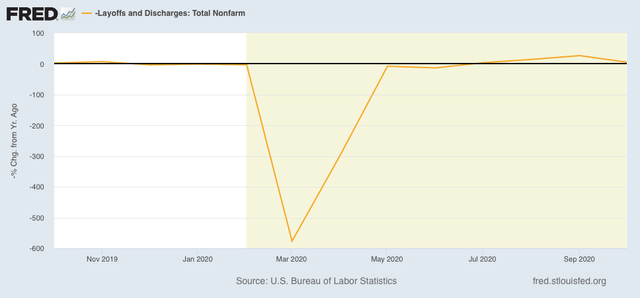 To sum up:
1. The JOLTS report shows a pattern consistent with the past 2 recoveries, with layoffs having returned to normal levels, then hiring having increased, and finally quits and openings increasing as well; but