Jobs To Reach Pre-Pandemic Levels By Year-End: BofA
Judging by the solid ascent in risk assets today, traders are confident that last Friday's payrolls report was spectacular, or as BofA put it, "it was everything we could have hoped for" where in addition to a whopping 916K jobs added in March amid broad-based job creation, the unemployment rate fell to 6% from 6.2% while the underemployment rate (U6) declined to 10.7% from 11.1% (vs 7% pre-pandemic). The drop in the U-rate occurred despite a rise in the labor force participation rate to 61.5% from 61.4%; finally, the employment-to-population ratio ticked up to 57.8% (pre-COVID was 61.1% so still needs to move higher to correct fully).
But we already knew all that: the real question is what does this report portend about the future, and here BofA comes out with a surprising finding: according to BofA' Michelle Meyer, at this pace, "we will return to the pre-pandemic level of jobs by year-end" and the risk, according to BofA's chief economist, "is that the rate of job growth actually accelerates further given the stimulus-induced boost to spending and economic reopening."
If BofA is correct, it means that payrolls for the rest of the year would look something like this (BofA forecast in red), as the US adds just over 930K jobs per month for the next 9 months.
(Click on image to enlarge)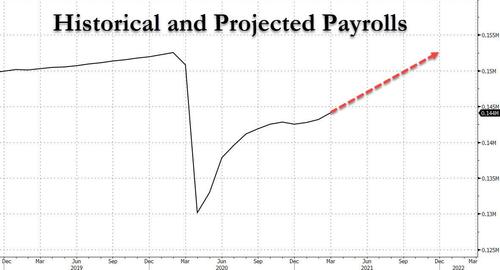 This brings up a critical question, however: with the Fed "laser-focused" on unemployment, will this overheating in the economy lead to an early hike? A look at market-implied odds certainly lends support to this theory: as we showed earlier, the market is rapidly accelerating the timeline for The Fed's first rate-hike (eurodollars now expect more than one rate hike by the end of 2022)...
(Click on image to enlarge)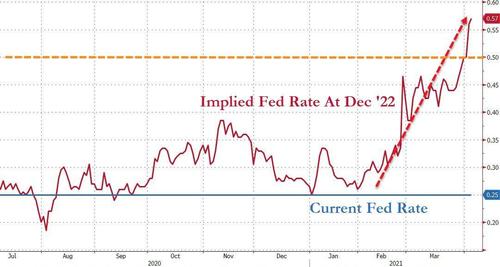 ... while trajectory of rate-hikes after 2022 is also soaring with 140bps of tightening - almost 6 rate hikes - priced in from the end of '22 to the end of '24.
(Click on image to enlarge)
Disclaimer: Copyright ©2009-2021 ZeroHedge.com/ABC Media, LTD; All Rights Reserved. Zero Hedge is intended for Mature Audiences. Familiarize yourself with our legal and use policies every time ...
more