Jobless Claims Start 2021 Continuing Flat To Increasing Trend; Negative December Jobs Number Increasingly Likely
On a unadjusted basis, new jobless claims rose by 77,400 to 922,072. Seasonally adjusted claims declined by 3,000 to 787,000. The four-week moving average declined by 18,750 to 818,750. All of these are above their recent lows.
Here is the close up since the end of July (these numbers were in the range of 5 to 7 million at their worst in early April):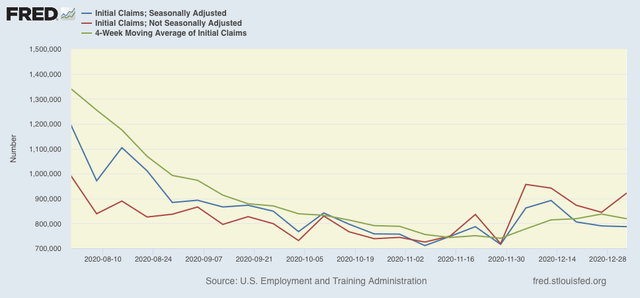 At the same time, neither of these has hit my established markers of the renewed upward trend, which are seasonally adjusted new claims rising to over 900,000 and the four-week average rising to over 850,000.
Because of the huge distortions caused by the pandemic in seasonally adjusted numbers, and because we are at a time of year when seasonality causes the most distortions in any event, here are the YoY changes in all of the above metrics: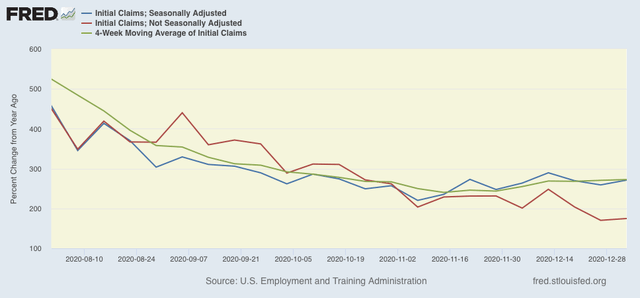 There is now an eight-week trend in the seasonally adjusted data of YoY% increases, and a less pronounced upward trend for the past six weeks in the four-week average. Interestingly, the YoY trend for unadjusted claims - especially important in this case - has continued to decline.

Both seasonally and non-seasonally adjusted continuing claims, which historically lag initial claims by a few weeks to several months, on the other hand, remain in a slightly downward or flat trend. Seasonally adjusted continuing claims declined again by 126,000 to yet another new pandemic low of 5,072,000. On an unadjusted basis, they rose by 145,844 to 5,382,459, over 100,000 above their recent pandemic low: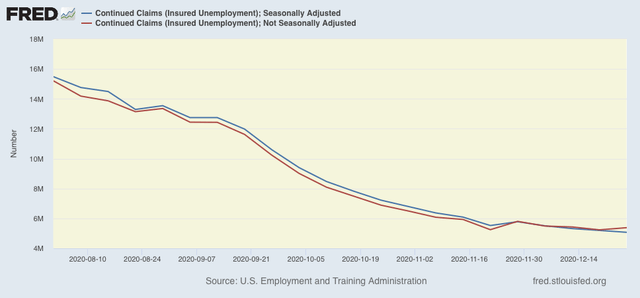 Because these lag initial claims, I continue to suspect we will see an upward reversal in the next few weeks. Both initial and continued claims remain at or above their worst levels from the Great Recession.
Finally, tomorrow we will get the December jobs report. For the last three weeks, I have been warning that it is likely to be the weakest since April, very likely under a 200,000 gain, and quite possibly an actual loss. Yesterday, the ADP reported that by their calculations, there was indeed an actual decline in jobs in December. We'll see shortly.