The Global Defense Industry - Here Are The Best To Buy
During my service in the military, it would have been inappropriate for me to own any defense firm. At various times in my investing career since retirement, however, I have owned the first four on this list as well as BAE. I would not buy any of them at today's prices.
However, I most certainly would buy Raytheon (RTN) on any pullback to the $160s or so. In fact, I owned shares in our Investors Edge Growth & Value Portfolio (available to our Marketplace subscribers) until very recently. Late in a bull market, as I perceive we are today, I tend to use a lot of trailing stops. My RTN position was sold for a tidy profit, but I have not yet re-entered the position.
Why Raytheon? I have made money on it every time I have purchased. But that is no reason to buy today. Today RTN is simply, in my opinion, the preeminent provider of integrated net-centric defense systems and missile systems of any free-world competitor. In addition, it is superb in the intelligence and information domain and, more and more, in airborne and space systems. This last might well turn out to be the company's biggest revenue producer over the coming years. Raytheon "might" also become the #2 aerospace and defense firm on the planet if its planned merger with United Technologies (UTX) - also a former holding of mine - is completed.
Not bad for a company founded in 1922 as the American Appliance Company. What we now call Raytheon became an important government contractor during World War II, when it manufactured hardware that pushed the envelope in essential radar technology - and, like so many defense projects, laid the groundwork for the invention of the microwave oven. (It was a Raytheon engineer, Percy Spencer, who, while working in the magnetron labs in 1945, noticed that microwaves from an active radar set he was working on started to melt a chocolate bar he had in his pocket. The first food deliberately cooked with Spencer's microwave was popcorn, and the second was an egg, which exploded in the face of one of the experimenters. Not so much has changed, has it?!)
Fast forward to Raytheon today. Among its better-known proprietary or jointly developed products are the Patriot air- and missile-defense system; the AMRAAM, Sidewinder and Maverick missiles; the Common Ground Control System; the Global Hawk integrated sensor suite; Iron Dome and David's Sling systems; the Paveway laser-guided bomb; and Tomahawk cruise missiles.
All this just barely scratches the surface. Raytheon is a leader in ISR (Intelligence, Surveillance and Reconnaissance), C5I (Command, Control, Communications, Computers, Cyber, and Intelligence), navigation, communications and space systems and integration.
Patriot Missile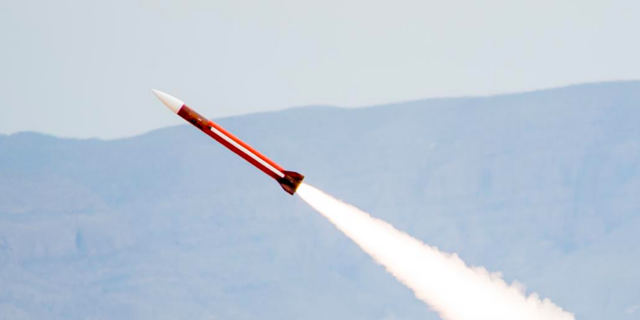 (Source: Raytheon website)
Here are the top 50 companies in terms of defense-related revenues: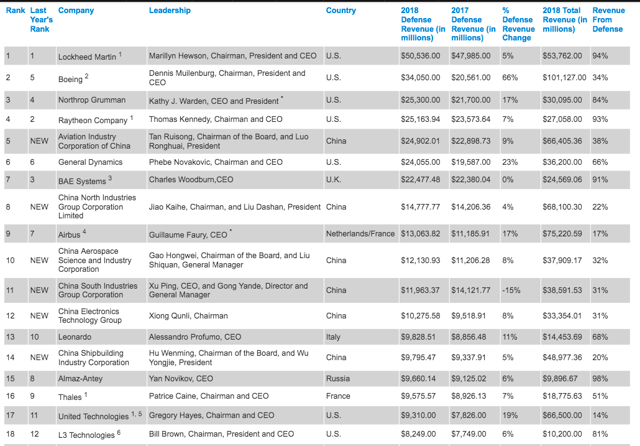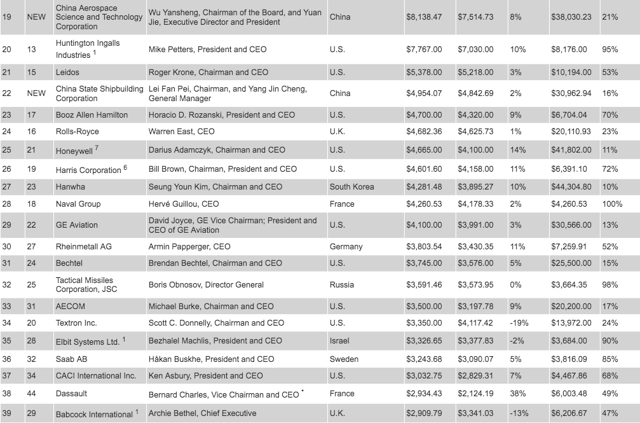 (Source: Defense News)
I have shown only the Top 50 from the Top 100 for this article. However, my favorite ETF in the Defense Sector is primarily concerned with the next 50 and beyond. What makes this ETF a smart choice is that, if you are in this business, you need to be very big to get the big contracts or relatively small to placate all the members of Congress. The middle-of-the-pack firms tend to be trying to break out, usually by a merger of equals, while the smaller firms are happy with their profitable niche.
I will point out a couple items of interest regarding the Top 100 list:
Of the top 5 US companies, 3 are run by very capable women. Just sayin'.
Of the next 10 companies ranked from 11-20, #11, #12, #14, and #19 are all People's Republic of China companies. Add that to the #5, #8, and #10 company - in case you were wondering how your consumer goods dollars for Chinese products are being spent!
Some familiar names actually didn't even penetrate the top 20 - Honeywell (HON), Harris Corp., L3 (LLL), CACI International (CACI) and SAIC, for instance. However, the merger between L3 and Harris (#s 18 and 26) (LHX) will now catapult them into the Top 10. This is a good example of the "merger of equals" I mentioned above.
Also, you'll notice there are only 2 Russian companies in the Top 50. No matter the saber-rattling and cyber-hacking, the Russian defense industry simply doesn't have the clout it once did. It seems to be cutting corners to stay relevant. After Putin's boast about their hypersonic weapons that can evade any US or free-world defenses, it seems one flew 35 miles, 2 others apparently did not fire and the most recent one blew up, emitting radiation (it is nuclear-powered) at 16 times the normal level and killing five scientists outright.
Disclosure: I am long ESLT. Stovepipes are dangerous to your wealth.If you buy only tech, only defense, only REITs, or only anything, it will add both volatility and risk.At Investor's ...
more