Stock Exchange: Are You Trying To Be Right Or Successful?
The Stock Exchange is all about trading. Each week we do the following:
discuss an important issue for traders;
highlight several technical trading methods, including current ideas;
feature advice from top traders and writers; and,
provide a few (minority) reactions from fundamental analysts.
We also have some fun. We welcome comments, links, and ideas to help us improve this resource for traders. If you have some ideas, please join in!
Review: Do You Pretend To Understand The Market?
Our previous Stock Exchange asked the question: Do You Pretend to Understand the Market? We noted that there are plenty of media pundits ready with plausible explanations after every market sell-off, but if they really understood the causes, why'd they wait until after the sell-off to explain? However, as market wide volatility increases, traders should also be careful to recognize the heightened risks.
This Week: Are You Trying to Be Right or Successful?
When markets get volatile, as they have over the last two weeks, it's important to ask yourself: "Do you want to be right or successful as a trader?" Not sure what we're talking about? Here is an excerpt from the Michael Lewis book about the financial crisis "The Big Short" where they correctly predicted a coup whereby the Thai military overthrew the government, but they still LOST MONEY betting against the Thai currency: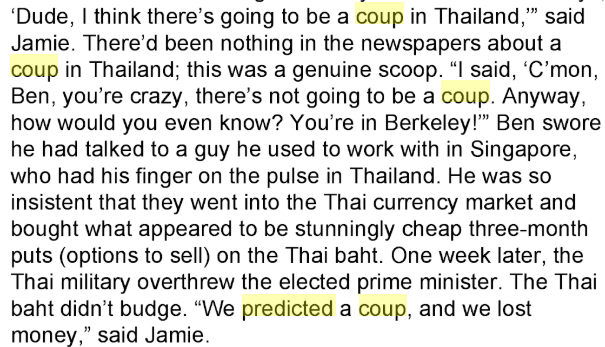 The first point is that just because you're right, that doesn't mean you'll be a successful trader. And the important takeaway (from the next passage in the book) is that:
They had more losers than winners, but their losses, the cost of the options, had been trivial compared to their gains.
Basically, it's okay to be wrong sometimes, so long as your winners are bigger than your losers.
For more perspective, The SMB Training Blog reminds us in their recent list of 8 Keys to Profiting as a Trader During Volatile Market Conditions:
Do not expect to be perfect… You are going to miss trades.
Still not sure what we mean? Here is a video from Steve Jobs whereby he explains (see: 0:48/2:15):
I don't really care about being right, I just care about success.
Perhaps Jobs would have made a great trader. And a hat tip to Finance Trends for sharing this video in their recent article: On Being Wrong… and Profiting Anyway.
The point is that, as a trader, you shouldn't be stubbornly focused on being right all the time, it's okay to be wrong sometimes (as long as your losers are less than your winners); and remember to take what the market gives you instead of stubbornly focusing on what you are so certain is "right." Being right and being successful are not the same.
We have a new (free) service to subscribers to our Felix/Oscar update list. You can suggest three favorite stocks and sectors. We report regularly on the "favorite fifteen" in each ...
more