Meet The Old School Fund Manager Who Wants To Be The First To Embrace Quantum Computing
Hedge fund manager Michael Hintze of CQS, based in London, is still a certain type of "old school". His firm makes its investment decisions based on daily meetings, where managers pitch their ideas and thoughts about macroeconomic events behind a podium. He also has a "situation room", where TVs feature news networks like Al Jazeera and China's CCTV, according to Bloomberg.
But nowadays that is considered archaic and behind the times, especially in the age of algorithms and high frequency trading.
And so Hintze looks as though he may be ready to embrace a switch, saying in a interview that his firm has now turned to "quantum computing" - a superfast technology that is still in labs, where major corporations like Google and IBM are still trying to figure it out.
Hintze said: "We're trying to get a little bit ahead. You need to be mindful of the tools you have, the ground you're fighting over, and, thirdly, who you're fighting against."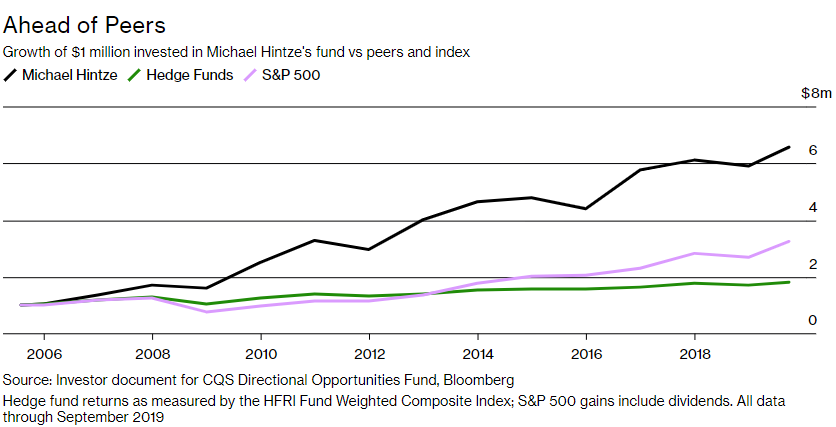 But he also dismissed plans to start a fund run by algorithms. Instead, he says that CQS is working with a startup to develop a quantum chip to help the firm optimize portfolios and execute hedging strategies. CQS recently hired Ahmad Deek, formerly of Oppenheimer, to be the firm's head of data science.
The firm has about $19 billion under management and so far, has done so just using traditional human analysts and managers. The company is one of the largest firms in Europe and its $3.1 billion multi-strategy CQS Directional Opportunities fund is up more than 550% since launching in August 2005. This is double the gain of the S&P 500 over the same time period and about 7x the average hedge fund return.
Hintze knows he faces upcoming challenges, too. Almost half of his firm's assets are in long-only strategies and he has recently entertained approaches by at least one PE firm about buying a stake in CQS.
Disclosure: Copyright ©2009-2019 ZeroHedge.com/ABC Media, LTD; All Rights Reserved. Zero Hedge is intended for Mature Audiences. Familiarize yourself with our legal and use policies every ...
more