Lattice Semiconductor: Strong Fundamentals, A High Short Interest Ratio, And A Buy Signal

High Confidence Level Bullish Signal Generated on Lattice Semiconductor
In addition to those factors, the Tickeron Trend Prediction tool just generated a bullish signal for Lattice Semiconductor on January 26. The trend prediction tool is an AI-based mechanism that looks at a number of different fundamental and technical indicators and looks at trade setups to what we are seeing currently. It then calculates whether the stock is likely to go up or down and with a level of certainty assigned.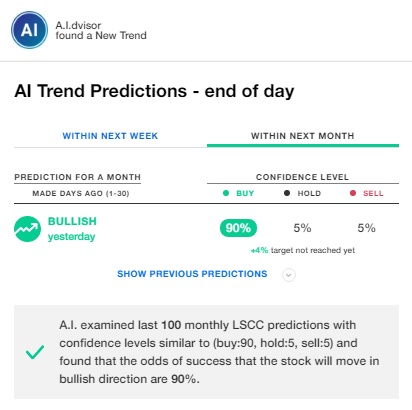 The buy signal shows a confidence level of 90% and by using the previous 100 instances with similar stats, the probability of the stock moving higher over the next month is at 90%.
Part of the positive outlook for Lattice comes from the company scoring very well in one fundamental indicator and scoring above average in another one. The Tickeron Profit vs. Risk Rating for Lattice is 4 with the best score being a 1, and the worst score being a 100. This suggests that being long the stock presents low risk with the possibility of high returns. The average Profit vs. Risk Rating for the semiconductor industry is 47, placing the stock well above average.
Lattice also scores well in the Tickeron SMR rating. The reading for the company is 38, again the best score is 1 and the worst is 100. The SMR rating measures sales growth, income margin, and return on equity. A low score indicates strong sales and a profitable business model. Looking in to the components that make up the SMR rating, Lattice does extremely well with the ROE at 27.8% and the income margin at 20.6%.

Trending Higher with a Short-Term Pullback
Looking at the weekly chart for Lattice Semiconductor we see a trend line connecting the lows from March and September. That trend line is sitting just above $35 currently and it could provide support as the stock has fallen over the last four weeks.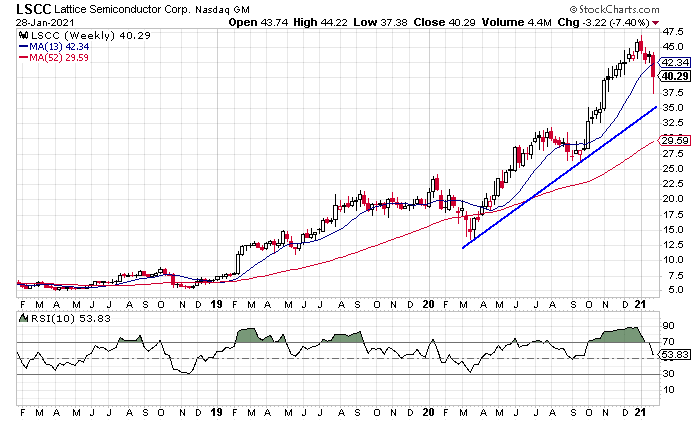 The stock was tremendously overbought when it peaked in early January, at least based on the 14-week RSI. The indicator has since fallen and is at its lowest level since last April when the stock was just starting to recover from its first-quarter pullback. The indicator hasn't been in oversold territory at any point in the last three years.