3 Things That Will Survive The Cryptocurrency Bust
So, looking forward, I can already see how the bitcoin/cryptocurrency mania is going to benefit society by making real estate transactions and borrowing and lending easier.
Wall Street's Fat Fees
The second benefit I'm expecting to come out of the cryptocurrency bust is a cheaper way to buy and sell investments.
In a previous article, I told you how expensive it is for a company to sell shares to investors. It's one reason why initial public offering (IPO) transactions have cratered.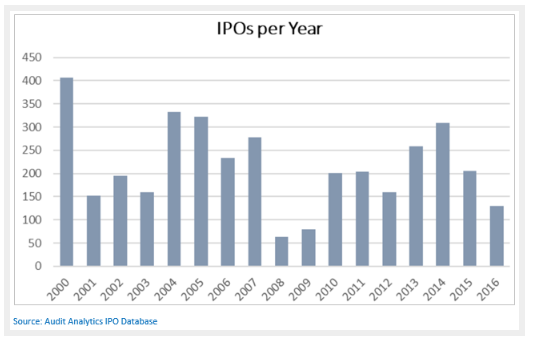 The reason for the decline is because Wall Street tightly controls the market for this. For example, Wall Street charged Facebook $176 million in fees to help it sell shares to the public.Facebook could afford these kinds of fees, but small and medium-size companies can't.
However, cryptocurrencies, through initial coin offerings (ICOs), were able to raise over $4 billion in 2017. My research suggests that the cost of doing an ICO is as little as $60.
Nearly every company can afford $60. Most can even afford $6,000.
So another benefit that's going to come from the cryptocurrency bust is that small and medium-size companies will be able to get funding and financing, or sell stakes in their businesses, without having to pay Wall Street fat fees.
In time, I believe, you'll see coins trading on the exchanges alongside stocks.
Shine Bright Like a Diamond
Last, I believe that, over time, cryptocurrencies are going to take over the traditional role of gold, silver, and precious metals and collectibles (like diamonds, etc.).
Now, this is something that's based on my conversations with my millennial friends. They have little or no interest in these kinds of tangible assets. Instead, they prefer digital or virtual assets.
The Bottom Line on a Cryptocurrency Bust
The lesson to learn when you see a bubble or mania is to find what the long-term benefits are.
For the cryptocurrency bust, once the dust settles, I'll be looking for stocks, assets or investments that have the things I laid out for you — blockchain technology and ICOs.