Inflation Phases: From Deflation Repair To Inflation Despair
In a new note out of Goldman's Christian Mueller-Glissmann, the strategist looks at the impact of inflation on balanced portfolios, and writes that even as US inflation expectations have fully recovered and investors are moving from fading deflation risk to pricing an inflation overshoot (which in moderation is good since "higher inflation matters critically for balanced portfolios, which tend to perform best when growth accelerates but inflation pressures are limited") so far the rise in inflation expectations "has not been a headwind for 60/40 portfolios as investors mostly faded deflation risk".
But with inflation expectations and real rates both rising sharply higher, the drag from bonds and pressure for higher equity allocations increases, also as bond yields remain close to the zero lower bound. And with higher and rising inflation the risk of rate shocks is higher, with Goldman warning that equities and bonds have often declined together in real terms (eventually).
Looking at the historical record, we find that the S&P 500 has been very positively correlated with US 10-year breakeven inflation and negatively with US10-year TIPS (or Real) yields .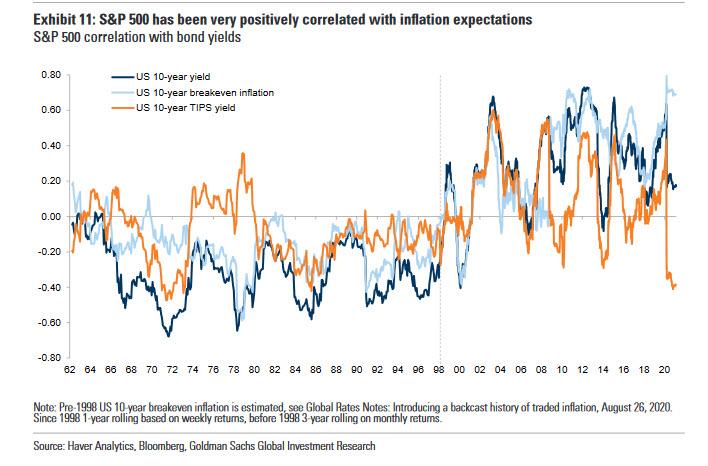 As Goldman observes, over the past two decades with inflation anchored and surprises skewed to the downside, equities have generally digested higher bond yields well. At least this was the case outside of negative rate shocks, when bond yields increased too fast, e.g., the US 'taper tantrum' in May 2013. But with rising inflation the potential for surprises and overshoot increases – there are three distinct "inflation phases" investors have to keep an eye on (not to be confused with the three catalysts listed by Morgan Stanley which would hint at an imminent yield blast off). We list them below:
1. Rising inflation expectations due to fading deflation risk.
Last year real yields declined as breakeven inflation recovered from low levels and nominal bond yields were anchored close to the zero lower bound. As a result, breakeven inflation and real rates have moved in opposite directions, which has seldom been the case (chart 12 below). This new real rate regime has been supported by very dovish central bank policies and guidance during the COVID-19 recovery. And as Goldman notes, "breakeven inflation has been closely linked to growth expectations" (actually, what it's even more closely linked to is the price of oil). It was similar post the GFC: real yields declined as investors faded deflation risk and nominal rates were anchored.
Disclaimer: Copyright ©2009-2021 ZeroHedge.com/ABC Media, LTD; All Rights Reserved. Zero Hedge is intended for Mature Audiences. Familiarize yourself with our legal and use policies ...
more