Important Levels Ahead
These are strange times. Bitcoin is a long way from its all-time high, the market situation resembles the dotcom bubble on steroids and yet there's not that much information on Bitcoin and we are yet to see the sort of panic that accompanies major crashes. Yet, the sentiment is shifting.
As Bitcoin has been going down for a year now, the sentiment surrounding the currency is shifting, as evidenced by the fact that the media has picked up on the depreciation in the Bitcoin market. Some analysts go even further than that. In an article on the MarketWatch website, we read:
Stephen Innes, head of Asia Pacific trading at Oanda, is arguing that the bitcoin bear market is far from over because the No. 1 digital currency has yet provide a significant use case. "Bitcoins have gone well beyond the ridiculousness of tulip bulb mania," he said on Monday.
"It's has been a disastrous year for cryptos, and by all indication, the current bear market could go from bad to worse with no fundamental or underlying reasons to buy BTC even more so when the only support offered up is a squiggly line on an analyst chart."
The fact that the price surge we saw in late 2017 was something reflecting the tulip mania is something to consider. The way Bitcoin rose surpassed the magnitudes of the moves during both the Japanese bubble of the late 1980s and early 1990s, and the dotcom bubble of the late 1990s and early 2000s. Let that sink in. Bitcoin's appreciation was way beyond anything we had seen during the Japanese and dotcom bubbles. But does the currency still have lower to go? An answer based on the analysis of historic bubbles would have to be: "possibly." Can we do better than that?
Bitcoin Close to Previous Low
On BitStamp, we are seeing some action, which could be considered sideways trading, and not much more as far as prices are concerned.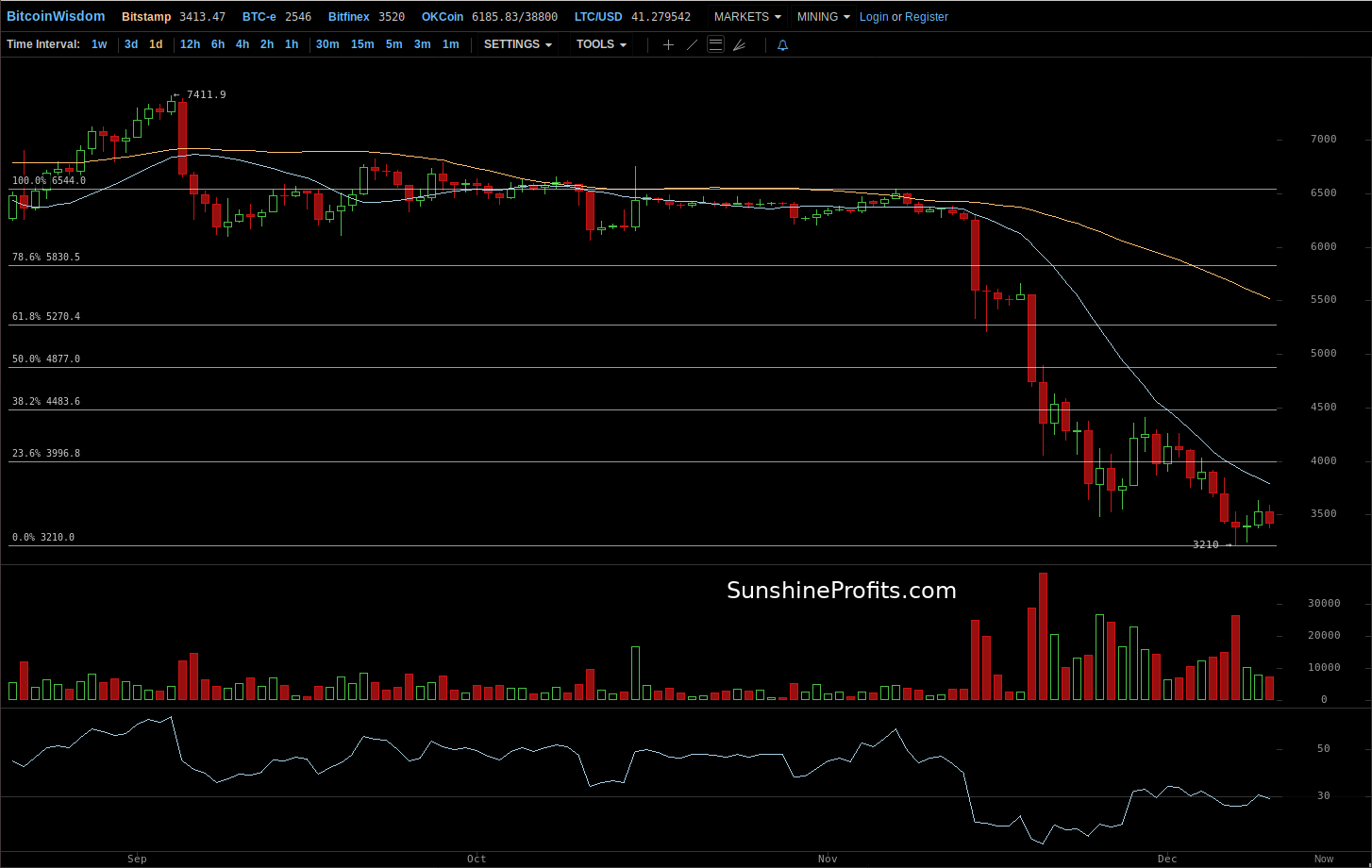 The currency stopped the decline and went up a bit in the last couple of days. However, if we put this action into perspective, the last couple of days are not a period of very strong action. Consequently, this doesn't constitute a strong reversal at this point. Particularly that Bitcoin hasn't been going up on strong volume. Also, none of the action we've seen recently has changed the short-term outlook.
Disclaimer: All essays, research, and information found on the Website represent the analyses and opinions of Mr. Radomski and Sunshine Profits' associates only. As such, it may prove wrong ...
more