Huge December Payrolls Miss: 140,000 Jobs Lost, Worst Month Since April
As previewed earlier when we said "December Payrolls Preview: Brace For A Very Ugly Number", as a result of the second wave of COVID shutdowns economists expected a sharp slowdown in December job growth in the U.S., with more than a quarter of those surveyed - including Goldman - predicting a negative print. Yet as Bloomberg notes, while the data is "almost certain to show an ongoing loss of labor-market momentum -- indeed, it could reveal outright job losses -- one could argue that it's already outdated." After all, a fresh stimulus package was passed towards the end of last month, and there is every chance of a further one in the months to come. Moreover, the prospect of vaccine-related normalization still hovers in the future, even if the current reality of the pandemic looks fairly grim. Finally, with this the last payroll month under the Trump admin, it is hardly a secret that the BLS would look to have a kitchen sink month where the upward "government massaged data" over the past 4 years catches down to reality.
With all that in mind, it was still a surprise just how ugly the December print was, with the BLS reporting that a whopping 140K jobs were lost last month, the first monthly job loss since April's record drop...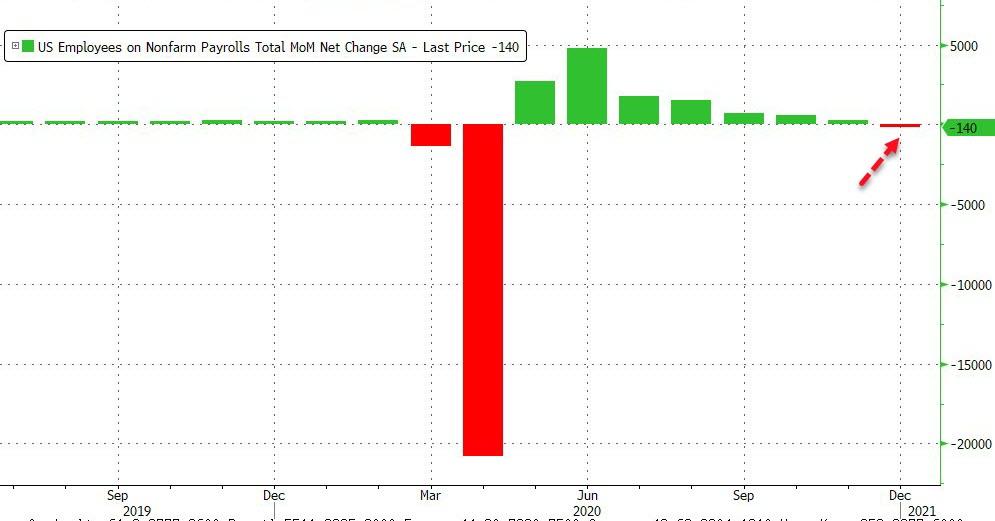 ... on consensus expectations of a 50K print (although Goldman's -50K forecast was close), resulting in a 190,000 miss to expectations. The -140K print was worse than all but three of 66 forecasts in the Bloomberg survey.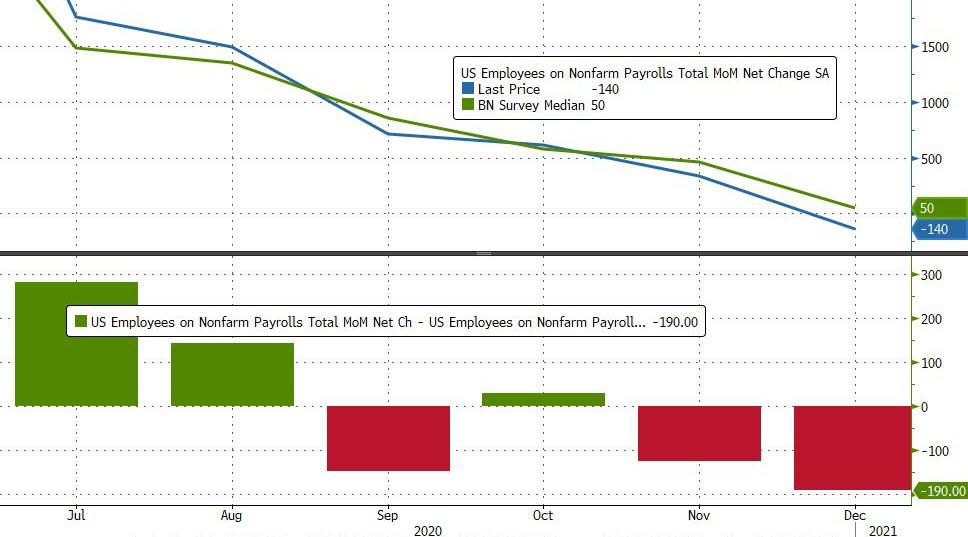 Employment declines were concentrated in leisure and hospitality, private education, and government were partially offset by gains in professional and business services, retail trade, construction, and transportation and warehousing. Also due to the harsh weather in December, workers unable to work due to bad weather was 111K.
It appears that the post-COVID recovery is stalling about halfway on the way up to the pre-COVID record highs.
Disclaimer: Copyright ©2009-2021 ZeroHedge.com/ABC Media, LTD; All Rights Reserved. Zero Hedge is intended for Mature Audiences. Familiarize yourself with our legal and use policies every ...
more