How Long Will Rising Inflation Be Ignored?
Goldman raised its end of 2022 core PCE inflation projection by one-tenth to 2.1%. Next year is the earliest the Fed can possibly raise rates. There is almost no chance of a hike this year. However, we still don't think the Fed will hike rates next year. Furthermore, Goldman raised its projection for end of 2023 core PCE inflation by 5 basis points to 2.15%. If the Fed keeps rates at zero throughout 2023, there should be increased cost pressures since the labor market will be full. The good news is the supply chain should be in better shape in the future.
🇺🇸 Goldmans | Bottom-Up Core PCE Inflation Outlook

🔹 "we now expect core inflation of 2.10% and 2.15% at end- 2022 and 2023, respectively (vs. 2.0% and 2.1% previously)." pic.twitter.com/TGKg8b4F4l

— PiQ (@PriapusIQ) May 15, 2021
History Of Wrongness
The chart below shows all the wrong market projections for the Fed funds rate. The market almost always gets near term decisions correction, but it rarely gets intermediate-term predictions correct. The market doesn't necessarily always predict that rates will rise earlier than they do. It's simply that it was hard to be too dovish for most of the past 16 years. The market is capable of being wrong in both directions.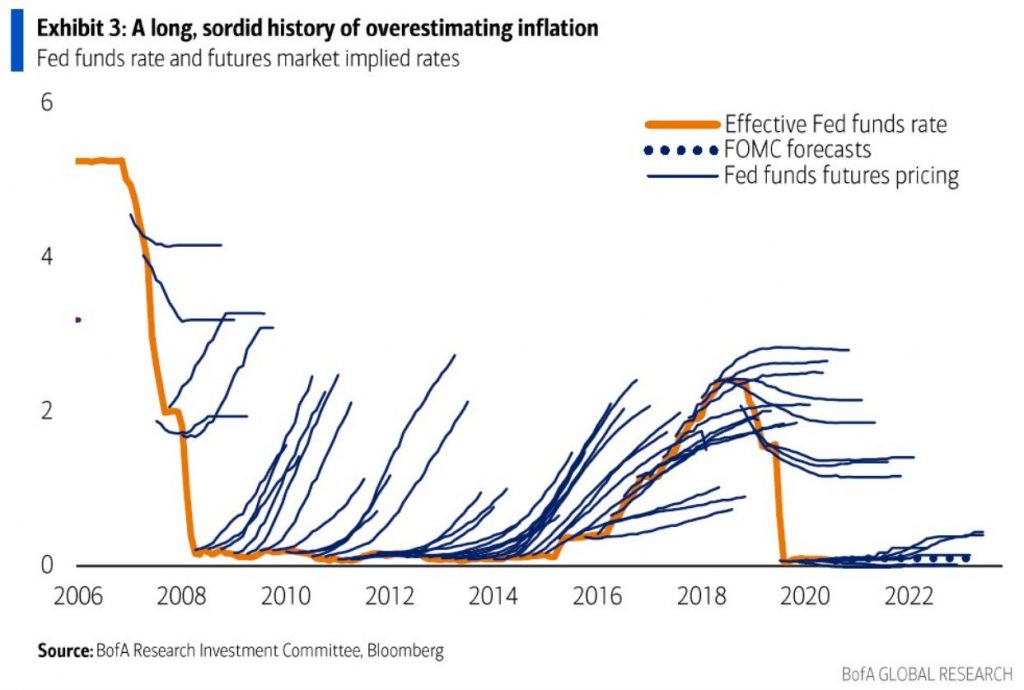 Currently, the Fed funds futures market sees more rate hikes than the FOMC is forecasting, but the difference isn't stark. It's worth mentioning that the FOMC's target isn't necessarily correct. Guidance is policy, not a prediction. It will be interesting to see who Biden selects to be the next chair of the Fed if he swaps out Powell. We think he will probably stick with Powell. If he chooses a different chair, it will likely be an even more dovish economist.
Conclusion
Inflation is spiking. PPI hit a record high in April. Consumers became less optimistic following the spike in inflation in May. These inflation spikes aren't just base effects. This an issue investors should watch out for in the next few months.
Disclaimer: The content in this article is for general informational and entertainment purposes only and should not be construed as financial advice. You agree that any decision you make will be ...
more