How Long Will Rising Inflation Be Ignored?
With that understood, the spike in inflation caused consumer sentiment to fall from 88.3 to 82.8 in May. Plus, consumers raised their long term inflation outlook. That's a bad signal for those expecting inflation pressures to quickly go away. Specifically, current conditions fell from 97.2 to 90.8. Expectations fell from 82.7 to 77.6. As you can see from the chart below, the net percentage of consumers referencing lower prices versus referencing higher prices (for homes, vehicles, and durables) fell to the lowest level since the early 1980s. Housing and vehicle prices have exploded. Those are the two largest expenses the middle class has.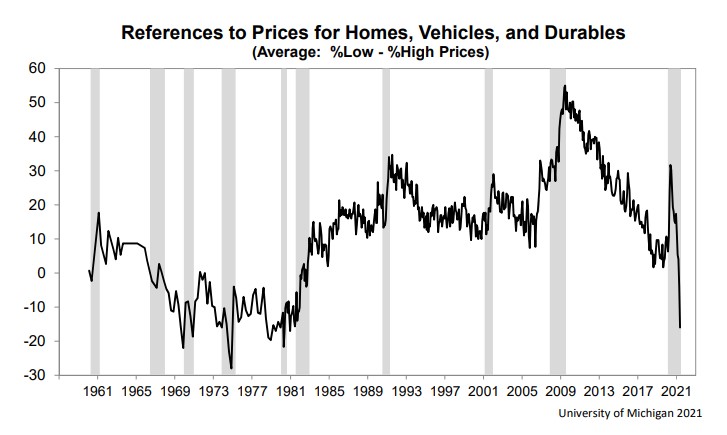 Source: University Of Michigan
In the past 10 years, the Fed has referenced the stickiness of low inflation expectations as a reason it can keep rates persistently low without worrying about inflation. That might be changing. The spike in demand might be causing consumers to buy in advance to avoid higher prices. This spike in demand will cause inflation to rise further which has a fly-wheel effect (self-fulfilling).
The chart below shows 5-10 year inflation expectations rose from 2.7% to 3.1% in May which is the highest reading since March 2010 when it randomly spiked. This spike in expectations is probably more sustainable than the spike in 2010. That being side, it's unclear what major difference there was from April to May. Inflation was high in April as well. Maybe consumers are catching up with the change in costs. Inflation isn't as high as the early 1980s, but this could mean the Fed will raise rates quicker than expected.
Goldman Makes A Small Update To Core PCE Inflation Projections
In spite of the major price increases, Goldman Sachs doesn't see much of an increase in core PCE inflation coming. This is always the toughest metric to push up. It doesn't seem to rise much no matter how much commodity costs spike. This is a slap in the face to consumers facing higher prices. Of course, this projection isn't Goldman's fault. In fact, it's likely accurate.
Disclaimer: The content in this article is for general informational and entertainment purposes only and should not be construed as financial advice. You agree that any decision you make will be ...
more