How Economists Blew The Analysis Of The Manufacturing Jobs Shock
I came across this article yesterday, posted by - to his credit - Brad DeLong, whose argument it eviscerates. Entitled "The Epic MIstake about Manufacturing That's Cost Americans Millions of Jobs," it deserves widespread attention. So I am summarizing it here. But by all means, go and read the entire piece.
Just to give you the frame of reference, here is the historical graph of manufacturing jobs in the US for the past 50 years:
(Click on image to enlarge)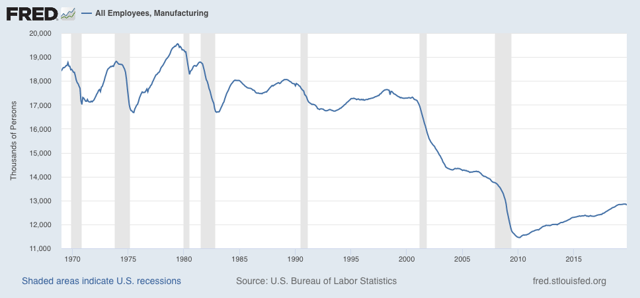 After peaking in 1979, the number more or less gradually declined in the 1980s, and then stabilized in the 1990s, before plummeting right after 2000.
As written by Gwynn Guilford, the consensus of economists' opinion was that while
the US had hemorrhaged manufacturing jobs, losing close to 5 million of them since 2000. Trade may have been a factor—but it clearly wasn't the main culprit. Automation was.
....
For a decade or so, this phenomenon had been put forth by Ivy League economists, former US secretaries of treasury, transportation, and labor, Congressional Research Services, vice president Joe Biden, president Barack Obama—and by Quartz too, for that matter. In a 2016 New York Times articletitled "The Long-Term Jobs Killer is Not China. It's Automation," Harvard economist Lawrence Katz laid out the general consensus: "Over the long haul, clearly automation's been much more important—it's not even close."
Susan Houseman, an economist at the Upjohn Institute, and her colleagues, examined microdata available from the Federal Reserve, and discovered that this entire rationalization was based on technological improvements in only one industry — computers. As the article states, once they
strip[ped] away the computers industry output from the rest of the data[, t]hat revealed just how the rest of manufacturing was doing—and it was much worse than what Houseman and her colleagues expected.