How Bitcoin Caused Crypto Prices To Crash
Crypto prices across the board crashed yesterday with most plunging more than 30% in less than 24 hours.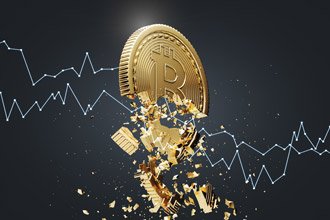 At one point, the Bitcoin (BTC) price fell to just over $30,000, a decline of 53.7% from the all-time high of $64,800 it reached in April.
The massive drop came on top of more than a week of declines. Bitcoin fell about 25% in the week prior to today's drop.
Because crypto prices generally follow Bitcoin's lead, the sudden sell-off in Bitcoin also triggered a more widespread crash in the cryptocurrency markets.
While the price of Bitcoin did rebound slightly by mid-day, it was still trading in the upper $30,000s – well below where it was just a couple of days ago.
Of course, investors want to know why this happened.
Several factors combined to cause prices to start falling and then accelerate into a full-blown crash…
Why Crypto Prices Plummeted Today
The trouble started about a week ago when Tesla Inc. (Nasdaq: TSLA) CEO Elon Musk tweeted that the electric carmaker would no longer accept Bitcoin as payment for vehicles.
Although Musk specifically said that Tesla had no intention to sell the Bitcoin it holds on its balance sheet, many saw the tweet as evidence that Musk had soured on the No. 1 cryptocurrency. The price of Bitcoin promptly fell 17%, dragging many cryptocurrencies lower along with it.
The Musk tweet already had the cryptocurrency markets on edge.
Then China weighed in.
On Tuesday, several Chinese agencies reiterated years-old policies that banned cryptocurrency several services. The policies prohibit financial and payment entities from providing any crypto-related transaction services and ban initial coin offerings (ICOs).
Crypto-focused news sites such as CoinDesk and CoinTelegraph correctly reported the announcement from China as a confirmation of existing policies from actions take in 2013 and 2017.
But mainstream news outlets reported the announcement as a fresh "crackdown" or "ban" by the Chinese government. Some sample headlines:
Disclaimer: Any performance results described herein are not based on actual trading of securities but are instead based on a hypothetical trading account which entered and exited the suggested ...
more