Here Comes Another Retail Sales Miss
Bank of America's economists have been on a roll in the past four months.
Back in February, the bank looked at its credit and debit card spending data and concluded that consensus was far, far too low, predicting that the stimmy-fueled January retail sales print would be above 4.1%.
(Click on image to enlarge)

Not only was BofA's outlier forecast right, but the headline retail sales number came in even higher: at a whopping 5.3%, nearly 5x higher than the consensus estimate of a 1.1% rise.
One month later, when the Wall Street herd scrambled to make up for its clueless January forecast by being overly optimistic, Bank of America again took the contrarian approach, not because it wanted to but because that's what the data showed: spending on BofA branded credit and debit cards tumbled in February, prompting BofA to predict a -3.0% retail sales print.
(Click on image to enlarge)

Once again, BofA was spot on to the dot, with the official retail sales print coming at -3.0%.
The bank's uncanny record continued in April when BofA was again a sharp outlier to consensus predicting a more than double blowout in March retail sales compared to expectations, looking for a 11.1% print (ex-autos and 11.5% headline)...
(Click on image to enlarge)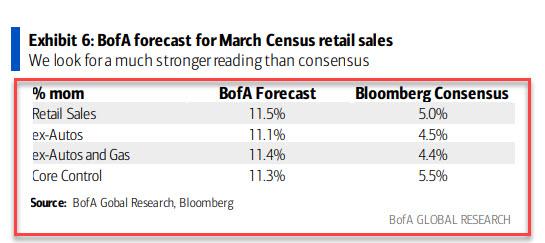 ... and once again the actual spending-driven forecast was the most accurate, with the actual number coming in just shy of the BofA forecast, at 9.8% M/M, and almost double the consensus forecast of 5.8%.
And then again in May, BofA took the contrarian view to consensus, because with Wall Street's analysts momentum chasing penguins as usual looking for a continuation of the recent momentum and expecting a 1.0% increase in retail sales and 0.4% ex-autos, BofA was a mirror image of this cheerful outlook, looking for a -0.9% decline in headline retail sales and a sizable -1.9% drop ex-autos as the latest stimmy-funded spending spree comes to a grinding halt.
Disclaimer: Copyright ©2009-2020 ZeroHedge.com/ABC Media, LTD; All Rights Reserved. Zero Hedge is intended for Mature Audiences. Familiarize yourself with our legal and use policies every ...
more