Mega Squeeze Coming: Last Week Saw Biggest Hedge Fund Shorting Since May
Last week was an emotional roller coaster for every trader, and even though stocks closed almost unchanged from where they opened, what happened in the past five days was anything but smooth sailing, as the following daily wrap from Goldman's Prime Service desk reveals.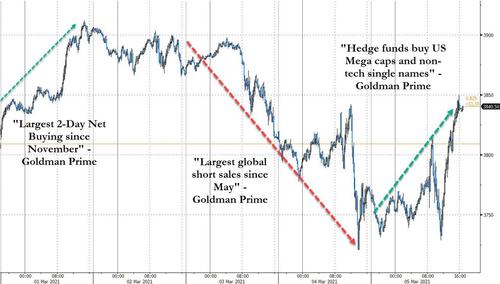 Starting Monday, when stocks soared in a relief rally from the previous Friday's tumble as yields stabilized, Goldman prime reported that the GS Prime book "was net bought for a second straight day (+2.1 SDs vs. the average daily net flow of the past year), driven by risk-on flows as long buys outpaced short sales 8 to 1."
Furthermore, "on a cumulative basis, the $ net buying from the past two days (Friday and Monday) was larger than any other two-day period since early November. While Friday's net buying was driven by short covers in Macro Products, yesterday's net buying was driven by long buys in Single Names."
Remarkably, according to Goldman's hedge fund facing division, "all regions were net bought led in $ terms by North America and Asia. Asia saw the largest $ net buying in more than two years (+3.8 SDs), driven by long buys in Japan and to a lesser extent short covers in Hong Kong." Meanwhile, just in the US, Goldman says buying outpaces short sales 5 to 1.

All of this changed the very next day when stocks stumbled amid renewed rising rate pressures and just a day after Goldman Prime saw a dramatic surge in buying. Whiplash set in with Goldman reporting the "largest global short sales since May," with the GS Prime book was net sold yesterday (-0.9 SDs vs. the average daily net flow of the past year), driven by short sales outpacing long buys 1.7 to 1."

The next day was one of confusion, with Goldman Prime reporting that its prime book was modestly net bought, "driven by long buys outpacing short sales 1.2 to 1," although North American markets were not on the buying agenda as "with the exception of North America, all regions were net bought led in $ terms by Europe and Asia."
Disclaimer: Copyright ©2009-2021 ZeroHedge.com/ABC Media, LTD; All Rights Reserved. Zero Hedge is intended for Mature Audiences. Familiarize yourself with our legal and use policies every time ...
more