It's Still Not Too Late To Get On Board Of The BioLife Solutions Train
Summary
We argued that the company is a ground-floor opportunity on the regenerative medicine revolution, which is just in the early innings.
The company is winning dozens of new customers a quarter, increasing the pool of possible regulatory approvals and the accompanying prospect of a step up in revenues.
Already profitable and cash generating, the shares aren't all that expensive.
BioLife Solutions (BLFS) is a stock to benefit from the early innings of regenerative medicine revolution with multiple avenues for growth ahead if it.
Not only does it continue to gain new customers involved in clinical trials, but this also increases the pool of customers which eventually receive regulatory approval after which they generate much more significant amounts of revenues.
Then, the company is already profitable and generating cash flow, which it uses for acquisitions, buying into complementary products which generate revenue and/or cost synergies.
BioLife is one of our favorite companies and we hold 500 shares (at $12) since October last year in the SHU portfolio, so sitting on decent profits.
This is one of the best growth stocks around, in our opinion and one of those stocks you buy once and then forget about it, sort off as you simply let it run. The graph shows as much: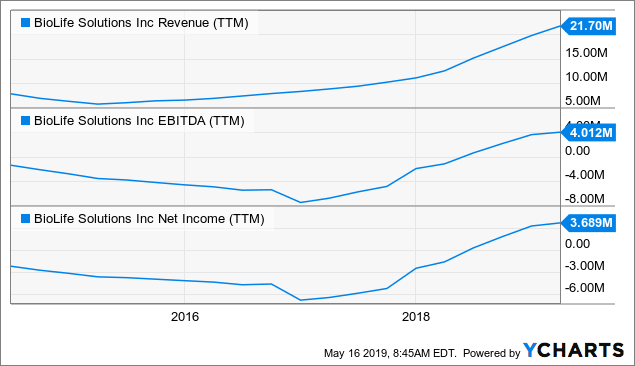 Data by YCharts
Basically, what you get when buying the stock is 50%+ growth, margin expansion, profitability, and positive cash flow, and little in the way of competition with a very large runway ahead.
The latter isn't difficult to see, much of the runway for the company is provided by the regenerative medicine market, which is only just starting. Not everybody might be familiar with that concept, from Wikipedia:
Regenerative medicine is a branch of translational research in tissue engineering and molecular biology which deals with the "process of replacing, engineering or regenerating human cells, tissues or organs to restore or establish normal function".