Genomic Health Is Positioned For Strong Returns
Genomic Health (GHDX) is a top provider of genomic-based diagnostic tests that help optimize cancer care, including addressing the overtreatment of the disease, one of the greatest issues in healthcare today. Genomic Health offers its tissue-based invasive breast, prostate, colon, and DCIS Oncotype DX tests as clinical laboratory services.
According to management, the company has prospective evidence from more than 63,000 patients demonstrating that the Oncotype DX Breast Recurrence Score test accurately predicts outcomes, and it calculates that access to Genomic Health tests that enables personalized treatment decision-making has saved the healthcare system approximately $5 billion in the United States alone.
Genomic Health is delivering solid results and benefiting from accelerating adoption, reimbursement, and revenue growth.
The National Institute for Health and Care Excellence (NICE) in the UK has recently issued its updated guidance, again recommending the Oncotype DX Breast Recurrence Score test for use in clinical practice to guide adjuvant chemotherapy treatment decisions for certain patients with early-stage breast cancer. In addition, NICE expanded its recommendation to include patients with micrometastases indicating that some cancer cells have spread to the lymph nodes.
In the words of Simon D H Holt, Honorary Consultant Surgical Oncologist, Peony Breast Care Unit at Prince Philip Hospital in Llanelli, UK:
"Oncotype DX is the only test that provides specific information about an individual patient's response to chemotherapy, correctly identifying the important minority of patients who will receive substantial treatment benefit and the majority of patients who will not benefit from chemotherapy. This test allows us to target treatment much more effectively and should be routinely used for all eligible patients."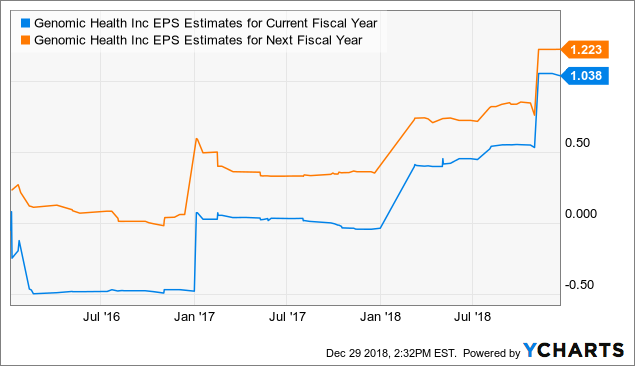 data by YCharts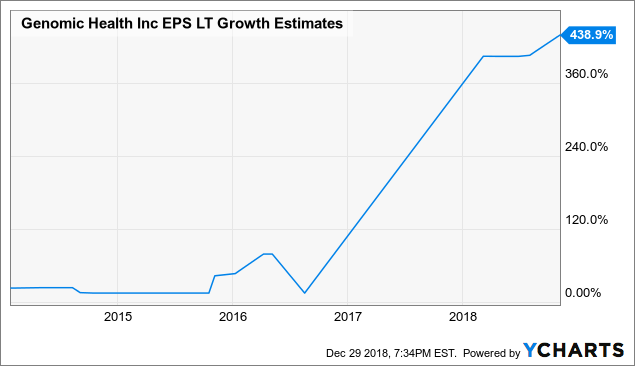 data by YCharts
Offering a similar perspective, in September of 2018 the German Institute for Quality and Efficiency in Health Care (IQWiG) concluded in its updated assessment of breast cancer gene expression profiling tests that only the Oncotype DX test has sufficient evidence to guide breast cancer adjuvant chemotherapy treatment decisions.
The company is also obtaining reimbursement wins in urology, including Medicare's final local coverage determination for use of the Oncotype DX AR-V7 Nucleus Detect test for men with castrate-resistant metastatic prostate cancer, effective in December of 2018.
Genomic Health is aggressively betting on international markets for growth. Management estimates that the size of the growth opportunity considering only currently marketed tests is worth around $1.4 billion, proving plenty of room for expansion from current levels.
Disclosure:
I have no positions in any stocks mentioned, and no plans to initiate any positions within the next 72 hours.
Disclaimer: I wrote this article myself, and it expresses my ...
more