Happy HODLmas - Bitcoin Soars To New Record High
Crypto enthusiasts got another early Christmas gift overnight as Bitcoin surged to new record highs...
(Click on image to enlarge)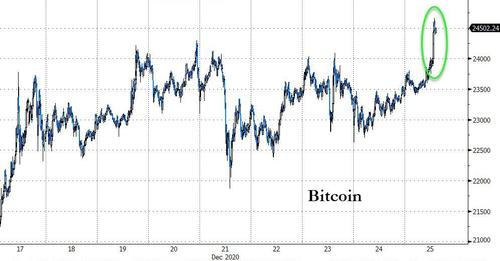 Source: Bloomberg
Topping $24,600 for the first time ever...
(Click on image to enlarge)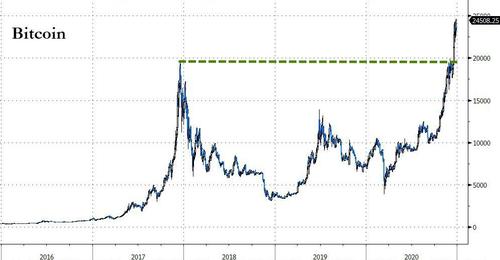 Source: Bloomberg
The driver of this move appears to be more institutional interest as Cointelegraph reported, while not proven, single large outflow spikes suggest that a buyer has purchased a large amount of BTC and the proceeds are being moved to a single storage wallet.
"Another big Coinbase outflows a few hours ago," Ki Young Ju, CEO of CryptoQuant, added in Twitter comments.

"Institutional investors are buying $BTC."
(Click on image to enlarge)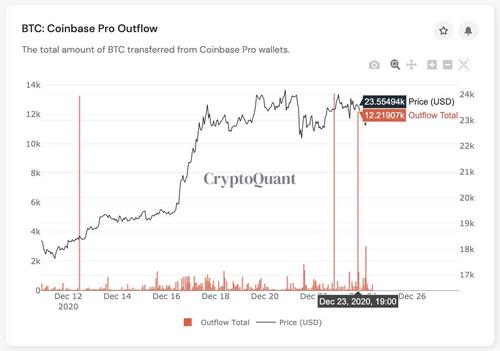 In November, miners unlocked just under 28,000 BTC in block rewards - barely more than the sum total of the two Coinbase Pro transactions. This implied supply squeeze forms a central argument for continued upward price action.
Underlying desire to suck up the Bitcoin supply at $23,000 contrasts with external factors influencing market sentiment, notably revolving around Ripple's U.S. lawsuit and shifting expectations over the Mt. Gox rehabilitation proceedings.
Concerns that Ripple's associated altcoin XRP could become all but untradeable thanks to legal action appeared to spark considerable volatility in Bitcoin over the past 24 hours.
At the same time, the market is awaiting the distribution of funds to Mt. Gox's creditors, who after a six-year hiatus may well be keen to sell some or all of their BTC at 2020 prices, resulting in $3.2 billion of additional selling pressure.
Beyond these short-term factors, however, it remains clear that institutions are bullish on Bitcoin as a whole, with fresh commitments surfacing almost constantly.
As Galaxy Digital CEO Mike Novogratz noted during an interview with CNBC this week...
"It tells you about how powerful this bull market is [...] They are throwing lots at the system, and it's not actually impacting it."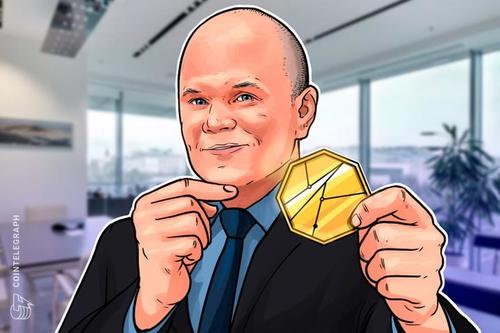 Furthermore, Bitcoin price hitting $100,000 to $200,000 in the next 12 months is becoming a quite common, if not "conservative," prediction.
Disclaimer: Copyright ©2009-2020 ZeroHedge.com/ABC Media, LTD; All Rights Reserved. Zero Hedge is intended for Mature Audiences. Familiarize yourself with our legal and use policies every time ...
more