Guggenheim To Invest Up To $530 Million In Bitcoin After Roubini Twitter Meltdown
"all the gold bugs who say gold is going to go to $1,500, $2,000, they're just speaking nonsense. Yeah, it can go above $1,000, but it can't move up 20-30 percent unless we end up in a world of inflation or another depression"

- Roubini, Oct 2009https://t.co/coa6MfZ3pO

— zerohedge (@zerohedge) November 26, 2020
Guess we must be living in a world of inflation or another depression... contrary to what Keynesians such as Roubini would like us to believe.
Roubini's dime-a-dozen opinions and meltdowns aside, what really matters is when someone puts their crypto money where their mouth is. Examples of this include the publicly traded business-intel firm MicroStrategy, which on August 11 poured all $250 million of its planned inflation-hedging funds into the digital currency. Its stock is up 120% since then.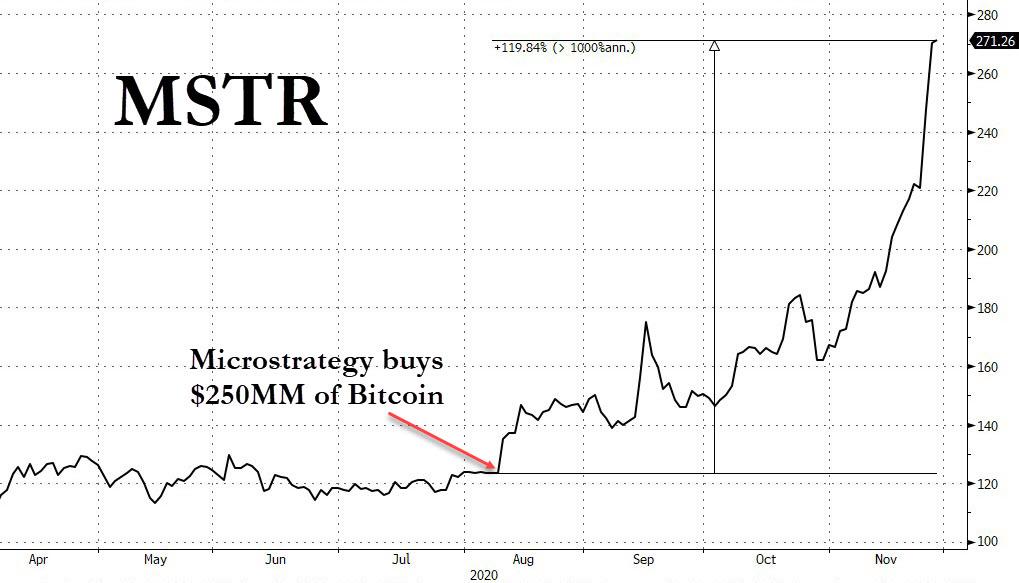 Another example is when Jack Dorsey's "other" company, Square, said in October it bought 4,709 bitcoins, worth approximately $50 million, about 1% of Square's total assets. "Square believes that cryptocurrency is an instrument of economic empowerment and provides a way for the world to participate in a global monetary system, which aligns with the company's purpose," the company said in a release. Square founder Jack Dorsey has been a advocate of the digital currency, saying in 2018 the cryptocurrency will eventually become the world's "single currency." However the founder of Twitter said it could take a long as a decade.
Or it may take far less than that, especially after PayPal announced a few weeks later that it had enabled crypto transactions for all its clients, sparking the latest leg higher in bitcoin.
Which begs the question: whereas in 2017 it was all the rage to pivot to "blockchain", we wonder how long before every public company converts some (or all) of its cash and equivalents into bitcoin similar to MicrosStrategy and Square, in hopes of reaping a quick surge in its stock price. And tangentially with that, how long before established asset managers do the same?
Disclaimer: Copyright ©2009-2020 ZeroHedge.com/ABC Media, LTD; All Rights Reserved. Zero Hedge is intended for Mature Audiences. Familiarize yourself with our legal and use policies every time ...
more