Gold: September Supply And Demand Objectives
This is the monthly gold Variable Changing Price Momentum Indicator (VC PMI) report for September 1, 2019.
"It does not take a master technical analyst to look at the gold and silver charts and see that the markets are in a major breakout to the upside," Equity Management Academy CEO Patrick MontesDeOca said. "The question is what do we do moving forward for traders who are still on the sidelines waiting for some kind of opportunity to meet their criteria to enter the market on the long side?"
Without any question the market has broken out through the short-, intermediate- and long-term resistance levels. To calculate the prospects of trading in the gold market, we looked at the monthly supply and demand levels for September.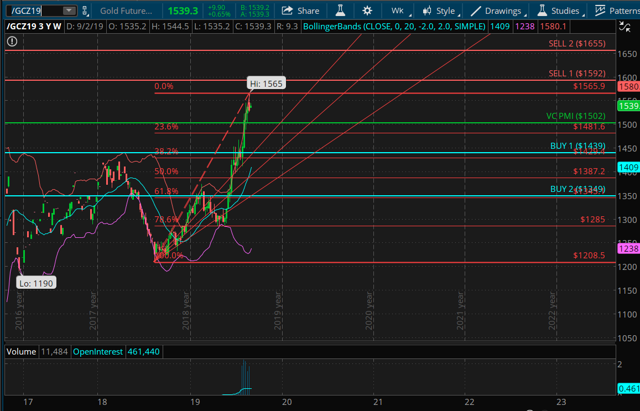 Market on the Upside
The VC PMI identified the average price for September as $1502. With the market trading above the average price at $1529.40 as of the close on Friday, it appears that we are entering this month with a bullish trend momentum. This automatically identifies the target for the month above the average price as being at $1592 (Sell 1 or S1 level) with a 90% probability, if activated, of reverting to the mean from that level. The second extreme level above the mean, Sell 2 (S2) is at $1655, has a 2-to-1 relative implied volatility and has a 95% probability, if activated, of reverting to the mean.
We do not know what is going to happen, but by watching the price and seeing whether these targets are activated, we can be alerted about a new setup from the S1 or S2 level. If you buy into these levels, when activated, there is a 90% or 95% probability of the market going against you. If you sell at those levels, you have a 90% or 95% probability of the market going in your favor.
Market on the Downside
If the market moves in the other direction, the Buy 1 (B1) level is at $1439 and the Buy 2 (B2) level is $1349 for the month of September.
If you are long the market coming into this month, and if the $1592 price is activated, then you probably want to look at taking some profits off the table.
Disclosure: I have no positions in any stocks mentioned, and no plans to initiate any positions within the next 72 hours.
To learn more about how the VC PMI works and receive weekly reports ...
more