Globant Stock Is Positioned For Attractive Returns
Globant (GLOB) is an IT services company with a broad global reach across different countries and verticals. The stock can be volatile in the short term, but the business fundamentals are clearly evolving well, and the stock is reasonably valued at current prices. Overall, the risk and reward equation in Globant stock looks quite compelling over the long term.
Growing At Full Speed
Globant is focused on providing digital transformation services, an area with plenty of opportunities for growth over the long term. According to estimates from IDC, direct digital transformation investment spending will be $5.5 trillion over the years 2018 to 2021.
The company has delivered revenue growth above 27% per year from 2014 to 2018. Even as the business matures over time, revenue growth remains comfortably above 20% in recent quarters.
(Click on image to enlarge)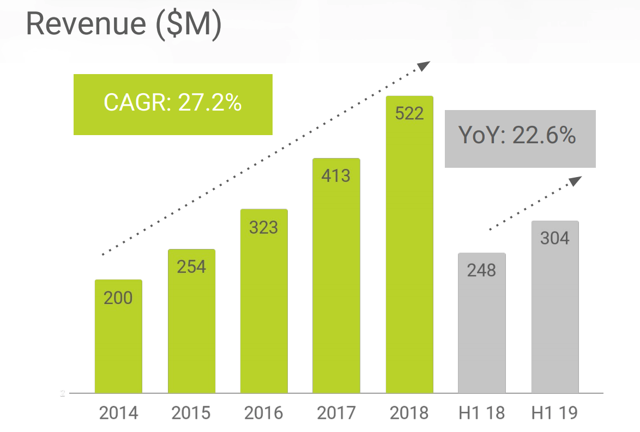 Source: Globant
The company is not only gaining new clients but also increasing revenue per client, which reflects well on Globant's customer proposition and its ability to consistently create value for those customers.
(Click on image to enlarge)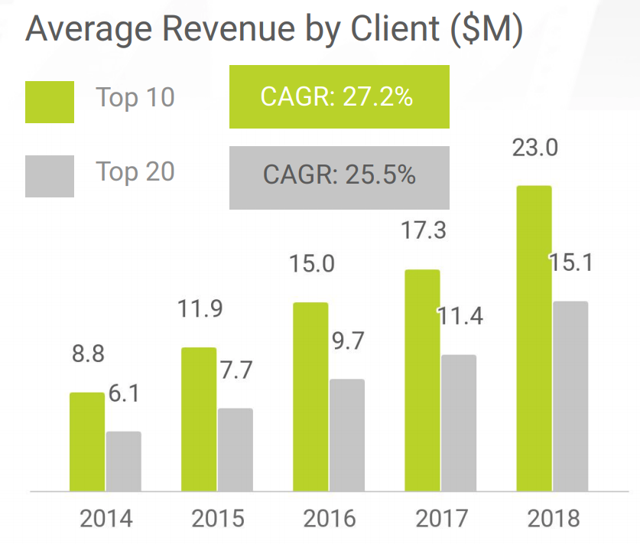 Source: Globant.
In the past twelve months, the company reached 12 accounts above $10 million in annual revenues compared to nine for the same period last year. Globant, currently, has 97 accounts with more than $1 million in annual revenues versus 92 one year ago.
The company has a strong presence across different industry verticals, its top three industry verticals for the most recent quarter were media and entertainment with 23.1% of revenues, banks, financial services, and insurance with 21.6% of revenues, and travel and hospitality with 15.2% of revenues.
Globant is also growing rapidly in other verticals, such as consumer retail and manufacturing, and professional services, with increases of more than 60% and 30% year-over-year respectively, compared to the second quarter of 2018. This is indicating that the company understands how to successfully adapt its approach and technologies to different industries in order to fit customer needs.
Disclosure: I/we have no positions in any stocks mentioned, but may initiate a long position in GLOB over the next 72 hours.
Disclaimer: I wrote this article myself, and it expresses my ...
more