Yuan, Equities Eye US-China Tariffs, Foreign Reserves And Lending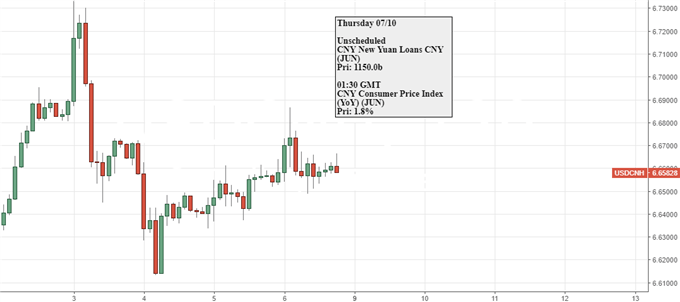 Fundamental Forecast for CNH: Neutral
The Chinese Yuan and equites could take further hits from additional US-China tariff battles.
No significant drop in China's foreign reserves may help to improve market confidence.
A controlled expansion in lending may leave room for PBOC to cut RRR further.
The Chinese Yuan had a volatile week: it escalated losses from last week and dipped an 11-month low against the U.S. Dollar, then bounced back by more than 1100 pips following multiple PBOC officials' expressing confidence in the currency. On Friday, Yuan's volatility continued amid both US and China's tariffs kicking in; it eventually lost against the U.S. Dollar on a weekly basis. Chinese equities improved on Friday, though on a weekly basis remained week, with Shanghai Composite Index sinking for the seventh week in a row.
Looking forward, the US-China trade war will continue to be a top driver to the Yuan and Chinese equities. China sees the trade war has officially begun after the US tariffs went into effect. It is expected that the largest two economies in the world will launch more tit-for-tat attacks against each other; what unknown is how much more tariffs will be imposed and how long the battles will last. Over the weekend, both sides could release details of further moves and thus worth to keep a close eye on.
In terms of the timing for the two countries returning to the negotiating table, it may be determined by how much pressure American farmers and manufacturers can bring to the White House, especially those who have voted US President Trump into the office. Chinese tariffs directly target at them: agriculture, aquatic and auto producers. Next week, China will release the trade prints for June. A breakdown in Chinese imports may reveal some clues on how much American exporters have suffered from the US-China trade disputes.
Yet, even if bilateral talks resumed, challenges remain as China would need to reach deals with divided US groups with different goals: cutting US trade deficit and changing China's industrial policy. The first one is more negotiable and a deal was close to reach; the latter one reflects the increasing competition between the two countries, which may not be easily to solve very soon.