Wirecard Soars As Soft Bank Crushes Shorts After Buying 5.6% Stake
As German markets regulator BaFin investigates a Financial Times reporter for allegedly conspiring with unscrupulous short-sellers to besmirch the good name of Munich-based FinTech darling Wirecard, Japanese telecoms conglomerate/VC giant Soft Bank has squeezed out any remaining shorts who managed to hold on through a Beijing-style ban on short-selling, and what some argued was a 'manipulated' vindication by an Asian law firm.
Wirecard confirmed late Tuesday that Soft Bank had agreed to invest €900 million ($1 billion) for a 5.6% stake in the company. The news triggered a torrid rally in Wirecard shares, which ripped 9% higher on Wednesday, leading the German DAX higher on a day when European stocks traded mostly lower.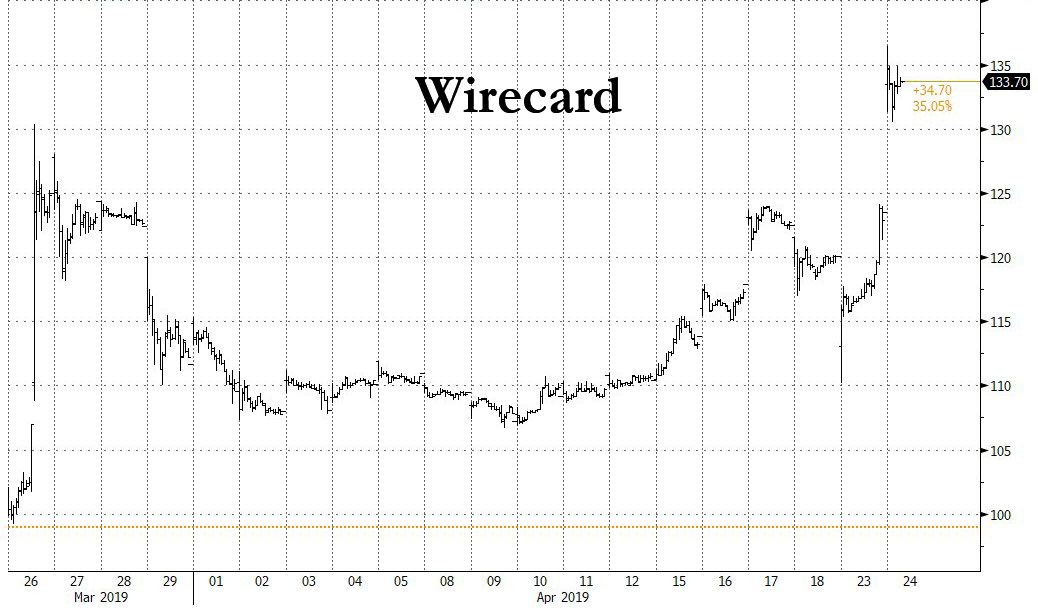 According to the terms of the deal as reported by Reuters and the Financial Times, Soft Bank won't buy a direct equity stake. Rather, Wirecard will issue convertible bonds exclusively to Soft Bank that will transform into equity after five years. The conversion price of €130 per share represented a 5% premium to Wirecard's closing price on Tuesday.
For the deal to go through, Wirecard shareholders must approve the debt offering during the company's June 18 annual meeting.
Though Soft Bank and its Saudi-backed 'Vision Fund' has been criticized for its tendency to overvalue Silicon Valley startups (see its investments in Uber and WeWork), Wirecard's shares are still trading well below their September peak. A series of FT reports alleging accounting fraud at Wirecard's Asia operations, published earlier this year, sent Wirecard shares hurtling lower, though they have started to recover since Wirecard publicized a law firm's report clearing its management of wrongdoing.
Fearful that a route in Wirecard shares could drag down German indexes and European stocks more broadly, BaFin has assured the public of its confidence in Wirecard and accused short-sellers and the FT of conspiring to drive its stock lower. At one point, BaFin went so far as to ban short-selling in Wirecard shares, a move reminiscent of Beijing's response to a 2015 route in Chinese shares, when authorities started locking up short-sellers.