Will Italy Sink The EU And Boost Gold?
The recent growth acceleration in the EU could distract attention from problems of the common bloc. Fortunately, you can always count on Italy. Whenever you start thinking that only bright future is ahead of the union, the descendants of the proud Romans remind about themselves. Indeed, Italy focuses three major EU's problems like in a lens. What are they and how could they affect the gold market?
First, populism. As you remember, Italians held general elections in March. As we reported then, the populist party founded by comedian Beppe Grillo won about one-third of the votes.. Since then, the Five Star Movement and League, the two biggest parties in the new parliament, have been negotiating to form a new government. In May, they finally published a contract for their shared platform.
At first glance, it should be good news, as the deal ends months of political uncertainty in Italy. Moreover, the leaders of the winning parties dropped some of their most explosive election campaign promises, such as the idea to organize referendum about Italy's membership in the eurozone or even to unilaterally exit from the common currency bloc.
But investors definitely did not like the deal (and the following reaction of Italy's President). As one can see in the chart below, the yields on Italy's ten-year bonds jumped above 3 percent, the highest level since 2014.
Chart 1: Italy's 10-year Government Bond Yield over the last twelve months (in %).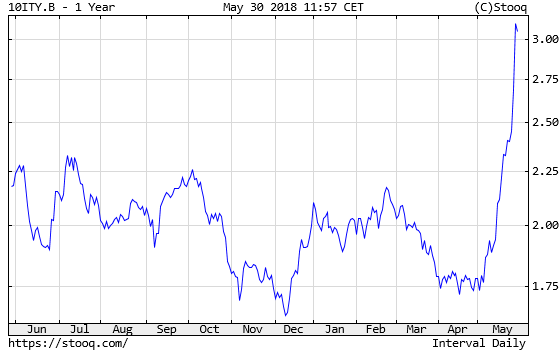 Moreover, the Milan stock index slumped about 2.5% in few days after the announcement. And the euro fell against the U.S. dollar, as the next chart shows.
Chart 2: EUR/USD exchange rate from June 2017 to May 2018.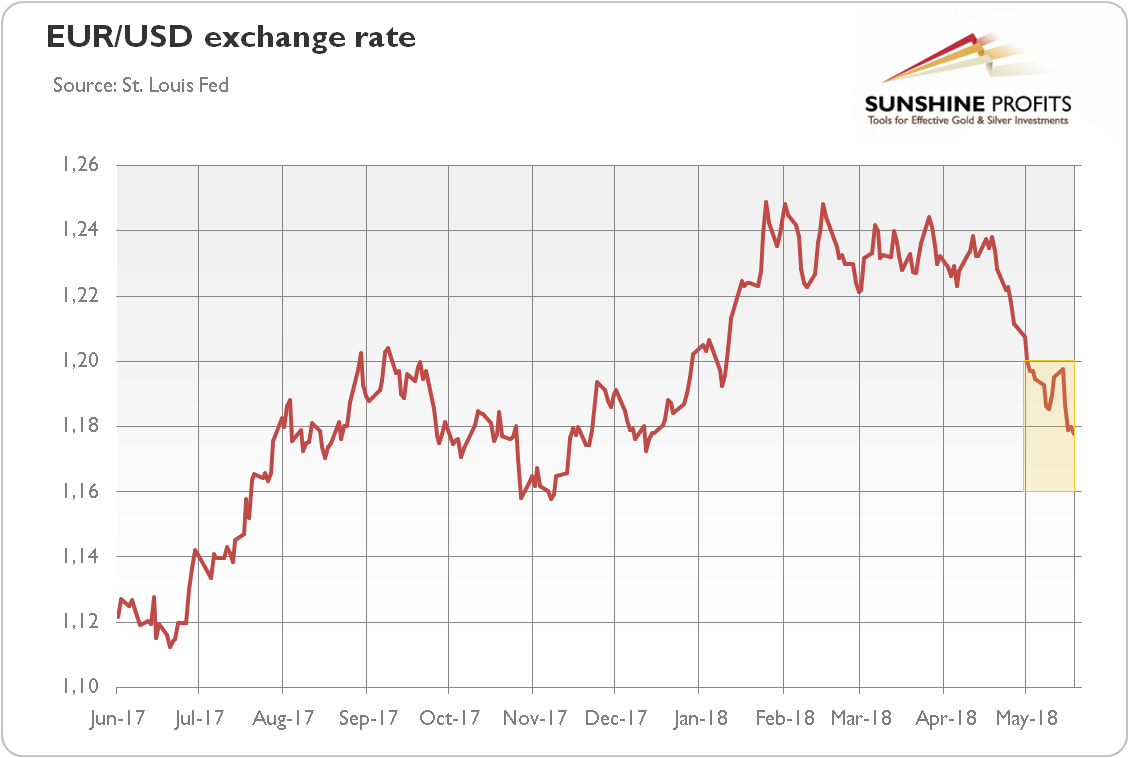 Why? Well, the reason is simple. The deal calls for more government spending (poor families are to get a €780 basic monthly income) and the tax cuts (we love lower taxes, but when lower spending accompanies them). Hence, although Italian politicians from the League and Five Star Movement gave up some of their most startling campaign pledges, investors are still worried about the new government's approach to public debt. The document says that:
If you enjoyed the above analysis and would you like to know more about the most important macroeconomic factors influencing the U.S. dollar value and the price of gold, we invite you to read the ...
more