Why The China Trade Is Not Over
Top Chinese corporations such as Alibaba (NYSE:BABA), Baidu (Nasdaq:BIDU), Tencent (OTCPK:TCEHY), JD.com (Nasdaq:JD) and others have been under intense pressure lately. Factors like Chinese government crackdowns on big tech, U.S. delisting concerns, forced selling, and other elements have enabled a perfect storm to form above Chinese equities. However, a lot of the concerns seem to be blown out of proportion, and the underlying challenges appear to be transitory in nature. Many Chinese companies offer significant value coupled with very strong growth, should rebound from current oversold levels, and will likely appreciate notably going forward.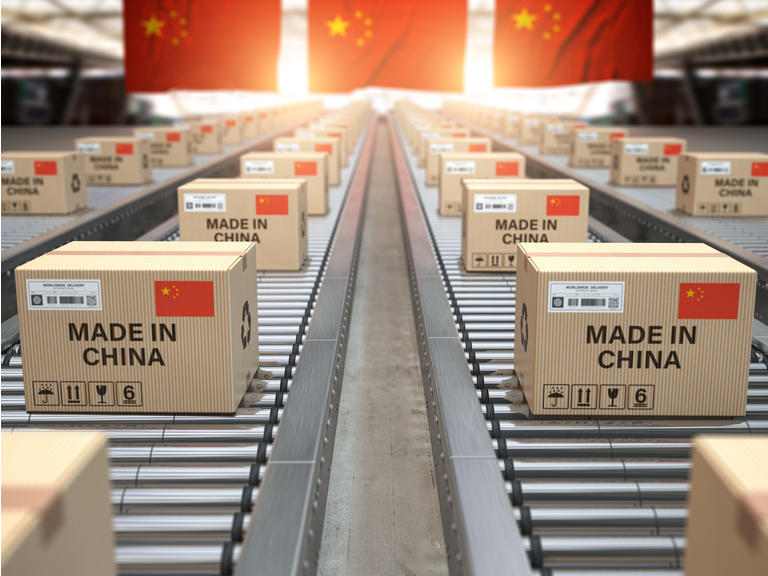 Photo by Bet_Noire/iStock via Getty Images
A Look at 5 Top ETFs that We Like
Before we look at some specific stocks, let's look at 5 major Chinese oriented ETFs.
1. iShares China Large-Cap ETF (FXI) - 56 holdings, top heavy, with its top 10 holdings accounting for about 57% of the ETF's weight.
Top holdings: Alibaba, Tencent, Meituan (OTCPK:MPNGF).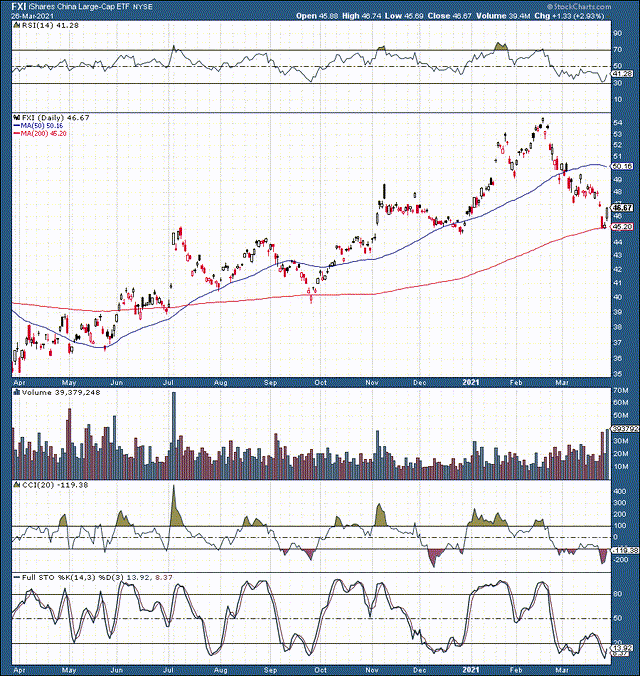 Source: StockCharts.com
China's large-cap ETF has declined by quite a bit, roughly 18% from peak to trough. We saw oversold technical conditions set in, with the RSI hitting 30 in recent sessions. The bounce off the 200-day moving average support is very constructive, and we also see the full stochastic turning upward, implying a likely shift towards a more positive momentum going forward.
2. KraneShares Trust - KraneShares MSCI China Environment Index ETF (KGRN) - 43 holdings, very top heavy, with the top 10 holdings accounting for over 63% of the ETFs weight.
Top holdings: NIO Inc (NIO), Xinyi Solar Holdings (OTCPK:XISHY), GCL-Poly Energy Holdings (OTCPK:GCPEF)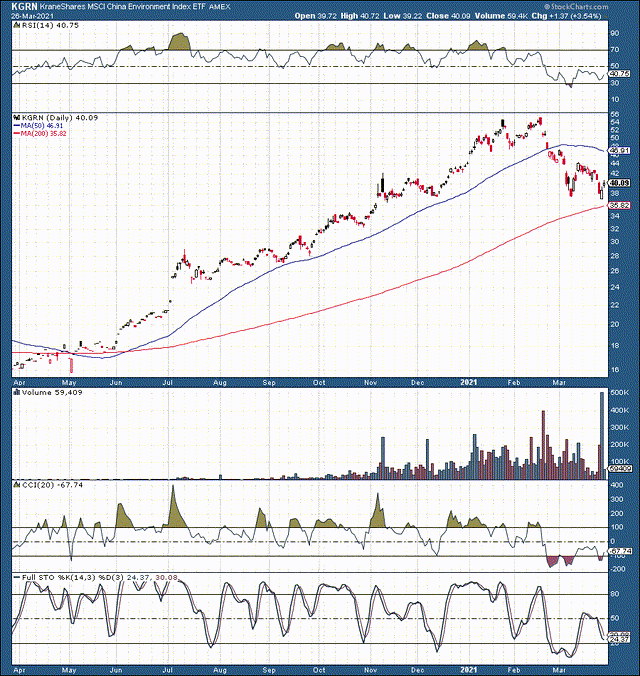 Whereas China's large cap ETF declined by 18% in its correction, China's environment index ETF had given up approximately 33% from its peak in recent weeks. Nevertheless, the technical image looks much better now. We see that despite the recent lower low in price, the RSI was notably higher during the latest decline, implying that selling pressure is lessening. We also see the huge up volume leg in recent sessions, illustrating that buyers are coming back into the market and are bidding up shares after the enormous dip.
3. Global X China Consumer ETF (CHIQ) - 78 holdings, also top heavy, with its top 10 holdings accounting for roughly 54% of the ETF's weight.
Top holdings: Meituan, Alibaba, JD.com.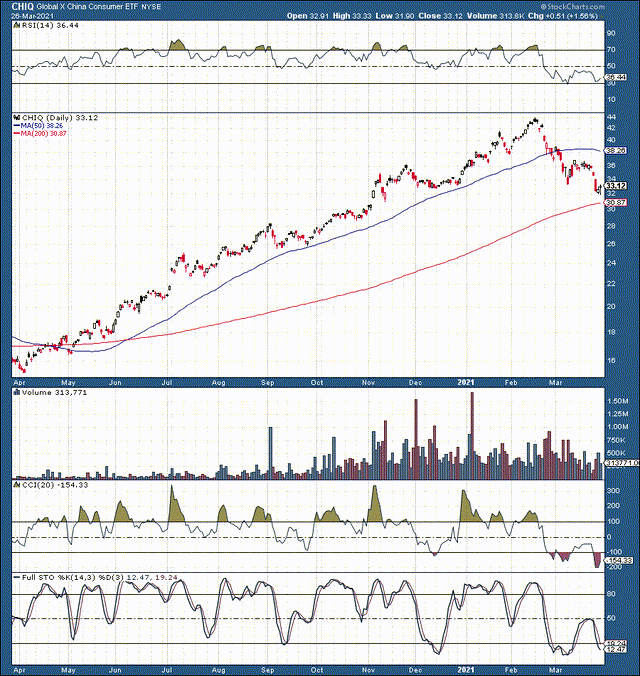 Possibly our favorite ETF from China, CHIQ is full of great companies. Nevertheless, we've seen some notable downside in recent weeks. In fact, CHIQ had declined by approximately 29% from peak to trough recently. Like in the previous technical image we see that despite a notably lower low in price, the RSI maintained a slightly higher level than in the first decline. Also, much like the prior two images, we see that price action came very close to the crucial 200-day moving average level of support. Technically, it appears likely that these top Chinese ETFs as well as others are likely to stabilize and move higher from here.
Disclosure: I am/we are long BABA, BIDU, NIO, CHIQ. I wrote this article myself, and it expresses my own opinions.
Disclaimer: This article expresses solely my opinions, is produced for ...
more