Why The China Trade Is Not Over
Top Chinese corporations such as Alibaba (NYSE: BABA), Baidu (Nasdaq: BIDU), Tencent (OTCPK: TCEHY), JD.com (Nasdaq: JD), and others have been under intense pressure lately. Factors like Chinese government crackdowns on big tech, U.S. delisting concerns, forced selling, and other elements have enabled a perfect storm to form above Chinese equities. However, a lot of the concerns seem to be blown out of proportion, and the underlying challenges appear to be transitory in nature. Many Chinese companies offer significant value coupled with very strong growth, should rebound from current oversold levels, and will likely appreciate notably going forward.
A Look at 5 Top ETFs that We Like
Before we look at some specific stocks, let's look at 5 major Chinese oriented ETFs.
1. iShares China Large-Cap ETF (FXI) - 56 holdings, top heavy, with its top 10 holdings accounting for about 57% of the ETF's weight.
Top holdings: Alibaba, Tencent, Meituan (OTCPK:MPNGF).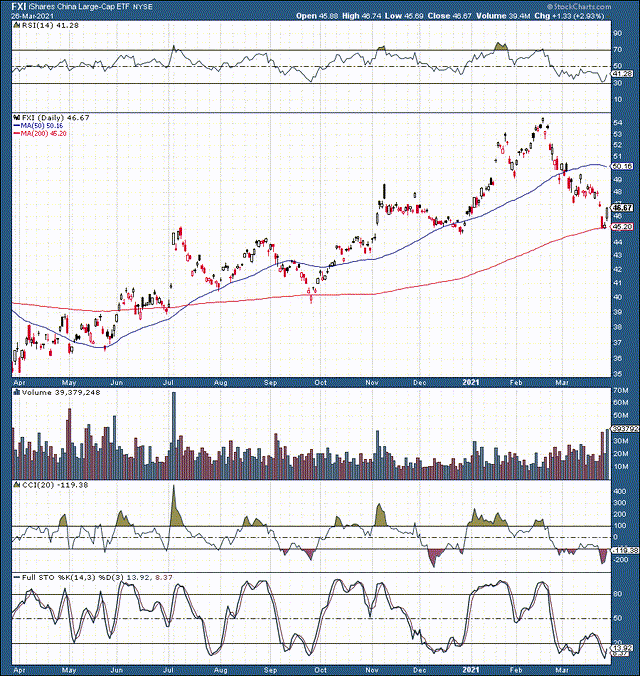 Source: StockCharts.com
China's large-cap ETF has declined by quite a bit, roughly 18% from peak to trough. We saw oversold technical conditions set in, with the RSI hitting 30 in recent sessions. The bounce off the 200-day moving average support is very constructive, and we also see the full stochastic turning upward, implying a likely shift towards a more positive momentum going forward.
2. KraneShares Trust - KraneShares MSCI China Environment Index ETF (KGRN) - 43 holdings, very top heavy, with the top 10 holdings accounting for over 63% of the ETFs weight.
Top holdings: NIO Inc (NIO), Xinyi Solar Holdings (OTCPK:XISHY), GCL-Poly Energy Holdings (OTCPK:GCPEF)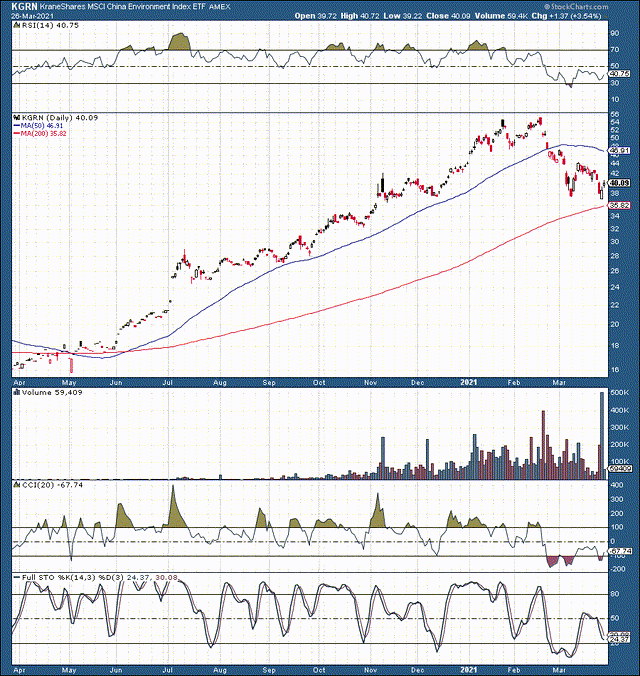 Whereas China's large cap ETF declined by 18% in its correction, China's environment index ETF had given up approximately 33% from its peak in recent weeks. Nevertheless, the technical image looks much better now. We see that despite the recent lower low in price, the RSI was notably higher during the latest decline, implying that selling pressure is lessening. We also see the huge up volume leg in recent sessions, illustrating that buyers are coming back into the market and are bidding up shares after the enormous dip.
3. Global X China Consumer ETF (CHIQ) - 78 holdings, also top heavy, with its top 10 holdings accounting for roughly 54% of the ETF's weight.
Top holdings: Meituan, Alibaba, JD.com.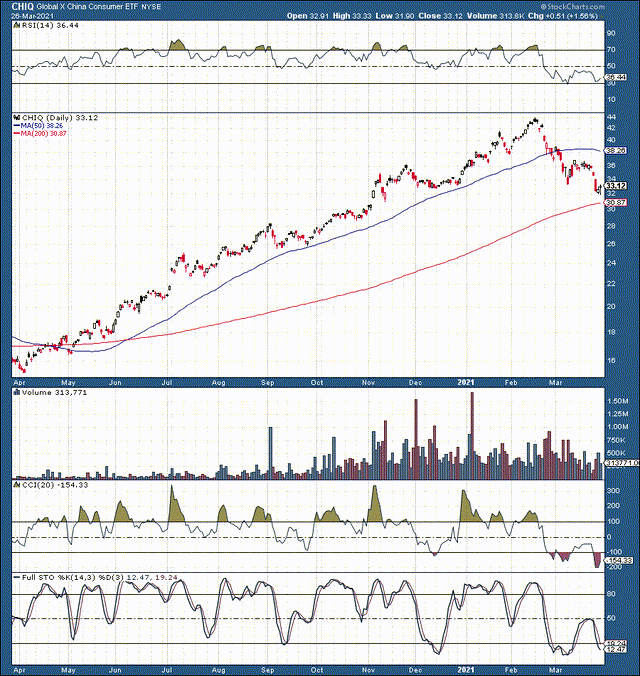 Possibly our favorite ETF from China, CHIQ is full of great companies. Nevertheless, we've seen some notable downside in recent weeks. In fact, CHIQ had declined by approximately 29% from peak to trough recently. Like in the previous technical image we see that despite a notably lower low in price, the RSI maintained a slightly higher level than in the first decline. Also, much like the prior two images, we see that price action came very close to the crucial 200-day moving average level of support. Technically, it appears likely that these top Chinese ETFs as well as others are likely to stabilize and move higher from here.
Other top Chinese ETFs:
4. KraneShares Trust - KraneShares MSCI All China Health Care Index ETF (KURE)
Top holdings: WuXi Biologics (OTCPK:WXXWY), Jiangsu Hengrui Medicine, Shenzhen Mindray Bio-Medical Electronics.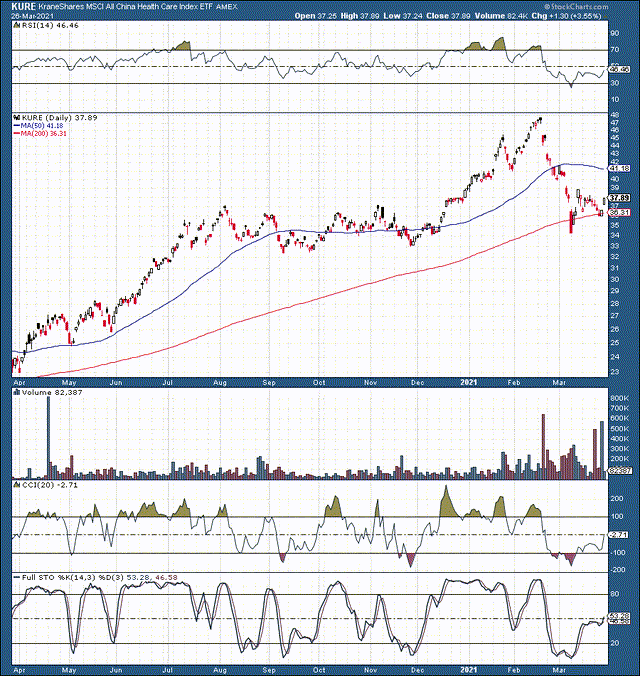 We saw a peak to trough drop of around 29% in this one. Now we're seeing that familiar W-shaped bottom forming here as well.
5. KraneShares CSI China Internet ETF (KWEB)
Top holdings: Tencent, Alibaba, Meituan.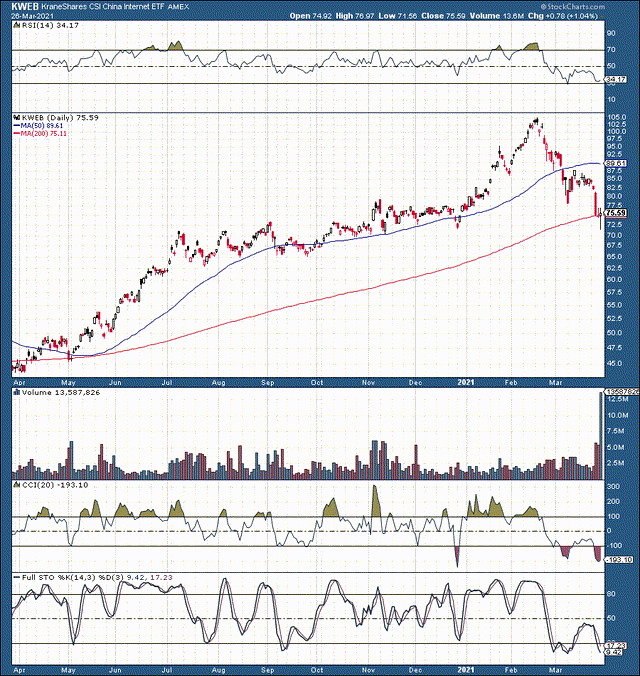 The internet ETF got crushed, as it had a fall of about 32% from peak to trough. It appears that forced selling in some of its holdings caused something of a "flash crash" effect in some of the individual holdings, as well as in the ETF itself.
Let's Discuss The Concerns
I've discussed concerns about Chinese government intervention, in regards to Alibaba in particular. The bottom line here, in my view, is that the Chinese government is not likely going to make itself look bad by unfairly persecuting its biggest and most valuable companies. As far as "forced selling" by Archegos Capital Management and others, well, some market participants are forced to sell due to leverage issues and/or other factors, and other market participants often just sell at the wrong time. In fact, when there are "concerns", especially about international stocks, many market participants sell first and ask questions later. This is very likely what we saw transpire in Chinese equities in recent sessions. Therefore, forced selling, or selling in general does not appear to be a prelude of worse things to come, but could be a signal of an approaching bottom instead in my view.
A pressing concern remains possible delisting in the U.S., yet a key factor to consider is that even if firms are delisted, it would only occur after 3 or more years of noncompliance. Also, it isn't clear why most firms wouldn't comply with the regulations going forward. Seems like there is more fear and uncertainty surrounding this issue than any immediate danger. Therefore, there doesn't appear to be an immediate threat here as well. The most probable reason behind the selling is panic due to uncertainty, and a lack of clarity surrounding the current environment. This phase of uncertainty will likely pass, which should lead to increased demand for undervalued shares of top Chinese companies.
Top Undervalued Companies
Going through major Chinese ETF holdings, we can see that some companies play a prominent role in the makeup of numerous ETFs. Companies at the top include Alibaba, Tencent, Baidu, JD.com, Meituan, and others. For now, let's evaluate a few of these names, as they serve as rather strong proxies for the broader "Chinese segment" in my view.
1. Alibaba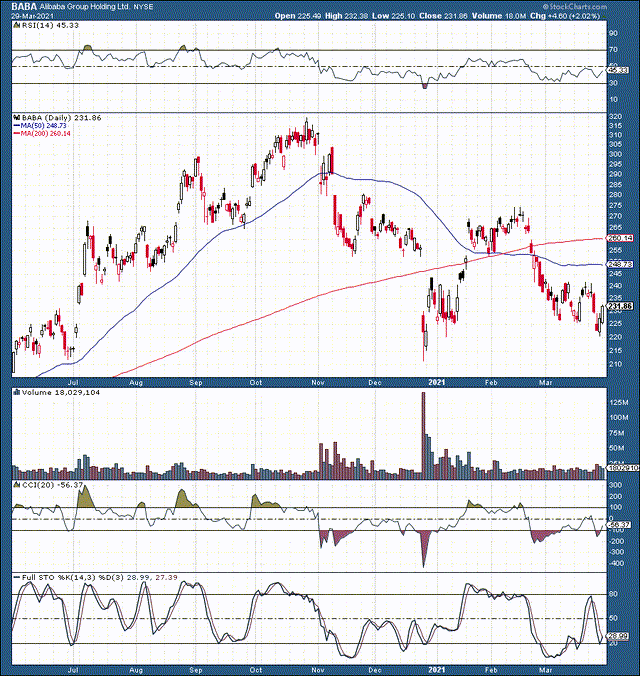 BABA had declined by roughly 34% from peak to trough but, technically, the image looks much better now. Alibaba is trading above key support, $210-220, and it looks like the stock is building a W-shaped bottom. We're likely to see a move above $240 resistance next, and then towards $275 resistance after that.
Fundamentally, Alibaba is trading at fewer than 20 times fiscal 2022 EPS estimates ($11.94 per share). Alibaba is concluding fiscal 2021 at the end of this month, so fiscal 2022 is just days away. Fewer than 20 times expected earnings, coupled with a revenue growth rate of 30-40% is extremely cheap. Even as growth likely falls to 20-25% in future years, Alibaba looks extremely undervalued here. I suspect shares could be trading at around $325-375 in about 12-18 months from now. Moreover, by fiscal 2026 Alibaba is expected to generate around $25 in EPS, and a modest 20 - 25 times EPS valuation puts the company's expected share price at roughly $500-625. This price range is likely achievable within about 3 years in my view.
2. Tencent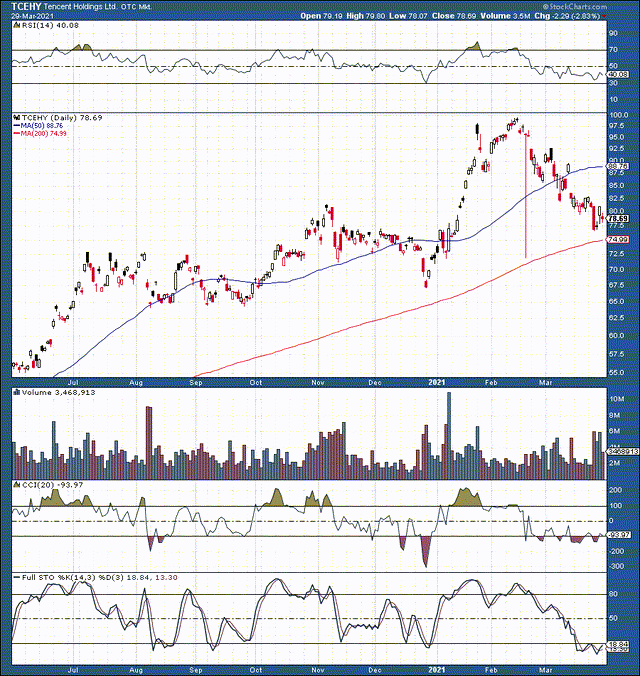 Tencent had declined by approximately 24% in the recent rout. Whereas Alibaba has been plagued by regulatory issues, Tencent has largely been spared from this. Thus, we see a smaller decline in share price, but still quite significant. Technically, we see that the stock had gotten quite oversold, as it got very close to its 200-day MA support, and the RSI nearly hit 30. Now we see that the full stochastic is starting to move upward, and is on the brink of breaking above the 20 level, implying a likely shift to a more positive technical momentum.
Fundamentally, Tencent is not as cheap as Alibaba, but again, that is because of the regulatory issues BABA faces. Nevertheless, Tencent is trading at only around 26 times estimated 2022 EPS, and is expected to grow revenues by around 20-30% going forward. Yes, this growth is likely to drop off to 15-20% in future years, but the company is very likely to become increasingly more profitable going forward as well. Overall, Tencent is also cheap, and it is unlikely that investors will find this kind of growth to value ratio in American or in other developed markets, especially when getting exposure to dominant, market leading juggernauts. Tencent could be trading at around $100-120 a year from now in my view (roughly 30-50% upside).
3. JD.com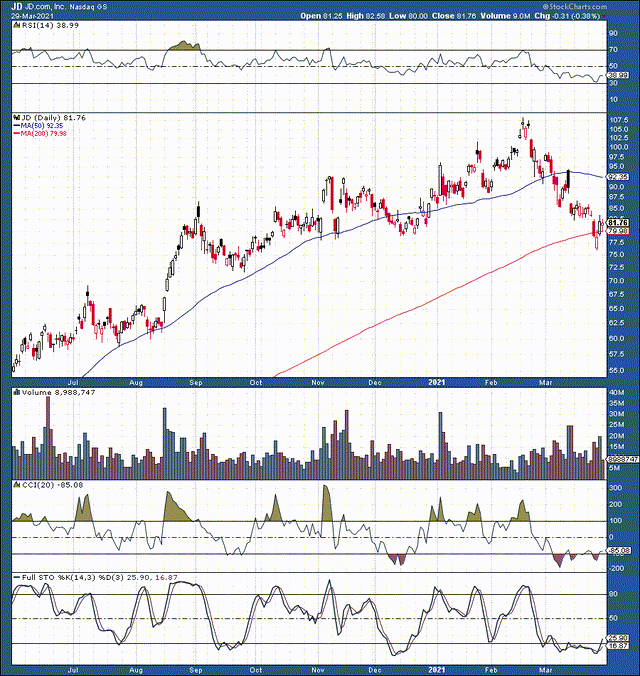 JD had fallen hard, as the stock declined by roughly 30% from peak to trough in recent weeks. Now we see that the stock dipped below 200-day MA support, the RSI went below 30 briefly. Thus, we have the hallmarks of a badly oversold name here. In addition, we see the clear red candle several trading days ago, and the full stochastic starting to go above 20, implying that a bottom likely has occurred.
Fundamentally, the stock is trading at about 29 times consensus fiscal 2022 EPS estimates. However, there is a lot of growth in this name. In addition to 20-30% forward revenue growth projections, JD is expected to become notably more profitable. In fact, the company is expected to pull in around $6.66 in EPS in 2025. If we apply a modest 25-30 times EPS valuation here, we arrive at a likely stock price of around $167-200, possibly achievable within 2-3 years.
The Bottom Line: Don't Give up on China
There seems to be quite a bit of uncertainty surrounding Chinese names. In fact, selling had become somewhat indiscriminate in recent sessions, as certain companies came under extreme pressure due to forced selling and other variables. Now we see technical images improve essentially across the board in key Chinese equities and major ETFs. Moreover, after the recent rout, many stock valuations have come down notably, and major Chinese companies now represent some of the best growth/value plays in the market. Furthermore, concerns regarding various issues are likely to pass with time, and demand for quality Chinese companies should return. Therefore, companies such as Alibaba, Baidu, JD.com, and others, as well as key Chinese ETFs are likely to appreciate considerably going forward.
Disclosure: I am/we are long BABA, BIDU, NIO, CHIQ. I wrote this article myself, and it expresses my own opinions.
Disclaimer: This article expresses solely my opinions, is produced for ...
more