Why Biden Will Find It Hard To Undo Trump's Costly 'America First' Trade Policy
Why Biden will find it hard to undo Trump's costly 'America first' trade policy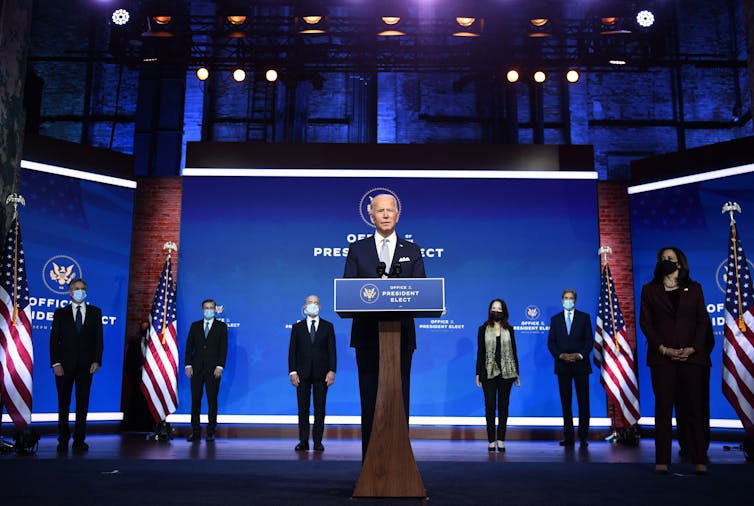 Biden says his Cabinet picks will help him restore American leadership in the world. Chandan Khanna/AFP via Getty Images
Since becoming president-elect, Joe Biden has signaled that restoring America's leadership on the world stage is among his highest priorities – an intention aptly demonstrated by his Cabinet picks.
Biden's nominees are "ready to lead the world, not retreat from it," he said on Nov. 24. "America is back."
Perhaps nowhere is this return more urgent than in trade policy, a topic I follow closely as a scholar of international political economy. Over the past four years, President Donald Trump has ripped up trade deals, launched damaging trade wars and gunked up the workings of international trade organizations.
All of this has ceded global economic leadership to China, as we can see from the trade negotiations Beijing recently oversaw with 14 other Asian nations. In November, the countries met in China's capital and formally signed what is now the world's largest regional free trade pact, covering nearly a third of humanity.
Biden no doubt longs to return to some semblance of the "golden era" of U.S. leadership, the half-century following World War II when America helped create and sustain the rules and institutions that fueled globalization.
But after four years of Trump's "retreat," it may be harder to return to leading than Biden thinks – thanks to the growing number of Americans on both the right and the left who are skeptical of free trade.
The costs of 'America first'
While Trump advocated a trade policy he labeled "America first," it's probably not the best description.
The policy has involved applying punitive tariffs on specific products such as steel and aluminum and on whole countries – most notably China – at a scale not seen in decades. But the price to the U.S. has been high.
This article is republished from The Conversation under a Creative Commons license.