What ECB's Tiering Means For Gold
What ECB's Tiering Means for Gold
In a key policy shift, the ECB has recently introduced tiered system of interest rates. This news isn't of interest only to the banks keeping their reserves at the ECB. In today's article, you'll learn about the new instrument of monetary policy, and find out what it implies for the gold market.
If you think that monetary policy in the United States is crazy, you are right. But in Europe, it is even stranger (and in Japan, it is really insane). As you probably remember, in September, the ECB introduced a package of measures to ease monetary policy further in the face of sluggish economic growth and subdued inflation. In particular, the Governing Council resumed quantitative easing (the bank will be purchasing €20 billion of assets monthly), eased the conditions for TLTRO operations, strengthened the forward guidance strategy, and – the crème de la crème – cut the deposit rate by 10 basis points from -0.40 to -0.50 percent, as the chart below shows. The ECB used, of course, all these instruments already in the past. What is really new is the introduction of the tiering system. How does it work and what could be its consequences for the euro area economy and gold prices?
Chart 1: ECB's deposit rate from January 1999 to October 2019.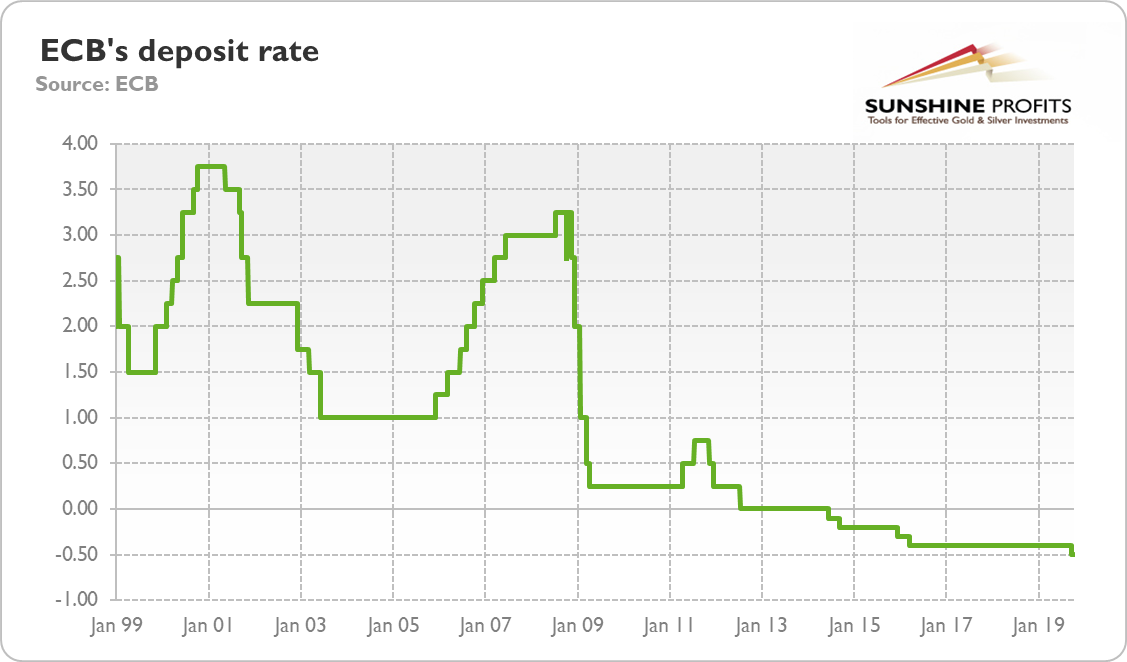 In the ECB's tiered system of interest rates, a portion of bank deposits, currently set at six times their mandatory reserves, is exempted from the negative deposit rate. In other words, reserves below a threshold bear zero interest, and only excess of reserves above this threshold is subject to negative interest. The idea is to limit the harmful effects of negative interest rates on banks' profitability. This is why most of the central banks that implemented NIRP have some form of tiering system. For example, due to tiering, the percentage of reserves subject to negative interest rates in Japan is only about 5 percent.
If you enjoyed the above analysis and would you like to know more about the most important macroeconomic factors influencing the U.S. dollar value and the price of gold, we invite you to read the ...
more