HH

Underlying Problems Of Italy's Crisis
In previous articles, we've discussed how the European economy is seeing some weakness including Italy. That's a short term issue. Although the U.S. stock market just started caring about the potential for an Italian political crisis again, this is a very long term issue which dates back to the creation of E.U. It's important to contextualize this because the way the markets act, it could be construed that this headwind will suddenly go away like others have. This isn't a risk the market will forget about quickly. It could be the biggest risk the stock market faces in the next few years.
The problem with the E.U. is it coordinates countries with one monetary policy, but each country sets its own fiscal policy. It's politically easier to get countries to give up their monetary policy governance than fiscal governance because monetary policy is more abstract. People want to control how their government taxes and spends money, but ECB decisions aren't well understood by non-finance people. Germany has done well with the E.U. because it benefits from the weak currency as it is a big exporter of goods.
Italy is the poster child for a periphery country which hasn't done well under the E.U. Italy's debt to GDP is 130%. The euro currency is too expensive for the country which hurts exports. As you can see from the BCA Research chart below, the Italian real GDP per capita has only increased about 5% since the E.U. was created.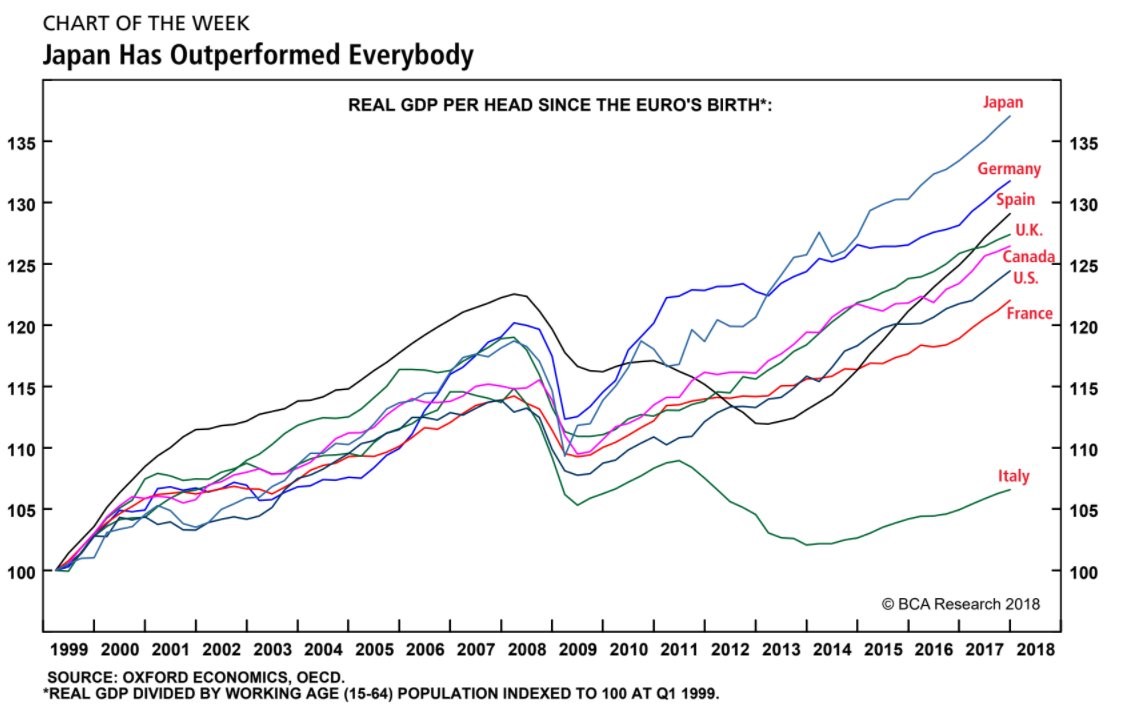 Source: BCA Research
It's far below most other developed countries and the E.U. average. This is way below the 2.4% average annual GDP per capita growth in the 20th century. It's not surprising to see only 37% of Italians have a positive view of the E.U.
Italian Problem Has Been A Long Time Coming
The weak economy, which hasn't provided much opportunity to the Italian youth especially in the south, has led to a political crisis. This political instability will only be resolved with a long term solution to the economy. This shows why it's not easy to push this problem under the rug. Tough choices need to be made, but the country has had high turnover in the government, so the chances of success are paltry.
Disclaimer: Please familiarize yourself with our full disclaimer here.