Turkish Lira Plunges After Banking Regulator Removes Asset Ratio
Two weeks ago, Erdoganomics ended with a thud when the president of Turkey, Erdogan fired his central bank puppet - who has been programmed to only cut rates in the process sending the Turkish lira plummeting - and replaced him with a new surrogate, this time one meant to restore confidence in the currency by hiking rates - a U-turn to what had been Erdogan's preferred monetary approach since 2018 - which is what Turkey did last week when it hiked rates by 475bps to 15%.
It also provided solid support for the lira, which after plunging as low as the mid-8s against the USD in the first week of November, only to soar as high as 7.50 when it emerged that Erdogan had capitulated on his low rates policy. However, slowly the realization appears to have dawned on traders that hiking rates in a decimated economy, where net FX reserves are now negative...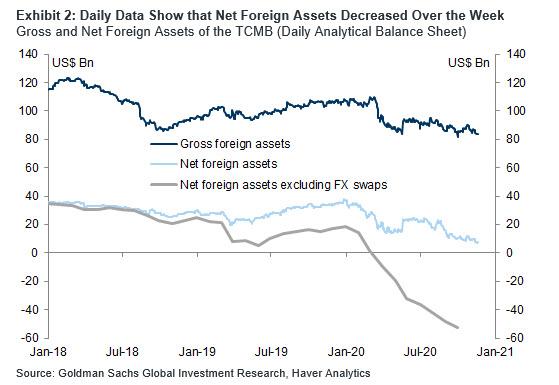 ... may not be the best course of policy after all, and the lira started to slide a few days ago, a move which was accelerated sharply today with the lira dropping back below 8 against the USD after The Turkish Banking Regulation and Supervision Agency (BRSA) decided to remove the asset ratio rule as of December 31.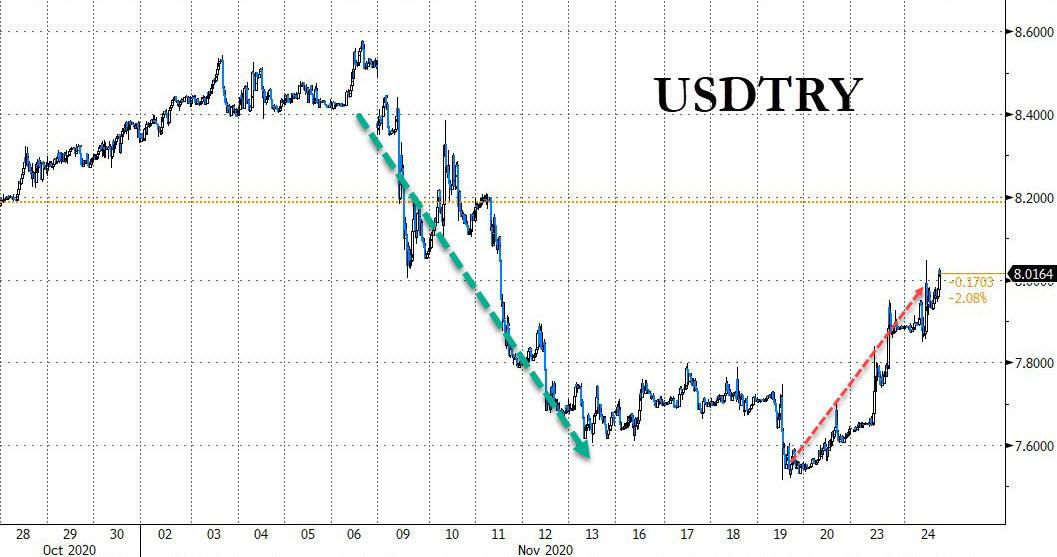 The asset ratio rule stipulates that banks' ratio of loans, securities, and TCMB swaps to deposits have to be above 90% for deposit banks and 70% for participation banks. In the numerator, loans, securities, and TCMB swaps have coefficients of 1.00, 0.75, and 0.50, respectively. In the denominator, deposits have a coefficient of 1.00 except for FX deposits in excess of FX loans, which have a coefficient of 1.75. With this measure, the BRSA aimed to encourage lending and discourage dollarization.
The only problem is that according to Goldman, following this decision, it is likely that banks will do just the opposite and cut back on lending, either as they actively deleverage, cutting back on supply, or as they respond to lower loan demand — the weighted average consumer and commercial loan rates have already reached 19.8% and 17.0%, respectively.
Disclosure: Copyright ©2009-2020 ZeroHedge.com/ABC Media, LTD; All Rights Reserved. Zero Hedge is intended for Mature Audiences. Familiarize yourself with our legal and use policies ...
more