Turkish Lira Crashes To Record Low, Hammered By Armenian-Azeri War
So much for last Thursday's surprise rate hike by the Central Bank of Turkey.
Two trading days after the CBRT unexpectedly hiked rates by 200bps to stem the ongoing plunge in the country's currency, overnight the Turkey's lira dropped to a record as geopolitical risks rose in the region due to clashes between Azerbaijan and Armenia.
Shortly after Japanese traders arrived, the lira flash crashed as much as 2.1% to 7.8279 against the U.S. dollar. Then after recovering most losses, it resumed the drift lower and was down 1.7% at 7.914 by 7:00 a.m. ET.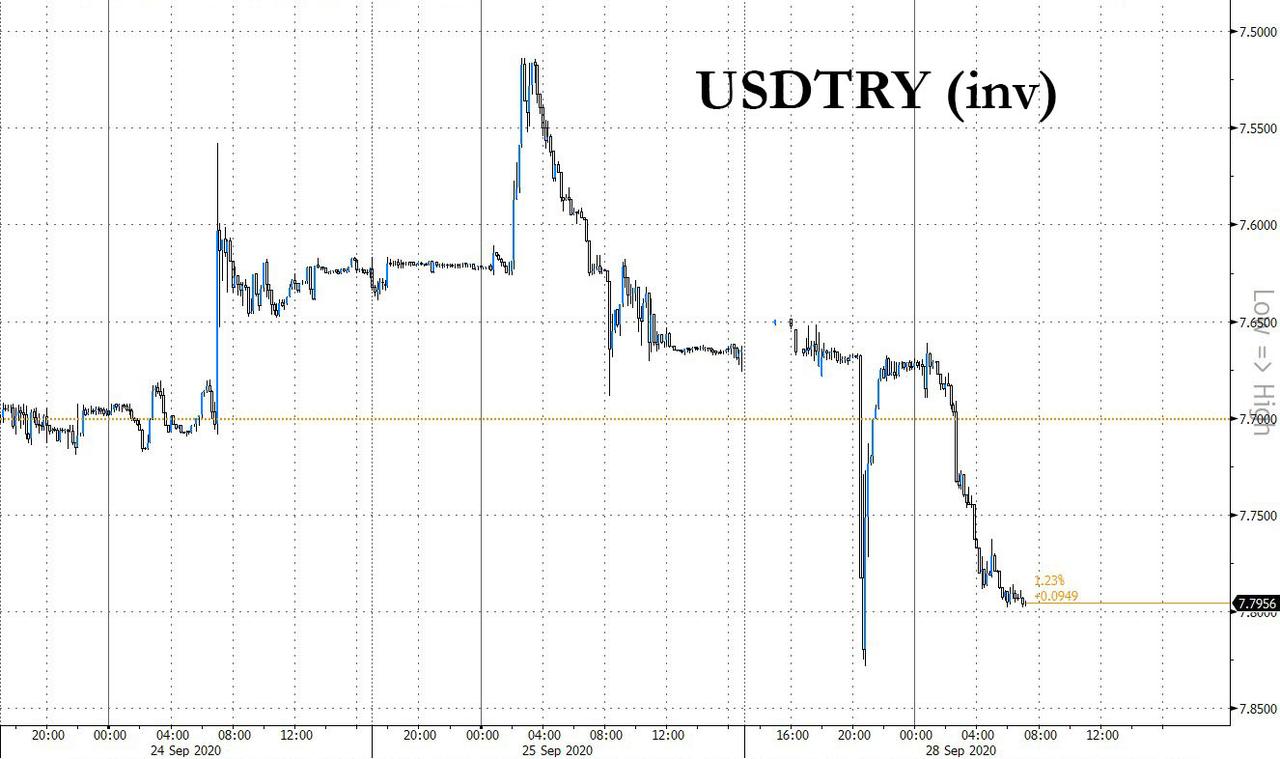 "The fear is that Turkey, whose economy is on its knees and is actively engaged in escalating conflicts in northern Syria, and with Greece in the Mediterranean, could get dragged into yet another regional conflict it can ill afford, either politically or economically," says Jeffrey Halley, senior market analyst in Singapore at Oanda
"That has torpedoed the Turkish lira this morning, whipping out any gains from the surprise rate hike by the central bank last week and an easing of currency trading restrictions," he added.
The lira fall reversed all the brief benefits from the Turkish central bank's surprise policy-rate hike and the banking regulator's decision to ease trading restrictions for foreign investors last week. The regulator also eased the asset-ratio rule for banks on Monday in a move that paves the way for lenders to increase lira-loan rates.
It wasn't just the lira: Russia's ruble also stumbled the most among emerging-market currencies after the Turkish lira, amid concern the regional powers may be dragged into an escalation in fighting between Azerbaijan and Armenia. The Rusian currency was down -0.7% to 78.76/USD, fourth straight day of declines, to weakest since April 2.
"The proximity of the armed conflict to Russia's borders, as well as Turkey's alleged role in supporting the Azeri side, could make foreign investors more wary of Russian assets," Rosbank analysts write in a note; ruble could weaken to 80/USD before it recovers, they write.
Disclosure: Copyright ©2009-2020 ZeroHedge.com/ABC Media, LTD; All Rights Reserved. Zero Hedge is intended for Mature Audiences. Familiarize yourself with our legal and use policies ...
more