Turkey: Unemployment Rate At Highest Since End-16
The unemployment rate remained on an uptrend in November as the generation of jobs lost momentum amid an ongoing rebalancing in the economy
Source: Shutterstock
Unemployment has been on a continuous uptrend since early 2018 and remained on this path in November, with the seasonally adjusted (SA) rate standing at 12.0%, the highest since end-2016. The labor force participation rate (SA), on the other hand, inched down to 53.4% from 53.6% a month ago but has been relatively stable around these all-time high levels in the last four months. The non-agricultural unemployment rate (SA) has also been rising from 11.7% in February last year to 14.1% in November.
Employment Generation & Unemployment Rate

Source: TurkStat, ING Bank
November also saw employment generation turn negative on an annual basis for the first time since mid-2009, reflecting the impact of business cycle conditions. Accordingly, the unadjusted unemployment rate was 12.3%, marking the fifth YoY increase in a row.
On a sequential basis, job creation in November was at -228K, the worst reading since Jun-16, driven by all sectors, namely services (-87K), agriculture (-54K), construction (-47K) and industry (-40K). The data reveal that construction and agriculture, which employ a large share of low-skilled workers, recorded -363K and -250K year-to-date declines in employment, respectively, showing that they have been impacted the most from last year's financial volatility and consequent rebalancing in the economy.
Job creation by sectors (SA, % YoY)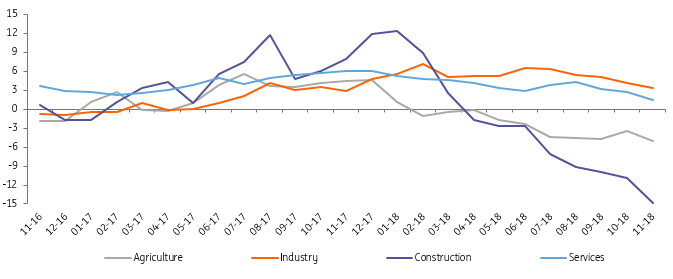 Source: TurkStat, ING Bank
We are likely in the middle of an uptrend for unemployment and labor market conditions will probably worsen in the period ahead given the ongoing adjustment process. It should also be noted that employment growth in services and industry had compensated for the losses in construction employment until recently but the recent data shows signs of job generation weakening in these sectors, too.
Disclaimer: The information in the publication is not an investment recommendation and it is not investment, legal or tax advice or an offer or solicitation to purchase or sell any financial ...
more