Top 3 Reasons To Buy The DAX Index
Global financial markets were spooked by the news that a new COVID-19 variant is of concern. However, despite opening the trading week with a bearish note, there are at least three reasons to buy the DAX index.
Photo by Marius Serban on Unsplash
Financial markets panicked at the end of last week. South African scientists have warned the world that a new COVID-19 variant is more infectious than others, and the news triggered a decline in the major equity markets in the world.
The risk-off sentiment was amplified by the fact that liquidity was thin due to the Thanksgiving holiday. However, over the weekend, things calmed as more information became available.
While the DAX index opened the trading week with a gap, bulls may want to buy the dip for at least three reasons.
The DAX index is still above horizontal support
One reason is technical – despite the recent decline, the DAX index is still above major support. The support has held since April this year and while above, the bias is bullish.
(Click on image to enlarge)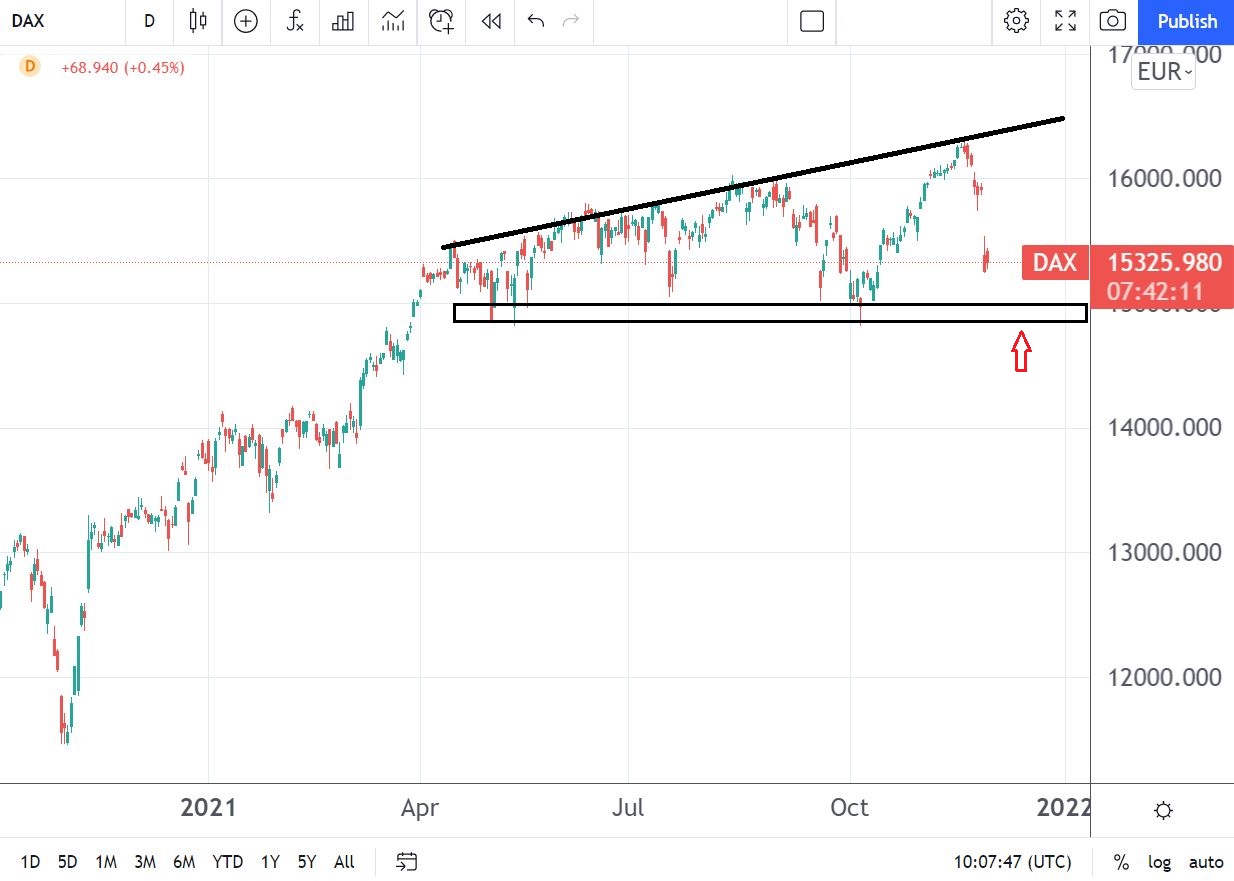 German political uncertainty ended as a new coalition formed
One of the things behind the long consolidation in the German stock market this year was the uncertainty of the federal election. In the second half of September, the federal elections ended with no clear winner. The negotiations started immediately, but it took two months until finally an agreement was reached.
The new government brings hope that Europe's largest economy will recover and Europe as a whole is ready to move forward.
The ECB to keep its monetary policy loose despite rising inflation
Finally, the ECB is still signaling loose monetary conditions despite a rise in inflation. The central bank made it clear that it has no intentions in raising the key interest rate level in 2022, thus creating a favorable environment for the stock market.
If we add to this the fact that other major central banks, such as the Federal Reserve in the United States, are already tightening the monetary policy, then the chances are that flows will pour out of other stock markets into Europe. Moreover, if we consider the 2021 consolidation in the DAX index, then the German equity markets are an appealing investment in 2022.
Disclaimer: None of the content in this article should be viewed as investment advice or a recommendation to buy or sell. Past performance/statistics may not necessarily reflect future ...
more