Tight Money Gets Tighter
As that realization dawned during the last few months of last year, another far more realistic scenario was queued up. Not only was the global economy failing to accelerate, but it was also taking on more and more downside positions. Markets were askew and data on the economy shifted. Sour, not soar.
How bad has it gotten? As of today's European close, Germany's 10's are yielding all of 8 bps (JGB 10's now -4 bps, for corroboration). That's the lowest yield for this global benchmark since October 2016. Reflation #3, what little there was of it, has been completely erased.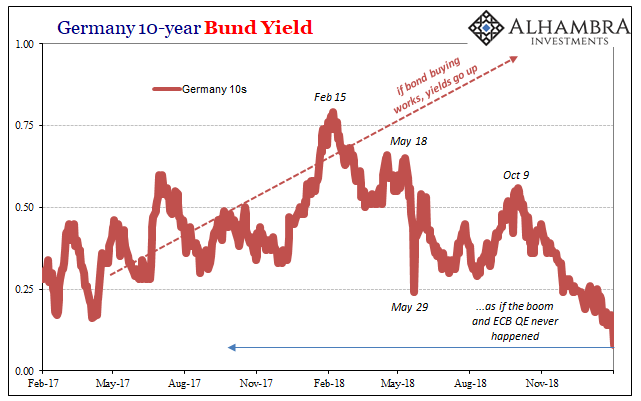 As I wrote yesterday with regard to falling LIBOR, big things are happening right now; they're just all negative.
The most frustrating aspect, beyond the simple tragedy of another looming downturn which for Europe looks like possibly a nasty recession, is that these bond prices have said all along what's keeping the economy down. Inflation and recovery never had a chance.
Over the past few years, Europe's central bank under Draghi has been lauded for its courageous action. The ECB's policies were celebrated especially in 2017 as if having already achieved visible success, but based solely on the ECB's self-assessments.
The numbers are absolutely staggering, and therefore leave us absolutely no doubt as to the failure. As of yesterday, Europe's central bank in conjunction with the various constituent national central banks has bought €2.54 trillion in securities (only counting the three major programs: PSPP, or QE, €2.10 trillion; covered bonds €262 billion; corporate bonds €178 billion).
The byproduct of those purchases has been the creation of just over €2 trillion in bank reserves (not counting the effect of autonomous factors due to the NCB involvement in PSPP). There's €1.36 trillion of them sitting in the current account yielding nothing, and €657 billion in its deposit account costing banks 40 bps to hold them.
Disclosure: This material has been distributed for informational purposes only. It is the opinion of the author and should not be considered as investment advice or a recommendation of any ...
more