Tight Money Gets Tighter
They staked everything on inflation. In truth, central bankers had no other choice. Having backed themselves into such a narrow corner by doing the same thing over and over and over again, it was only going to be one or the other. Either it worked or for all time they would prove they really have no idea what they were doing.
The proof would be inflation, that mysterious combination of money and prices. Only, it isn't really all that big of a mystery. Economists may not know how one becomes the other, but that doesn't mean we can't unpack the conditions whereby it's likely, or unlikely, to happen.
In Europe, for Draghi's boom to have had any chance, we would see it in the Harmonized Index of Consumer Prices (HICP). But it never actually showed up; the evidence the ECB was looking for was always future tense. Even with a double dose of Brent oil prices, the index never really got that much above the 2% target.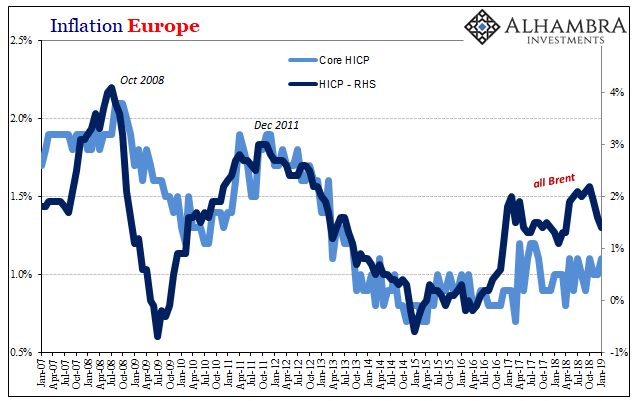 If you can't break 2.2% with a massive oil price tailwind, something isn't right.
This really wasn't a surprise, though you might not have known it reading media reports and mainstream commentary. Amidst last year's hysteria, in January 2018 Mario Draghi uncorked a whopper:
The strong cyclical momentum, the ongoing reduction of economic slack and increasing capacity utilisation strengthen further our confidence that inflation will converge towards our inflation aim of below, but close to, 2%. At the same time, domestic price pressures remain muted overall and have yet to show convincing signs of a sustained upward trend. [emphasis added]
It is the true talent of any central banker at the top of his game, being able to contradict yourself in the space of two sentences without pause. As per usual, not a single member of the media has ever asked him to clarify his two stated positions directly at odds with each other.
While that would've been helpful, we don't really need them to. We have other tools at our disposal to more appropriately, and honestly, evaluate the situation. Even during the last part of 2017 and the first part of 2018, there wasn't much to suggest "strong cyclical momentum" or anything else to believe in recovery and its inflation. There was no boom except in Draghi's publicly conflicted mind.
Disclosure: This material has been distributed for informational purposes only. It is the opinion of the author and should not be considered as investment advice or a recommendation of any ...
more