Three Takeaways From The Treasury's April FX Report
The first FX Report under Secretary Janet Yellen saw a change in language from previous ones, as it dropped the manipulator tag for Vietnam and Switzerland and spared Taiwan, despite all meeting the three criteria. In practice, the implications for the countries are broadly unchanged, but the risk is the Treasury sounds too soft on FX manipulation.
The semi-annual US Treasury's FX Report was published on Friday (here is the full text). In what was the first report under the new US administration and new Treasury Secretary Janet Yellen, the differences with the previous editions (under former President Trump and Secretary Steven Mnuchin) emerged quite clearly.
We provide a summary of the content of the FX Report in the chart below and discuss in this article what we think are the key takeaways for markets.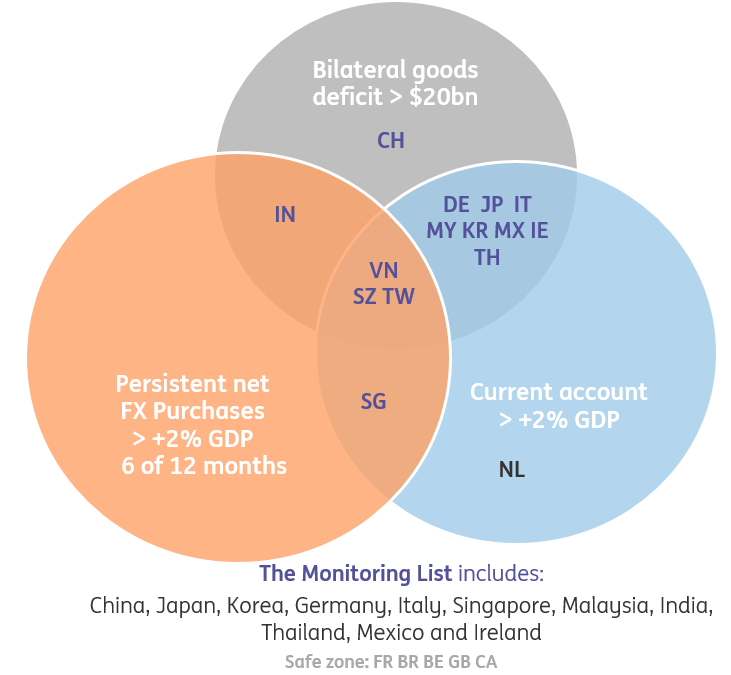 The Treasury's calculations found that three countries met all three criteria (shown in the chart) to be named a currency manipulator in the four quarters to December 2020: Switzerland, Vietnam and Taiwan. The first two had been named FX manipulators by the previous administration in December 2020, but the Treasury removed the label and refrained from labelling Taiwan.
While countries meeting all three criteria are subject to extra monitoring and dialogues with US officials geared towards ending FX intervention in particular, there is little in the report to suggest other policy interventions, notably on US trade policy or US-China relations. Along with a familiar call for countries with current account surpluses to contribute to rebalancing, this report links insufficient fiscal support for domestic demand to risks of economic scarring in the aftermath of the pandemic. Here, China is singled out for a "focus" on policies which boosted external demand, leaving its recovery vulnerable to weak household consumption.
In general, it appears that the Treasury has started to slowly shift towards a new approach when it comes to the three criteria, possibly adding more weight to FX intervention over trade-related quantitative thresholds.
Disclaimer: This publication has been prepared by the Economic and Financial Analysis Division of ING Bank N.V. ("ING") solely for information purposes without regard to any ...
more