These Are The 4 Things That Can Stop The Panic In The Bond Market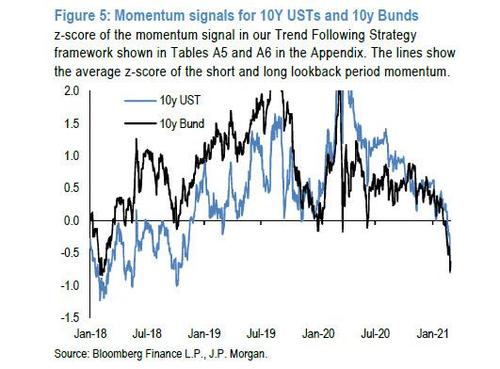 Long story short, JPM agrees with Nomura that at 10-year maturities, it appears the shorter-term signals for USTs have reached levels where mean reversion or profit taking signals by CTAs should start kicking in, while the average of shorter-term and longer-term signals are approaching those levels.
Japanese and Euro area investors step in to buy USTs to take advantage of the large yield pickup on a currency hedge basis relative to their domestic bonds. As the chart below shows, the recent TSY sell-off has seen the attractiveness of US Treasury yields rise on a currency-hedged basis, particularly for Japanese investors. Yet the probability of this flow materializing at current levels of UST vol is low, as these investors and banks tend to be averse to high levels of rate volatility.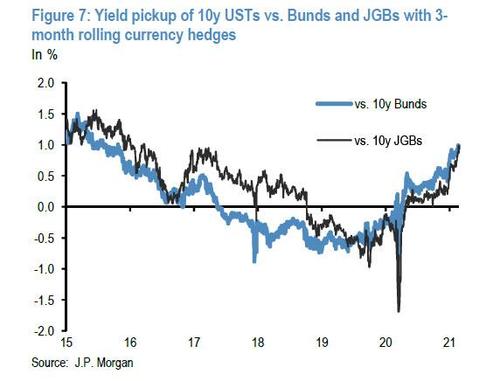 Indeed, the latest weekly data on Japanese residents' net purchases of foreign bonds for the week ending Feb. 19 already saw net sales of around $18 billion amid last week's sell-off.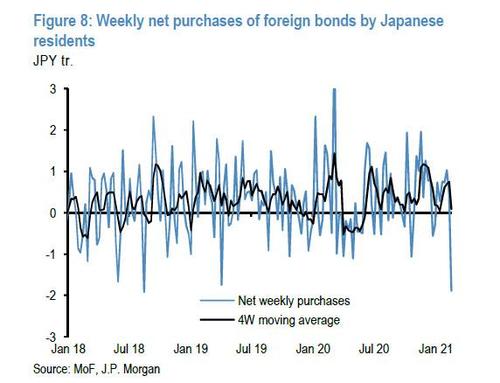 Before these investors step in, JPM suggests that first other flows or central bank actions are needed to induce a decline in volatility.
Finally, rebalancing flows by balanced mutual funds and/or pension funds would help bond markets to stabilize and bond yields to subside. Unlike foreign flows, the chance of these flows materializing is high during the current quarter, according to JPM, though the timing is harder to predict. In the event it materializes more towards the end rather the beginning of March, it could create a flow vacuum for rate markets over the next two weeks. One potential risk: if and when these rebalancing flows emerge, they are unlikely to be supportive of equities, as they combine bond buying with equity selling.
Putting it all together, when thinking about the above four scenarios, JPM finds that the conditions needed for this week's market stress to subside "may not yet be fully in place," which is a surprisingly bearish assessment, especially if as Nomura observes, the CTA unwind of shorts has already begun and the next stop is likely to be 1.20%.
Copyright ©2009-2021 ZeroHedge.com/ABC Media, LTD; All Rights Reserved. Zero Hedge is intended for Mature Audiences. Familiarize yourself with our legal and use policies every time you ...
more