These Are The 4 Things That Can Stop The Panic In The Bond Market
Rate vol needs to decline from its current high level.
Bond yields need to subside and unwind a decent portion of most recent increases, in particular, at the 5-year UST tenor.
Neither of these should come as a surprise. Just last week we proposed the opposite question: "Are Yields About To Blast-Off: Here Are The 3 Things To Watch," concluding that "the aptly named MOVE index is the best real-time measure of potential runaway yields." And sure enough, just days later the MOVE exploded to the highest level since last March's bond crash.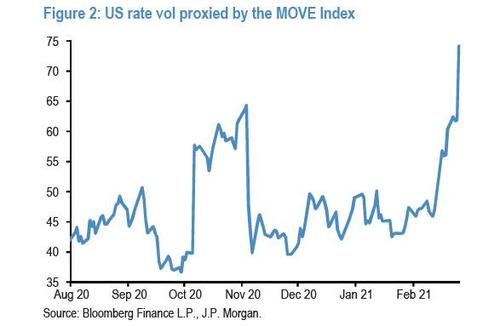 So now that we know of the two critical conditions that must be present for a return to normalcy, the next question is "how could these conditions be achieved?" Here, JPM envisages four scenarios.
The Fed intervenes by raising its bond buying pace in a similar fashion to March 2020. At the time, the Fed justified its intervention by seeking to restore function in rate markets. Thus far at least, this argument does not yet appear justified at the current level of market stress according to JPM, although as we noted earlier, BofA is already convinced that the Fed may address nervous markets as soon as next week.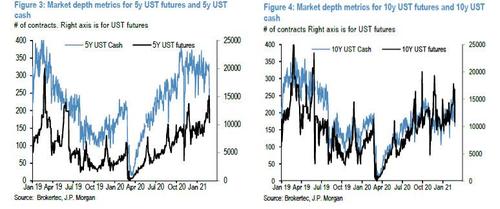 Here JPM notes that while its market depth metrics for 10-year UST futures and cash bonds have deteriorated, they still appear well above levels during March 2020, and this is true for both the 5-year and the 10-year tenor.
And, as JPM claims, without further deterioration in UST liquidity, it would be difficult to envisage a Fed intervention a la March 2020, especially if one views the recent bond selloff as a function of investors embracing the reflation trade. At the same time, Fed Chair Powell and Governor Brainard are scheduled to speak next week, and it will be important to watch for signs of how they view the bond market correction.
CTAs and other momentum traders hit oversold levels as mean reversion signals kick in. This, JPM writes, would provide at least some temporary relief (and it sure would, especially if Nomura is correct that the CTA shorting has now reversed). But back to JPM's own calculations, the bank asks how far are we from oversold conditions on our momentum traders framework? The sell-off in 10-year USTs to close just above 1.5% on Feb. 25 has seen the bank's shorter-term momentum signal for 10-year USTs reach extreme bearish territory at -1.7 standard deviations, below even its early 2018 low of -1.5 standard deviations. The average of the shorter and longer-term signals reached a level of -0.8, still some way from its early 2018 low of - 1.2 standard deviations, but it would only take a further extension of the sell-off for 10-year yields to 1.6% for this to reach its early 2018 low. For the average of the shorter-term and longer-term signals to reach its 2018 low, it would take a further sell-off of just 5 bps to around -0.2%.
Copyright ©2009-2021 ZeroHedge.com/ABC Media, LTD; All Rights Reserved. Zero Hedge is intended for Mature Audiences. Familiarize yourself with our legal and use policies every time you ...
more