The Relevant Word Is 'Decline'
The English language headline for China's National Bureau of Statistics' press release on November 2018's Big 3 was, National Economy Maintained Stable and Sound Momentum of Development in November. For those who, as noted yesterday, are wishing China's economy bad news so as to lead to the supposed good news of a coordinated "stimulus" response this was itself a bad news/good news situation.
If the Communist State Council is to be flustered into action, the title of the release might suggest maybe not. Then again, there isn't a month that goes by where the NBS writers don't write pretty much the same thing. In a Communist country, any wording less than "sound momentum" is surely frowned upon especially when there is no momentum.
Underneath, the figures were all bad. Were they bad enough? I don't believe anything short of full-fledged collapse will be, but this is attempting to game and analyze a political factor whose proportions are never going to be fully known.
What we are left with is pure ugly. The last time Industrial Production grew at a 5.4% annual rate, as it did last month, it was February 2016 and the worst of times for modern, industrial China. It was also the same month the last "stimulus" was uncorked.
It doesn't get any lower than the 2015-16 downturn so for Chinese industry to already be at that depth with "this one" just getting started, it all tells us that perhaps there is a lot of downside left to come and that officials are keenly aware of the possibility.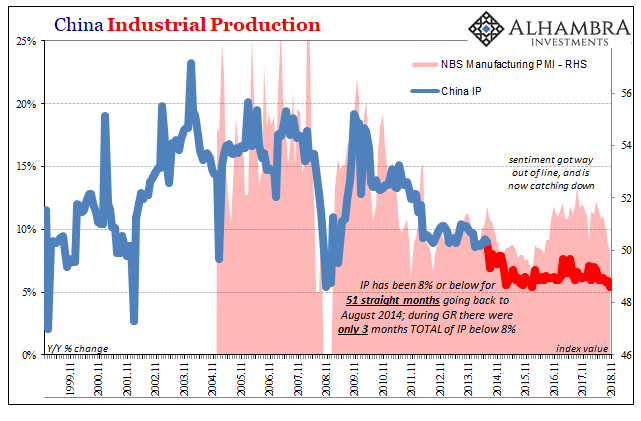 If this was somehow unexpected and unapproved, so to speak, they wouldn't have waited for 5.4% to reappear. That goes double for consumer spending, or retail sales in this case. Chinese retail activity grew by just 8.1% in November. You have to go back fifteen years to find something less.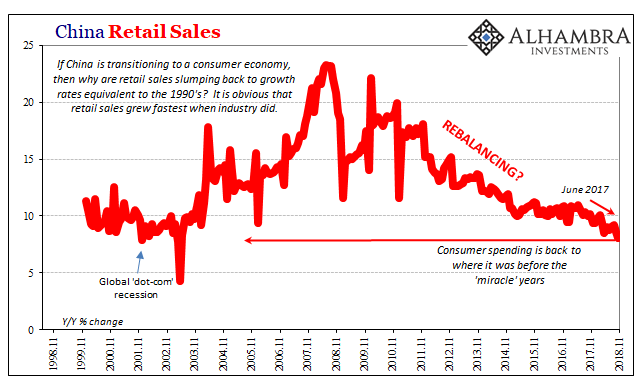 What should really stand out especially for the stimulus whisperers is when China's latest economic inflection transpired. It wasn't Trump and trade, it was in the middle of last year for both IP as well as RS.
Disclaimer: All data and information provided on this site is strictly the author's opinion and does not constitute any financial, legal or other type of advice. GradMoney, nor Jennifer N. ...
more