The Light And The Dark
A year ago, central bankers were over the moon. From those in the US to those in Europe, with Japanese officials in between, they really thought they had it. There wasn't much basis for the belief, mind you, merely the fact that positive numbers were registering in all those places at the same time. Like some old Three Stooges movie, Moe (Powell), Larry (Draghi), and Curly (Kuroda) clunked their heads together and thought it had to mean something.
As 2019 dawns, nope, it really was meaningless nothing. Leading the way toward the wrong direction is Larry with Curly not far behind. Moe's turn is fast approaching; he is currently paused to figure out whose face he might slap in order to shift the blame.
Curly always was the more flamboyant of the three. His track record for slapstick continues to be unmatched.
The Bank of Japan's efforts to stoke inflation suffered yet another setback Wednesday when the central bank cut its fiscal 2019 inflation outlook for the third time in as many quarters, dashing hopes that its ultraloose monetary policy will end anytime soon.
The Three Stooges worked because the audience was in on the joke. Economics is a tragedy instead because it is a pure farce. How in the world can "ultra-loose monetary policy" suffer "yet another" setback along the lines of inflation? In a world where logic suffuses, it can't.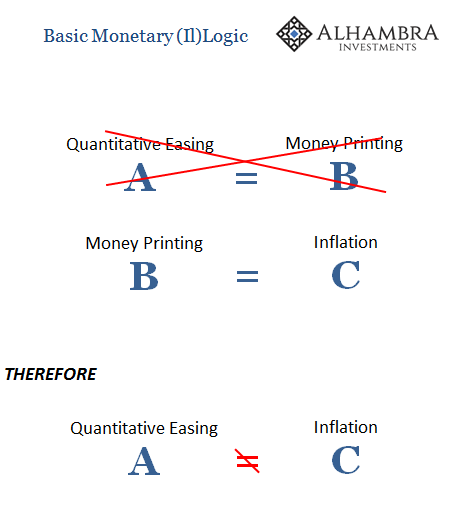 The difference between January 2018 and January 2019 is immense, and it has nothing whatsoever to do with QE. From that, we can easily and intuitively conclude Japan's economic circumstances are not dictated by the Bank of Japan. Kuroda is the child sitting in the darkroom testing his telepathy, intensely staring through the shadows in the unlighted direction of the light switch convinced he can flip it on with nothing more than a blink of his eyes.
When mommy enters the room and does exactly that, Kuroda focused on nothing else immediately attributes the light to his telepathic abilities. And when she turns it off on him frustrated by his foolishness, he goes back to believing his ultra-effective powers have only suffered a small setback. Kuroda really believes he will regain them again soon enough. The real question is, why does anyone else?
Disclosure: This material has been distributed for informational purposes only. It is the opinion of the author and should not be considered as investment advice or a recommendation of any ...
more