The ECB's Dashboard And Implications For Asset Markets
The cautious ECB tone this Thursday in the currently USD-supportive environment suggests modest downside to EUR/USD. We reiterate our 1- to 3-month EUR/USD forecast of 1.1200. The upside to bund yields remains limited. Figure 1 shows our ECB Dashboard
Source: Shutterstock
Source: ING
EUR: Still very limited near term upside
We don't expect the euro to get much of a boost from the ECB meeting this week. The general message should remain cautious (see ECB preview: Trying not to get lost in transition for details) with the ECB attempting to avoid unintentional tightening of monetary conditions. Here a potential hint at further LTLROs should reinforce such a message.
With the ECB remaining cautious and the rate differential between the USD and EUR intact (if anything, it should widen again as markets start pricing in a 3Q19 Fed hike, cementing the dollar's status of one of the high yielders in the G10 FX space), the upside to EUR/USD looks very limited in coming months. We reiterate our forecast for EUR/USD 1.12 for 1- and 3-month time horizons.
Indeed, the lack of catalysts for a more meaningful reversal in the dovish ECB stance (as per Fig 2, the market is assigning a fairly low probability to any meaningful ECB tightening in coming quarters) as well as the non-negligible costs of shorting USD vs EUR have been some of the factors behind why the speculative community has been reducing EUR longs or increasing EUR shorts over recent weeks (Fig 3).
Market assigning a low probability to any meaningful ECB tightening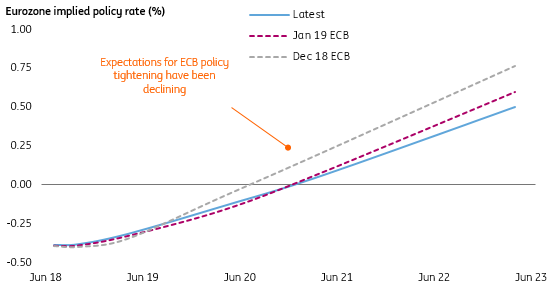 Source: ING, Bloomberg
While Eurozone data may improve, this is unlikely to translate into a hawkish ECB stance
While we see a lack of near-term catalysts for EUR/USD upside, we also think the downside to the cross is limited, particularly if EZ data improves (as per Eurozone PMI: early signs of an economy pulling through, the EZ Feb PMIs showed the first tentative signs of EZ data bottoming).